Educating Your SPD Child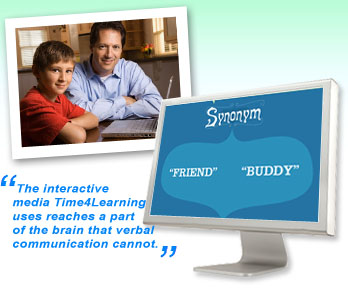 Try Our Lesson Demos
Parents of children with a Sensory Processing Disorder (SPD) may feel like their child has been misunderstood. It can be exhausting to parent a child with SPD, but it is doubly frustrating to have doctors, teachers and other professionals misinterpret SPD as something else.
In the school setting, children with SPD don't always mix well with the group. They may be reluctant to play games, or do painting or crafts. They may be labeled as "non-participators" or on the other extreme, may be difficult to control due to a craving for sensory stimulation.
Children with sensory processing problems can do well with schooling!Because they misinterpret general sensory information, such as touch, sound, and movement, simplifying the sensory input during the day can be helpful.
A computer based curriculum may be part of the educational answer for children with sensory processing disorder.
Time4Learning is an online interactive curriculum used at home for homeschooling, after school reinforcement, or summer study. It is a student-paced program filled with clear graphics, and simple sounds that don't get in the way. The lessons go from preschool to high school, and because SPD kids are generally bright, the levels of the subjects can be set independently to suit areas where they may be working ahead or where they might need some temporary remediation.
Many families of children who have sensory processing problems have found Time4Learning to be a great contribution to their children's education.
The SPD Experience
Sensory processing refers to how we experience our surroundings. All of us are constantly taking information through our senses – things we touch, smell, see, taste, and hear.
We gain a sense of surety about our surroundings when things look like they are on a flat plane, when sounds don't hurt our ears, when we sit or stand and keep our balance, and when things we touch, such as our clothing and sheets, don't hurt our skin.
Children with sensory processing disorder do not have those same safe feelings. The information they receive about the same surroundings everyone else experiences can be jumbled, painful, and confusing.
"Sensory Processing Disorder" was once called Sensory Integration Disorder. It is recognized as a complex disorder of the brain, and is treatable, although commonly misdiagnosed. This constant misinterpretation of sensory input can be exhausting to the child who is trying so hard to navigate throughout the day. Children with SPD are often misunderstood and labeled as too shy, too aggressive, too needy, or too clumsy. They often are socially isolated and have trouble in school.
There are several types of Sensory Processing Disorder. Each one may result in a number of different behavioral and sensory patterns.
One boy, age nine, who regularly cries over a simple haircut, describes the experience as "tiny toothpick knives hitting my face and the sound of the scissors hurts my ears and makes me sick inside." This child relaxes after a stressful event by spinning very quickly around in a tire swing, or swinging in a hammock.
His sister, who also struggles with sensory problems, has opposite issues. At the age of twelve, she says her best way of receiving information about an object is to lick it, and she is constantly grabbing and touching everything she can, as well as running, jumping, hopping, and doing handstands around the house.
Their third sibling, about to enter high school only needs to smell something that "sets her off" and she begins to gag, and comes home exhausted at the end of the school day from what she calls "navigating the noise".
This constant battle with the senses can lead to behavioral problems, problems with learning at school, difficulties with coordination, and other issues.
Homeschooling a SPD Child – One Mother's Story
My name is Terri. We have been homeschooling now for 5 years. My husband John and I have 2 beautiful girls. Our youngest is now 5 years old and was diagnosed with SPD at age 3. At age 4 she was diagnosed as gifted and with an expressive speech delay. There are so many ways that you can home-school but I think sometimes that it is a little more challenging with a child with SPD. My oldest child, now 11 years old, seemed to be a breeze but I have had such a time trying to just "grab" the youngest child's attention and spark her interest in any way possible. I have spent many hours looking around trying to find something that would help me and my children so that we might attempt to get the best of both worlds. LOL
We have started a program called Time4Learning.com which we found online. It is on-line learning program that goes up to 8th grade. It has been absolutely wonderful. We are starting our 3rd week this week and both my children love it. Instead of fighting with the youngest to attempt to do anything at all, she asks first thing in the morning to do her "school work" and I have to make her take a break. It is so animated and tells the child what to do with each step. They have it set up so that as each lesson is finished the icon, which is a star, twirls as she has completed it. This has increased her self esteem which had been lacking.
More on Our Methods
They had a 2 week trial period so I thought, "What the heck — it is worth a try." We plan on keeping it because it has grabbed her attention and is keeping it. She is learning academically and her expressive speech has been improving as well. Her eye hand coordination has gotten better from using the mouse and her listening skills have also improved because the program tells her what to do and then shows her how to do it.
I do stay near her so that I can see what she is doing and sometime throw in my own stuff but it has helped me to not have so much scheduling, grading, and logging. I am really excited about the program and all that it entails. If I have a question and send them a quick email my question is answered relatively fast and they have even called me afterward to see if my issue was resolved. I am now finding more time to do some of those things that we always say we want to do in home school but never seem to find the time. I am also interested in how it might work for other children with SPD issues.
Some of the things I have set up for her while doing her lessons are simple to do: I allow her to swivel the chair back and forth and she always has a stress ball in her hand. As long as she fidgets she seems to do much better. They do sell "fidgets" at some of the on-line stores but I find that most anything can be a fidget it you think about it.
Time4Learning has helped thousands of children. Help yours today. Signup for Time4Learning and gain access to a variety of educational materials, which will engage and challenge your child to succeed.
Or to ask other parents, click through to the Time4Learning parent's forum.