2nd Grade Science Lesson Plans
View Our Lesson Demos
Time4Learning is an online student-paced learning system covering preschool through middle school. It is popular as a second grade homeschool curriculum, for afterschool enrichment, for remediation, and for summer study.
Below we've provided the lesson plans for Time4Learning's second grade science curriculum enhanced by Science4Us, a comprehensive, digital science program, as well as additional science material you'll find at the second grade level. Additional resources related to second grade science are also provided below.
Students enrolled in second grade science will have access to both first and third grade science lessons as part of their membership, so they can move ahead or review at their own pace.
If you are just learning about Time4Learning, we'd suggest first looking at our interactive lesson demos. Members often use this page as a resource for more detailed planning, to choose specific activities using the activity finder, or to compare our curriculum with state standards.
Science4Us.com – 2nd Grade Curriculum
Total Activities: 8
In the heat energy module, students can take the "Ice Water Plunge."
You need to be brave to measure the affect of insulators on body temperature this way!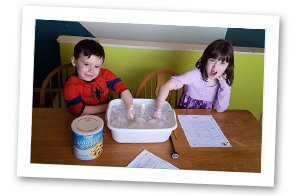 Science Lesson Plan – 2nd Grade Curriculum
Total Activities: 21
Describe magnetism as a force you cannot see that acts upon objects. Know that most magnets contain iron. Describe the law of magnetic attraction, and know that like poles repel and unlike poles attract. Know that magnets can be used to push and pull objects.
Know that the Moon moves around the Earth, the Earth moves around the Sun, and the Moon is only visible when it reflects the Sun"s light. Describe the relationship of the Earth"s rotation to a 24-hour day.
Identify objects seen in the sky, including clouds, the Sun, stars, the Moon, etc. Know that stars and planets are always in the sky, even in the daytime.
Scope & Sequence Copyright © 2018 Edgenuity, Inc. All rights reserved.
Lesson Activity Finder Tool
The lesson activity finder is one of the many helpful tools that Time4Learning offers its members. The activity finder is a shortcut that makes it easy for parents to preview lessons or find extra practice for their child.
Every lesson in the curriculum has a unique activity number, referred to in the lesson plans as an "LA Number." These numbers can be found on either the scope and sequence pages or the lesson plans in the Parent Dashboard.
The activity finder can be found in the lower left hand corner of the Student Dashboard. To use it, members simply log in to their child's account, type the Learning Activity (LA) number of a lesson into the Activity Finder and click "Go" to open it.
For additional information, please visit our hints and help section, which gives more details about the activity finder.
Additional Resources Related to Second Grade Science
If you're interested in the second grade science lesson plans, you might also be interested in:
Lesson plans for other grade levels of science:
Other second grade subjects and topics:
Online Curriculum for Homeschool, Afterschool and Summer Use
Sign up for Time4Learning and gain access to a variety of educational materials, which will engage and challenge your child to succeed. Make Time4Learning a part of your children's homeschool resources. I want to Learn More about Time4Learning's homeschool curriculum or how to use the program for afterschool enrichment.