Time4Learning Portfolio Reports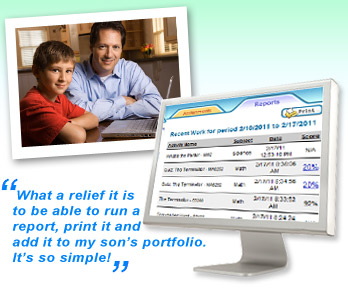 View Our Lesson Demos
Most parents are eager for feedback on their child's progress. Some homeschool parents need reports for state reporting and portfolios.
Time4Learning provides an online video of how to access your child's Portfolio Reports.
You can jump to the following profiles/sections:
What The Reports Provide
Time4Learning's reports section keeps track of:
Lessons started and completed
Percentages for quizzes and tests
The amount of time spent on each lesson or activity
The date the activity was done
Accessing The Reports
To view your child's reports, log into your child's account. Then, click on the backpack in the upper left corner labeled "My Portfolio".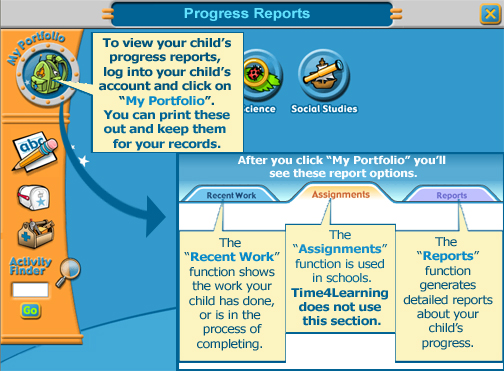 Recent Work
View the student's recent work by selecting the Recent Work tab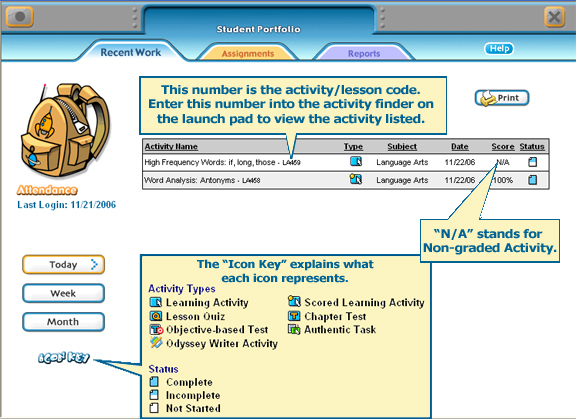 Generating Reports
Generate a report by selecting the Reports tab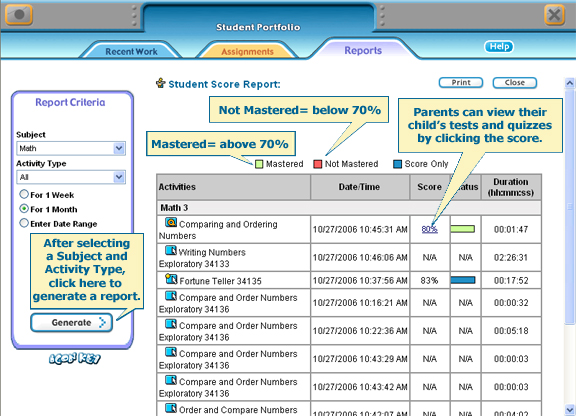 Some Helpful Tools and Resources
Welcome to Homeschooling Guide – Are you new to homeschooling?This guide was written by seasoned homeschoolers to answer some of the difficult questions new families often struggle with.
Curriculum Lesson Plans – An overview of what's available for each grade and subject.
Homeschool Portfolio Information – Answers common questions about homeschool portfolios and evaluations. It includes tips on organization methods, what to include and how Time4Learning can be used as part of your homeschool portfolio.
Online Parent's Forum – Reach out to homeschoolers in your area, join discussions, ask questions and trade ideas on our online community of homeschooling parents. Having the support of seasoned homeschoolers can really help make your homeschooling journey a success.
Hints & Help Section – Whether you're new to Time4Learning, a long term member, or a future member with questions about how the program works, this section answers questions about navigation, lesson planning & previewing, how the teacher guides and worksheets work, and more!