Phonemic Awareness – Pre-Reading Skills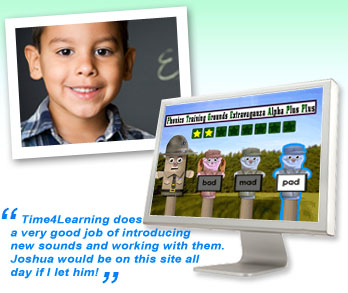 View Our Lesson Demos
Phonemic awareness is the understanding that words are made up of sounds which can be put together in different ways to make different words. Simply put, phonemic awareness is the moment a child realizes that if the "b" in "bat" is changed to a "c", then the word becomes "cat."
Phonemic awareness is a critical pre-reading skill which is often overlooked. And while each child is different, most learn to read following a similar sequence. Many are able to continue with no trouble when steps are missed, but others may have difficulty later because they didn't make the connection.
Learning to read should be an exciting time, and with Time4Learning, it can be. Our language arts curriculum includes a complete reading program that takes a fun, animated approach to learning. Pre-reading skills such as phonemic awareness, phonological awareness, and the alphabet are taught in a sequence that builds skills progressively, before moving students into phonics and reading comprehension.
For more information, check out our curriculum demos or early reading lesson plans for kindergarten, first, and second grade.
Phonemic Awareness Is Often Confused With Phonological Awareness
Phonemic awareness is often mistaken for phonological awareness, which is the ability to distinguish sounds from one another. Phonological awareness occurs before phonemic awareness. Children without phonological awareness must learn to hear the difference between "dice" and "rice" before they understand that the "d" in dice and the "r" in rice are the letters that change the word.
Building Phonemic Awareness
Children build phonemic awareness and other pre-reading skills by practicing nursery rhymes and playing sound and word games. Common exercises to develop phonemic awareness include games with words that rhyme and games based on recognizing initial consonance. Parents can help in this process by providing high-quality educational materials, establishing a pattern of daily reading, and creating a rich language environment.
The computer is an excellent tool for helping your child develop phonemic awareness.Time4Learning provides both phonemic and phonological awareness exercises that can be found throughout its language arts curriculum. The lessons take a fun, interactive approach that combine visual and auditory lessons that are often more effective than traditional textbooks.
Fueling Curiosity
As phonemic awareness is developed, children will become interested in how words are portrayed in print. Daily reading sessions, with the children following along, should help develop their understanding of print concept and feed their curiosity. This interest in decoding words is fuel for children learning the alphabet and phonics.
The "What Works?" report found that the five key areas in learning to read are phonemic awareness,phonics, comprehension, vocabulary, and fluency. For more detailed information on teaching phonemic awareness, look at the Put Reading First Report.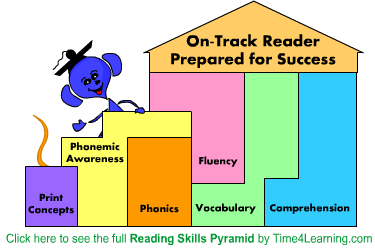 Order a printed wall copy of the Reading Skills Pyramid.