Access Time4Learning from Anywhere by Mobile App for Android & iOS!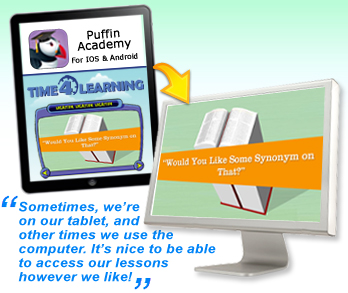 TRY OUR LESSON DEMOS
Time4Learning is an online education program that can be used for homeschool, as an afterschool alternative to tutoring, for summer skill sharpening, and more! And now that it can be accessed from most devices using the Puffin Academy educational mobile app for kids, you can use Time4Learning from anywhere!
This page provides the following information:
Currently, Puffin Academy is only available in the United States, Canada and the United Kingdom.
Benefits of using Time4Learning on a Mobile Device
Time4Learning is now available on most mobile devices using the Puffin Academy App, a free educational mobile app for kids, designed specifically (and exclusively) for programs like ours. That means your kids can complete their lessons from anywhere, without the burden of cumbersome laptops.
Whether you use Time4Learning as a homeschool app, an afterschool learning app, or as an educational app for skill sharpening, Puffin Academy brings increased convenience to our online curriculum by allowing users to enjoy the entire suite of Time4Learning's tools and features using most Apple or Android devices. It even makes Time4Learning work on iPads and iPhones, which are typically incompatible with flash.
Using Time4Learning on Mobile as a Homeschool App
Using Time4Learning as a homeschool app can be beneficial for many reasons– especially if your homeschool routine takes your family on frequent field trips and outings.
Here are a few examples of how others use Time4Learning as a homeschool app:
In homes with fewer computers than children, families now have an additional way to access their lessons. At any given time, there can be students using Time4Learning on the desktop, on the laptop, AND on the tablet—all at the same time!
Taking a field trip? Tablets and smart phones are easier to transport than laptops, so bring Time4Learning along! Whether you use our curriculum to prepare for your outing, as a supplement while you're out, or for reinforcement afterwards, Time4Learning is a great tool for making the all-important connection between the concepts they're studying and real life.
Members have full access to Time4Learning's curriculum and parent tools on the mobile app, giving parents a convenient way to turn any moment into an interactive learning experience your kids will remember– from anywhere!
Using Time4Learning on Mobile as an Afterschool Tutorial
Time4Learning offers an inexpensive alternative to afterschool tutoring, a fun way to 'fill in the gaps', and a convenient way to prepare for standardized testing. And since finding time for tutoring can be difficult, being able to access Time4Learning from anywhere at any time using their favorite device, students can use the program when it's convenient for THEM.
Here are a few examples of why others use Time4Learning on mobile as an afterschool tutoring app:
The multimedia lessons feel more like video games, making it a great tool for presenting new or difficult concepts and promoting a can-do attitude toward learning.
Students can move ahead, review, or hone in on a particular area of study at their own pace, repeating the lessons as needed. This approach gives students a feeling of independence and ownership over their progress, which is a great confidence builder.
A grade above & below can be accessed for review and extra study in most grades (excludes high school courses)
Kids genuinely enjoy the quirky characters that deliver the material with a sense of humor, making it a refreshing alternative to traditional learning approaches.
Using Time4Learning on Mobile as a Summer Learning App
Whether vacationing or staying home, the Time4Learning app allows students to stay engaged in an educational way, stimulating the brain throughout the summer.
Here are a few examples of how others use Time4Learning as a summer school app:
Taking a vacation? Time4Learning offers the opportunity to turn it into an interactive learning experience your kids will remember.

For example – Imagine that you're planning a summer trip to Washington D.C. Your agenda includes a visit to the White House, the Smithsonian Museums, and a Civil Rights tour through the city. Get them ready for vacation with Time4Learning's history or government lessons, or recap your experiences using them, afterward.

Not going anywhere? There are thousands of ways Time4Learning can help to turn everyday moments into an opportunity to connect education to real-life concepts.

For example – Everyday activities such as ordering a pizza can be used to illustrate the relationship between pieces of the pie and fractions. Taking a swim in the neighbor's swimming pool, and then in the ocean can turn into a fun lesson on buoyancy. Then afterward, you can refer to Time4Learning's 1500+ interactive activities for reinforcement!
So no matter where you are or what you're doing, you can include Time4Learning in your summertime adventures!
Using Time4Learning on the Puffin Academy App
Puffin Academy is a free educational learning application that allows Time4Learning users to enjoy our entire suite of tools and features in a fast and secure environment using any Apple or Android device— even iPads and iPhones, which are typically incompatible with flash. So no matter where you are or what you're doing, you can include Time4Learning!
Puffin Academy functions like a typical web browser, except that it's made for mobile devices, it's entirely ad free, and students are only able to access pre-screened, whitelisted, and approved educational sites such as Time4Learning using it. For additional information about Time4Learning and Puffin Academy, visit our Puffin Academy information page.
Here's how to access Time4Learning using Puffin Academy on your tablet and smart phone:
Some Helpful Tools and Resources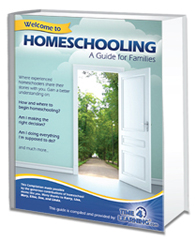 Welcome to Homeschooling Guide – Are you new to homeschooling?This guide was written by seasoned homeschoolers to answer some of the difficult questions new families often struggle with.
Curriculum Lesson Plans – An overview of what's available for each grade and subject.
Homeschool Portfolio Information – Answers common questions about homeschool portfolios and evaluations. It includes tips on organization methods, what to include and how Time4Learning can be used as part of your homeschool portfolio.
Online Parent's Forum – Reach out to homeschoolers in your area, join discussions, ask questions and trade ideas on our online community of homeschooling parents. Having the support of seasoned homeschoolers can really help make your homeschooling journey a success.
Hints & Help Section – Whether you're new to Time4Learning, a long term member, or a future member with questions about how the program works, this section answers questions about navigation, lesson planning & previewing, how the teacher guides and worksheets work, and more!
Puffin Academy App – Learn how to use Time4Learning on most mobile devices with the Puffin Academy app for iOS and Android! Get details on this kid-friendly app, including how to download and use it on the go with Time4Learning.