Time4Learning: An Alternative to Summer School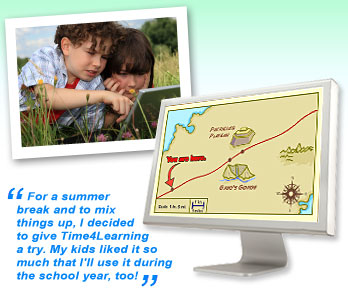 View Our Lesson Demos
How to use Time4Learning as an alternative to summer school.
Many parents register before school has ended so that they can familiarize themselves with the features and functionalities of Time4Learning.
How do I use Time4Learning during the summer for review of the previous year's work?
Many students are told that their skills in one or more subject areas did not develop as suggested during the school year. Time4Learning provides a method to repeat the curriculum. Time4Learning's curriculum is standards based and often follows the same sequence as used in the public school system.
"A friend recommended you and I was hooked instantly!" shared Melissa, after using Time4Learning as summer remediation for her first and fourth graders. "I recommend you all the time and I am hoping to use you for my second grader this summer. He is needing some help. Thanks!"
Parents like Melissa, whose children attend a public school, often begin by placing their child in Time4Learning in the same grade level the student just completed at school. Students may be placed in different grade levels for different subjects. If the initial placement doesn't seem to be a good fit, the grade level can be adjusted later.
Time4Learning's lesson plans can be compared to the student's school reports to determine where work is needed. Since the lessons and activities may be worked in any order, sometimes tests are given first, to identify areas requiring further study. The activity finder can be used to access individual lessons for targeted practice.
How do I use Time4Learning during the summer to prepare for the upcoming school year?
KFarm (a user on Time4Learning's parent forum), whose first grader attends a private school, wrote, "We used T4L both to help remember the prior year's lessons and to try and get a head start for the next year . . . I was very pleased with the curriculum!"
Parents who are interested in giving their child a head start on the following school year frequently place the student in the Time4Learning grade level they will be entering in the fall. As always, students may be placed in different grade levels for different subjects.
Although the lessons may be worked in sequence, a popular method of school year prep is to allow the student to pick and choose the lesson activities he finds most interesting from among the hundreds offered at each grade level.
How do I use Time4Learning during the summer as a summer school alternative?
Time4Learning is a curriculum, not an accredited school. However, the curriculum is used in public schools nationwide, under the name Edgenuity.
If you have been told that your student needs to go to summer school, you can show your local administrator the Time4Learning lesson plans and report format to see if a parent-supervised use of Time4Learning is acceptable. Time4Learning's reporting system provides progress reports with records of activities completed, scores on graded activities and a time stamping feature that records the hours of study completed by day. With pre-authorization and supervision, it is possible that Time4Learning could be approved by school authorities as a viable substitute.
How do I use Time4Learning during the summer to maintain academic skill and enthusiasm?
Kris wrote about her daughter's experience with using Time4Learning to maintain academic skill. "This year, she ended the year a couple of grade levels ahead in Language Arts and right on level for Math. For her, this is great! ON LEVEL FOR MATH?!?! A child of mine?! Thing is, we don't want her to lose it all over the summer. So this year we will be keeping her brain fresh with T4L math. I'm thrilled to have this for her to use and she likes the activities way more than a book or a worksheet."
Students like Kris' daughter often skip between the grade level they just finished and the grade level they will be entering in the fall.
Time4Learning provides an easy method of grade level adjustment. Some students will concentrate on a subject they find challenging, such as math. Others find a review of several subjects helps keep skills sharp. Parents can keep track of their child's activity by reviewing the student's portfolio.
I LOVE Time4Learning! It holds the attention of my kids, plus I can keep track of their learning without hovering over their shoulders.
I am really pleased with Time4Learning. It has made a world of difference in my son's academic performance in school!
Key Features of Time4Learning's Home Education Curriculum
Time4Learning.com combines 1500+ multimedia lessons, printable worksheets and graded activities in a student-paced environment that brings concepts to life. Math and language arts lessons are correlated to state standards. Science, social studies and art are also provided to most grades.
Parents get access to lesson plans, printable worksheets, teaching tools (located in the Parent Dashboard), detailed reporting and parental support through our online Parent Forum.
Other key features of the curriculum:
Students get individual logins and work on their own schedule and pace
Parents can set the grade level independently for each subject
The grade above and below are available in most grades for review and additional study
Detailed lesson plans available for parents who wish to review lesson contents
Access to an online playground that rewards and motivates
An automated system grades lessons and keeps reports for homeschool portfolio usage (shown below)
Sign up and get started on the same day!
Time4Learning is entirely web based, so there is no software to download, no CDs and nothing additional to purchase. Students will be able to access the curriculum 24/7 from any computer with an internet connection.
Time4Learning offers a 14-day money-back guarantee and the ability to stop, start, or pause anytime. Browse lesson plans, try the interactive lesson demos, read curriculum reviews, or view the curriculum overview to see what's available.