Time4Learning as an Afterschool Supplement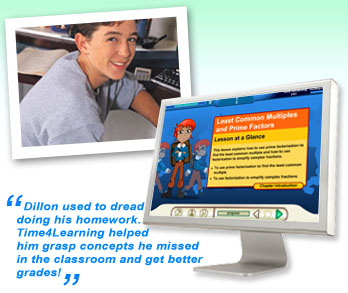 View Our Lesson Demos
How do I use Time4Learning as an afterschool supplement?
Time4Learning is a great afterschool helper. Below are two questions that we are frequently asked. We've asked a couple of moms to share their views on these commonly asked questions. Click the questions to read how other parents are using Time4Learning to help their children after school.
How would I use Time4Learning for children who want extra stimulation and enrichment?
Terie's story:
When my youngest daughter, Natalie, started school, I realized two very important things:
#1 Natalie loved the social aspect of school and being "on her own" with other kids and her own teacher.
#2 Natalie craved more than she could get out of school and more than I could give her at home without some type of program. I tried an ad hoc approach with work books, online educational games and of course reading real books every day, but that did not seem to satisfy her need to know more. And it was exhausting and expensive for me.
I ran across the Time4Learning program during one of my Internet searches for after school online curriculum. My daughter was hooked after the first lesson. Every module is age and grade appropriate, self guided and easy for young children to navigate without parental assistance. The lessons are fun, musical, and entertaining. I loved how the stories were read back to her before she could read on her own. One of her favorite features is the playground. A virtual place she can only visit after completing either a set number of lessons or works for a predetermined period of time set by me. My favorite feature is the student portfolio where I can see her progress at a glance and the ability to choose the lessons and the grade level.
Natalie started in the Kindergarten program, while she was still in pre-school, logging on 3-4 days a week and sometimes on weekends. During the summer break she logs on daily as part of her routine. This helps her stay on target and be ahead of her game going into the next grade level. Once school is back in session, we go back to 3-4 days a week dedicating time to each of the modules in Language Arts, Math, Language Arts Extension, Science and Social Studies. We sometimes pull lessons that compliment school activities, but for the most part, we just follow the sequence of the program and when she completes all the lessons in one grade level we simply move on to the next. She is now in 1st grade and has completed the 2 nd grade Social Studies module and the 1 st grade Science module. Even when she does have homework from school, she looks forward to going on Time4learning because to her, this is a fun activity no different than playing other online games, except with Time4Learning she is actually learning and that's OK by me.
My daughter always liked learning, but Time4Learning has turned "like" into love! I've never seen her so excited to do lessons, before!
It's amazing how quickly my kids are learning difficult concepts. The animation really helps them apply the lessons to something tangible!
How would I use Time4Learning to help a child succeed at school?
Monica's Story:
My daughter Julia (fourth grade) often comes home with math problems that she doesn't really understand. For instance, the first time this happened, she had a set of long division problems to do. She looked to me for help and since I was busy cooking and helping her brother, I suggested that she try looking it up on Time4Learning. We had set up an account in the weeks before school to help get her ready for school and she had liked studying on her own. So far, she had just used Time4Learning in the sequence that they offer.
Julia went to the lesson plans on the site and looked for activities about division. When she just did a search for long division, she didn't find anything but then when she looked through the curriculum, she found eight lessons teaching division:
Lesson TopicLesson Activity Number
| | |
| --- | --- |
| Dividing with 2-digit Divisors-Solve two-digit division problems with and without remainders. | 40901 40905 40906 4B013 4B014 4B015 |
| Dividing with 1-digit Divisors-Divide dividends up to four-digits by one-digit with and without remainders. (Include quotients with 0's) | 40887 40890 |
She looked briefly at the different exercises and found the one that explained what she needed to know. I think she did it two or three times. The incredible thing to me as a parent is that with Time4Learning, when she needs help, she has a tool to find and learn what she needs. She takes great pride in her ability to find the applicable lessons and learn them as she needs them on her own. She considers Time4Learning her "private learning tutor" and it has really built her confidence that she uses it on her own.
I LOVE Time4Learning! It holds the attention of my kids, plus I can keep track of their learning without hovering over their shoulders.
I am really pleased with Time4Learning. It has made a world of difference in my son's academic performance in school!
Key Features of Time4Learning's Home Education Curriculum
Time4Learning.com combines 1500+ multimedia lessons, printable worksheets and graded activities in a student-paced environment that brings concepts to life. Math and language arts lessons are correlated to state standards. Science, social studies and art are also provided to most grades.
Parents get access to lesson plans, printable worksheets, teaching tools (located in the Parent Dashboard), detailed reporting and parental support through our online Parent Forum.
Other key features of the curriculum:
Students get individual logins and work on their own schedule and pace
Parents can set the grade level independently for each subject
The grade above and below are available in most grades for review and additional study
Detailed lesson plans available for parents who wish to review lesson contents
Access to an online playground that rewards and motivates
An automated system grades lessons and keeps reports for homeschool portfolio usage (shown below)
Sign up and get started on the same day!
Time4Learning is entirely web based, so there is no software to download, no CDs and nothing additional to purchase. Students will be able to access the curriculum 24/7 from any computer with an internet connection.
Time4Learning offers a 14-day money-back guarantee and the ability to stop, start, or pause anytime. Browse lesson plans, try the interactive lesson demos, read curriculum reviews, or view the curriculum overview to see what's available.