Lesson Plans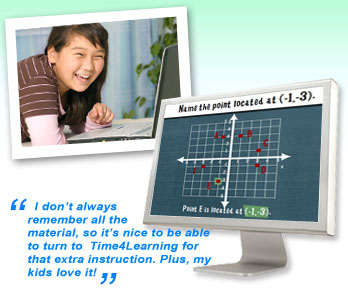 View Our Lesson Demos
Structuring lesson plans and time on the computer – Just as a teacher organizes lesson plans and as parents establish fixed times for children's homework and reading, Time4learning structures computer time so that children are led through a daily sequence of planned lessons and playtime.
Daily lesson plans are established and enforced with plans for lessons and play covering all of a child's computer use. For the parents, no more yelling at them that they've been on the computer too long. And for the kids, the expectation is established that first they do their work, then they get to play. This habit, once learned, can help them for a lifetime!
Structured learning "LessonTime": Time4Learning features the finest grade approprate lesson plans from preschool to 8th grade.
You can jump to the following profiles/sections:
Preschool Lesson Plans
Preschool lesson plans start with the preschool fundamentals. Typical Preschool lesson plan might be set at 15 minutes of lessons and then 15 minutes of free play. Typical preschool lesson plans: following a single direction (eg "point to the crayon…thank you" or "point to the scissors….no, that is the crayon, try again"). This level advances to prereading skills such as recognizing the letters, basic phonic sounds, and rhymes.
Time4Learning's Approach
Time4Learning's approach to lesson plans is comprehensive and structured. Instead of learning isolated lessons, the student receives comprehensive tutoring covering all the skills necessary to succeed in school. Time4Learning provides a continuous suite of lessons so that children can progress at their own pace and are not limited by the materials on the disk.
I LOVE Time4Learning! It holds the attention of my kids, plus I can keep track of their learning without hovering over their shoulders.
I am really pleased with Time4Learning. It has made a world of difference in my son's academic performance in school!
The LessonTime Software
The LessonTime software is an implementation of the Edgenuity Odyssey comprehensive suite of lessons, activities, and assessments managed by a system that provides a personalized educational program for your child. Similar to school curriculum and tutoring services such as Kumon and Huntington, structured learning software follows a comprehensive lesson plan and curriculum making sure that each skill is taught in the appropriate sequence. The advantages of having a comprehensive approach in math and language arts to building a child's basic skills are significant: they develop greater confidence since they have support and practice on the full range of skills and curriculum for their grade level.
To learn more about Structured Learning.
To Learn More about Time4Learning.
To Sign Up Now with a money-back guarantee.
The Time4Learning Program Structure
Time4Learning has been refined through years of feedback from educators, parents, and students. Subjects are organized into chapters composed of interactive lessons, printable worksheets, quizzes and tests. Students are guided through the activities at their own pace by an automated system.
When students log in, they choose a subject, select a chapter, pick a lesson and complete the activities. A bright green arrow tells them where they left off, and completed work is clearly labeled with a check-mark or a gold star. Visual and auditory prompts guide students through the lessons, making it easy for even young learners to follow, and an online playground (controlled by parents) rewards and motivates them to finish their lessons.
Parents get access to printable lesson plans, teaching tools, detailed reporting and parental support through our online Parent Forum.
Does your child have different achievement levels for math and language arts? No problem! Time4Learning lets you set each individual subject at the appropriate graded level, making this program great for special needs and gifted students.