Middle School Students need lessons that teach at their level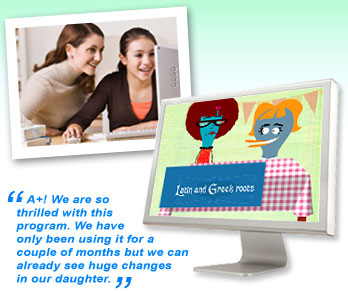 View Our Lesson Demos
Helping Middle School Students Learn. Software that allows the students to be the teacher.
Kids like using the computer to learn, so it makes sense to use it as an educational tool. Time4Learning's online interactive curriculum engages and challenges middle-schoolers, letting them work at their own pace in an environment that brings concepts to life and makes learning fun!
Time4Learning combines 1000+ multimedia lessons, printable worksheets, graded activities and plenty of practice for middle school students. Language arts and math correlate to all state standards. Science, social studies and art are also provided to most grades. View the grade by grade curriculum overview to see what's available.
Parents love the program features. Time4Learning's middle school program tracks progress and helps kids advance by teaching with individualized learning paths which assure coverage of middle school skills and concepts. They also like the automated system that grades lessons, tracks progress and keeps reports for portfolio use.
Time4Learning is proven effective, has a low monthly price, and provides a money-back guarantee so you can make sure that it works for your middle school student, satisfaction guaranteed! Sign up
Middle School Math
In middle school, the math levels move forward quickly, so children without sound foundational skills can get lost and need remedial help. Time4Learning allows parents to place children independently within our curriculum to ensure that each student is working at his or her optimal level. It is not unusual for a student to be working at an eighth grade language arts level and a seventh grade math level, for instance. The middle school math lesson plans are organized by skills. Each lesson focuses on a skill, first introducing it using an animated or illustrated lesson designed to interest middle school students. Students then work their way through interactive exercises to learn the skill, use printable worksheets for reinforcement, and finally are tested with unit quizzes to assess their mastery of the material. Middle school lesson plans are simple with Time4Learning!
Time4Learning's middle school math curriculum includes:
Middle School Number Sense
Middle School Algebra
Middle School Geometry and Spatial Reasoning
Middle School Measurement
Middle School Data Analysis and Probability
Learn more about Time4Learning's math curriculum on our Middle School Math Curriculum page.
Middle School Language Arts
The middle school language arts program teaches advanced reading comprehension, literary analysis, critical thinking, vocabulary, grammar and punctuation, and writing skills.
In the middle school literary analysis strand, students perform a variety of activities before, during and after reading, and learn to identify genre, voice, point of view, mood and use of various literary techniques such as flashbacks and foreshadowing.
In middle school reading comprehension, students will distinguish between fact and opinion, cause and effect, fantasy and reality, as well as learn to identify the main idea of a passage. Students will paraphrase and summarize in order to enhance comprehension.
In the middle school grammar and punctuation strand, students learn more sophisticated elements of sentence structure, dependent and independent clauses, and work with parts of speech, including action, helping, transitive and intransitive verbs, adverbs and adjectives, and conjunctions.
Middle school writing is developed through extensive composition work that is closely tied to the other skills being taught in middle school language arts.
In the middle school critical thinking strand, students are challenged to think critically as they analyze propaganda techniques and advertising messages, learn to distinguish fact from opinion and work with metaphors, similes and analogies.
Middle School Science
Time4Learning offers a standards-based, interactive science curriculum that is available to students in fourth grade and above as part of membership. Middle school science is organized into three standards-based courses and a supplemental course:
For a more descriptive overview, visit the middle school science curriculum page.
Middle School Social Studies
Time4Learning offers middle school social studies enrichment activities through a series of modularized lessons that allow students to learn and review at their own pace. This rich assortment of lessons can be used as a supplement to any standardized curriculum.
Sign up for Time4Learning and gain access to an educational system which will engage and challenge your child to succeed. Make Time4Learning a part of your children's middle school education.
Key Features of Time4Learning's Home Education Program
Time4Learning.com combines 1500+ multimedia lessons, printable worksheets and graded activities in a student-paced environment that brings concepts to life. Math and language arts lessons are correlated to state standards. Science, social studies and art are also provided to most grades.
Parents get access to lesson plans, printable worksheets, teaching tools (located in the Parent Dashboard), detailed reporting and parental support through our online Parent Forum.
Other key features of the program:
Students get individual logins and work on their own schedule and pace
Parents can set the grade level independently for each subject
The grade above and below are available in most grades for review and additional study
Detailed lesson plans available for parents who wish to review lesson contents
Access to an online playground that rewards and motivates
An automated system grades lessons and keeps reports for homeschool portfolio usage (shown below)
Sign up and get started on the same day!
Time4Learning is entirely web based, so there is no software to download, no CDs and nothing additional to purchase. Students will be able to access the program 24/7 from any computer with an internet connection.
Time4Learning offers a 14-day money-back guarantee and the ability to stop, start, or pause anytime. Browse lesson plans, try the interactive lesson demos, read curriculum reviews, or view the curriculum overview to see what's available.