Hooked on Phonics®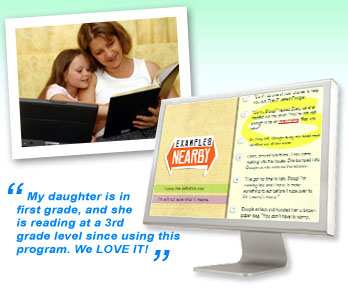 View Our Lesson Demos
Hooked on Phonics®* was broadly marketed on television in the eighties and nineties building a public awareness of phonics and how important it was to "hook" or engage children in education. Hooked on Phonics® provides parents a way to help their kids learn to read using a combination of flash cards, books, and interactive CDs. HOP's television marketing campaign the 80s and 90s made Hooked On Phonics® a household name.
Hooked on Phonics® appealed to parents who know that one of the hardest things about getting your children to learn, is to get them to focus. Having a fun engaging game-like program that the kids enjoy is half the battle.
Included on this page:
Hooked on Phonics®: One Of Many Choices Today
Parents today can choose from a wide range of approaches to teaching children. Today, there are a wide choice of phonics curriculum available for supplemental or core education.
Sifting through the various educational options can be confusing as parents try to find the best fit for their child and budget. Time4Learning shares Hooked On Phonics® belief in the importance of engaging children and the significance of phonics. Many families like Time4Learning's convenience, appeal to the children, and educational effectiveness. Time4Learning's approach integrates phonics into a broad language arts (and math) curriculum. Parents can decide how much of the extensive program to use since Time4Learning is student-paced.
Phonics – A Leading Approach to Teaching Literacy
Time4Learning is today's answer to a widely asked question: "How do I get my child interested in learning?" Parents need resources that can effectively serve their children through an approach that engages their children. Time4Learning's online learning program is designed to do exactly that! With entertaining daily lessons, children are captivated and focused within the comfort of their own home.Learn more.
The truth is that children learn through different modalities such as hands-on kinesthetic, verbal, and visual. of which must be presented to accommodate the learning style of each child. Families are faced with several options, parents must find the best program for their children.
Time4Learning offers engaging curriculum which covers math, language arts, science, and social studies. The language arts program has a strong phonics program along with listening comprehension, pre-phonics skills building such as phonemic/phonological awareness, vocabulary, self expression, writing, reading comprehension, and grammar. Time4Learning also includes social studies, science, and the option to add on a foreign language.
Time4Learning is widely used for afterschool enrichment, preschool, summer school, and homeschool. Time4Learning's phonics and early reading sections are extremely strong.
My children's favorite part of the day is their time on Time4Learning. This is the easiest and most consistently productive curriculum we've used!
My kids can work independently or with my involvement. Time4Learning has enriched their education and simplified my life!
Language Arts: Reading and Beyond
Time4Learning's reading program includes phonetic-based lessons, helping children to acquire blending skills, to deconstruct sounds, and to approach the pronunciation of unfamiliar words. In addition as a literature-based feature, children are provided vocabulary, spelling, reading comprehension and writing components. The strategic combination is a successful tool in giving children the opportunity to explore and identify all facets of reading.
Time4Learning is a comprehensive program with many uses. Aside from a language arts program, Time4Learning provides components in the areas of math, social studies, science, writing, and foreign language. While many other programs only highlight reading and math, we feel that to best assist children, we must provide them with multiple subject content.
Time4Learning is Affordable
Time4Learning is a non-contract binding program featuring content and curriculum from multiple subject areas. Time4Learning is offered at a surprisingly low cost. Parents find that Time4Learning's cost for six months is less than the monthly cost of most tutoring centers. As an added bonus, Time4Learning also includes a two-week money-back guarantee. Learn More
Parental Support
Staying involved in your child's educational journey is most important, yet sometimes difficult when relinquishing certain control to an afterschool program. The Time4Learning program offers extensive support and tracking systems for parents.
Parents are consistently provided with a scope and sequence, lessons plans, and the ability to track their own child's progress, making scores, assignments and assessments readily available at all times. With the ability to print these plans and assignments, parents can easily create a home-school portfolio, saving time and helping in the overall organization. Parental support is also given through our online forum where discussions and questions may be posted.
Time4Learning is very effective in its goal to captivate and educate students simultaneously. It is increasingly less costly and more comprehensive than other programs. Parents who are looking for a daily, interesting way for their child to learn via the modern technology of a computer would be best accommodated using Time4Learning. Sign up for Time4Learning and begin using the many resources. We look forward to helping foster the growth and journey of your child.
*Note – Time4Learning is not affiliated with Hooked on Phonics®. Time4Learning's purpose with this page is to provide information to families who are trying to understand the benefits of different approaches. HOOKED ON PHONICS® is a registered trademark of Smarterville Productions, LLC.
Are you new to homeschooling? Get an Introduction to Homeschooling ebook.
I want to Learn More about Time4Learning's Homeschool Online Program.
Time4Learning has helped thousands of children. Start Helping My Children Now .
The Time4Learning Program Structure
Time4Learning has been refined through years of feedback from educators, parents, and students. Subjects are organized into chapters composed of interactive lessons, printable worksheets, quizzes and tests. Students are guided through the activities at their own pace by an automated system.
When students log in, they choose a subject, select a chapter, pick a lesson and complete the activities. A bright green arrow tells them where they left off, and completed work is clearly labeled with a check-mark or a gold star. Visual and auditory prompts guide students through the lessons making them easy for young learners to follow, and an online playground (controlled by parents) rewards and motivates them to finish their lessons.
Parents get access to printable lesson plans, teaching tools, detailed reporting and parental support through our online Parent Forum.
Does your child have different achievement levels for math and language arts? No problem. Time4Learning lets you set each individual subject at the appropriate graded level, making this program great for special needs and gifted students.