Educating Your Dyslexic Child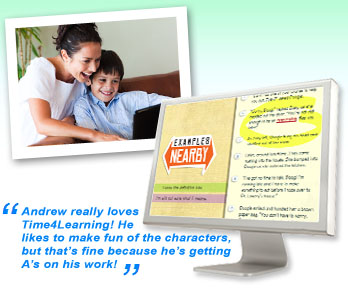 Try Our Lesson Demos
If you are the parent of a child with Dyslexia, you have probably searched long and hard for ways to help your child learn. It can be overwhelming wading through programs and therapies.
Even though dyslexia is the mostly commonly diagnosed learning disability, it doesn't mean that your child can or should be pigeonholed. Every child has individual educational needs.
A computer based curriculum like Time4Learning may be part of the educational answer for children with dyslexia.
Time4Learning is an online interactive curriculum that takes a visual, auditory and interactive approach to teaching preschool through twelfth grade. Great for homeschooling, afterschool reinforcement, and summer study, many families who have children with learning challenges such as dyslexia have found it to be a great contribution to their children's education.
Dyslexia – What Is It?
Dyslexia is sometimes used as a catch-all phrase to describe those who have difficulty learning to read despite conventional instruction.
More precisely, dyslexia describes a different kind of mind, primarily in terms of language processing and learning. Dyslexics are often highly intelligent, creative, gifted, and productive. Dyslexia often runs in families and results from differences in the structure and function of the brain.
Using conventional benchmarks of learning primarily in language arts, dyslexics can appear to be slow or low achievers. With appropriate intervention, they often achieve against standard educational benchmarks at all levels. In many cases, they can be considered "highly visual" learners who have exceptional difficulty with language processing of non-visualizable words (such as prepositions) and with the mastery of phonics and decoding skills.
Dyslexia is not a disease. There is no cure. It is not behavioral, psychological, or social. It is not a vision problem and despite common belief, dyslexics do not see "backwards". Dyslexics translate differently than the mainstream in terms of language processing.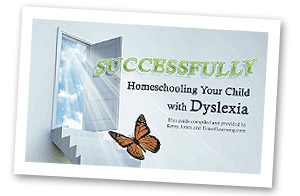 Homeschooling Our Dyslexic Child
I started homeschooling my son, Perry, in the first grade. He had gone to a half-day kindergarten and had struggled with some of the simple tasks the other children had excelled in, such as copying letters and words onto large sentence strips. Writing his name correctly, consistently, was even an anxiety-producer.
First Dyslexia Symptoms
I already knew he wasn't learning like our older son had learned. Phonics had come easily to him, and he had practically taught himself to read at age 3½. Not so for Perry. The sounds of the English language were as foreign as hieroglyphics (actually probably more foreign than — something as visual as hieroglyphics would have been a snap in comparison).
So when we started homeschooling in first grade, I knew something wasn't quite right. Perry, born one-month premature, had been labeled a lot of things through the years: language-delayed, central auditory processing disorder, mild autistic tendencies, social delays, etc. None of the labels seemed to be an exact fit however, for our bright, talented son. Yet something was affecting his development and his learning, and even though I couldn't quite put my finger on it, I held out hope that we would somehow figure it out as the school year went on.
Finally, during our second year of homeschooling, I came across an article on dyslexia on the internet. I had always thought of dyslexia as the reading disorder where a person transposes letters. In actuality, dyslexia is a comprehensive label that encompasses a wide number of reading/writing/spelling challenges with some similar characteristics.
Finally! An explanation for all the varying difficulties and "labels" our son had endured!! Not only was it a relief to identify what we were dealing with, it was also thrilling to know that we could do something about it . . . or so we thought.
The World Was Void and Without Form
In our naiveté, we thought our problems were behind us. All that was needed now was to find the right curriculum for our son. And thus began our journey through homeschool hell. There was curriculum for gifted children, left-brained children, auditory learners, and logical thinkers. There was boxed curriculum, workbook curriculum, unit study materials, literature-based curriculum, and classical approaches. And we tried a little of it all.
Boxed and workbook based curriculum brought tears enough to fill our bathtub. Unit studies were temporarily helpful, as long as they were about a subject our son was currently obsessed with. Literature based studies were fine too, as long as we, the parents, were willing to read aloud each and every book assigned. Classical learning was comprehensive, but still didn't deal with the reading and spelling issues we were having such difficulty with. My son began hating even the mention of homeschool, because every day was a battle, and we were definitely losing the war.
And Then There Was Light
I finally came across a catalog for assistive technology products. Who knew that there were actually people who understood learning difficulties, and tried to create helps for those who struggled with them?? My interest was piqued and I knew I was onto something that might actually make a difference. My son's world began to open up through the use of tools such as portable spelling checkers, word prediction software, graphic organizer tools, and speaking word processors. As a visual person, my son already had an affinity for the computer, so being able to do his schoolwork via such an interactive medium was a pure godsend for him.
Along the way, we discovered educational video subscriptions, quality educational software, and online multimedia learning. The final icing on the cake was our discovery, via search engine, of Time4Learning – – an affordable media-based curriculum for all the core subjects. We had arrived!
Time4Learning fit every benchmark we set for what the perfect curriculum for our son would look like. It was computer based. It was visual. It was interactive and entertaining. It allowed us to see his progress. And best of all, it provided tools that could aid someone with learning difficulties. Tools such as allowing the lessons to be read aloud by cartoon characters. Graphic organizers and spell checkers for writing assignments. Math tools such as calculators and multimedia tutorials. Our long search had led us to something that actually worked. And it is still working.
We use Time4Learning as our core curriculum now for our son, and our bathtub can now be used primarily for bathing again. Thanks Time4Learning!
For specific information on Kerry (mother) and Perry's story, you can contact Kerry on the Time4Learning parents forum on home education and online resources. Her login is topsytechie.
Time4Learning has helped thousands of children. Help yours today. Sign up for Time4Learning and gain access to a variety of educational materials, which will engage and challenge your child to succeed. Make Time4Learning a part of your learning disabilities educational resources.