Parents Need a Special Curriculum for Children with Learning Disabilities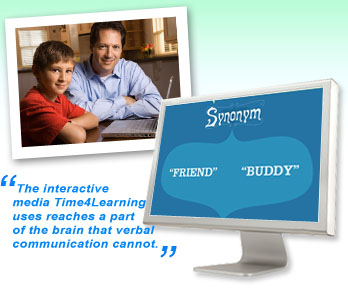 View Our Lesson Demos
Special need parents often ask if a child with learning disabilities should use Time4Learning. The "best learning disabilities education resource" means the right mix of special education lesson plans and technology for that family and child. See a free demo of our software. Parents often ask if a child with learning disabilities requiring special education should use Time4Learning.
Questions about recommendations for a specific child are impossibly broad since every child, whatever the situation, is special with her or her own combination of gifts, skills, needs, and difficulties for learning. And each child deserves a special learning program suited to his or her needs.
Time4Learning has seen many children with learning disabilities blossom with its online educational software. Choosing the right learning website for your child with learning disabilities can be a daunting task.
Parents want learning software which the kids will like. However, while there are many entertaining "educational" web sites and software learning programs, few qualify as a real educational learning system, much less as one robust enough to support the special education needs of a child with a learning disability. Unlike "educational games," a learning system provides lessons appropriately sequenced, and reinforced learning in an educationally valid and engaging lesson plans.
When evaluating LD online software for children with learning disabilities, you should make sure that it:
Proceeds at the students' own pace.
Builds on existing reading, writing and math skills.
Allows placing the child at different levels for math and language arts.
Encourages kids to become active learners through exploration and discovery.
Introduces new learning opportunities in a safe, supportive environment.
Balances learning with fun!
Time4Learning offers a comprehensive, educational learning system that builds and reinforces reading, writing and math skills. It is used by children with learning disabilities as well as the gifted and mainstream. Using an interactive online environment, our educational learning system mixes educational lessons with learning games designed to engage and challenge your learner. It can be used as core curriculum or supplementary. Many parents, including those of homeschoolers, build a portion of their day around Time4lLearning. See a free demo or Signup for Time4Learning and get the best in special needs learning software.
Why does Time4Learning work for learning disabilities?
Time4Learning provides a comprehensive curriculum so that the children get comfortable with the system. The level for language arts and math programs are independently set for each child. This helps children who perform or progress at vastly different levels in these major subjects. Children progress at their own rate using multisensory learning that helps each learning style. The computer is very engaging. Some children when faced with text books or non-interactive environments appear ADD/ADHD. But, when faced with an interactive system, they are often successful in focusing and learning. The computer is impersonal so autistic children (specifically children with Asperger's syndrome and high functioning autism) learn without the distraction of interpersonal relations.
Parents of children with learning disabilities talk about Time4Learning
Both of my boys really enjoy the Time4Learning program. Of course, their favorite part was the play time but they enjoyed the lessons as well. Thank you
– Penny, Mother of twins with Learning Difficulties in Reading.
I just wanted to say thank you for Time4Learning…a great tool for Zac through the summer, and he was asking yesterday even to do "his work." I would definitely recommend this program to other families. I think it offers great characters and fun learning activities. It also gives you a chance to monitor the progress, and you can even print out reports and activity pages that your child completed what more could you ask for. Also this is very kid friendly. Zac was able to move around the site somewhat on his own.
– Theresa, Mother of a five year old with autism
The content was varied and was able to keep Benjamin engaged without frustration. It also moved him gradually through the skills and once mastered was appropriately quizzed. The timer was also beneficial as Benjamin learned that once it got to "0" he was free to go to the playground where he primarily went to the "PBS Kids" site. I also feel that the "Magic Hand" was instrumental in aiding Benjamin in how to proceed with the lessons.
– Ann, Mother of a six year old with development delay, speech language impairment, ADHD
Elizabeth really enjoys the website. She especially liked the language sections (stories, family trees, etc). She also found it easy to use. It is very good for children with Asperger's, as they are such visual learners and the computer gives prompt feedback.
– Marianne, Mother of a fourth grade girl with Asperger's syndrome
Lena and I both found it to be age appropriate and interesting. I LOVED the fact that I could start Lena and she was able to continue at her own pace. Ninety-five percent of the time the language level was appropriate as well as the assignments. Initially, she rushed through to get to the "Playground" but as she became used to the lesson structure, she forgot about the time and "Playground". The graphics and sound were awesome. Both Lena and I enjoyed all the adorable characters and narrator's voices. I would highly recommend this program as a support system during the school year, and SPECIFICALLY, during the summer months (especially if your child is not receiving any services.)
– Mother of daughter with ADHD and Tourette's Syndrome
Time4Learning was the first online curriculum which helped my son's attention. My son has attention (ADHD) issues and reading and learning difficulty and after difficulties in school, we find that homeschool works well for him. Time4Learning has made our days much easier and more productive.
– Mother of eight year old boy, Texas
Time4Learning has helped thousands of children. Help yours today. Signup for Time4Learning and gain access to a variety of educational materials, which will engage and challenge your child to succeed. Make Time4Learning a part of your learning disabilities educational resources.
See the free demo and gain access to a variety of educational materials, which will engage and challenge your child to succeed. Make Time4Learning a part of your child's education.
I want to Learn More about Time4Learning's Special Needs learning and how it works.
Or to ask other parents, click through to the Time4Learning parent's forum.