Unit Study Supplement: Massachusetts Facts, U.S. 6th State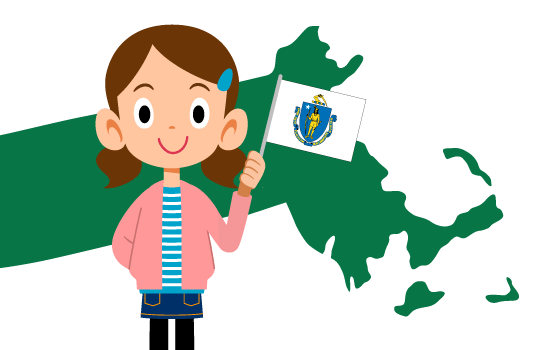 On February 6, 1788, the Province of Massachusetts Bay officially became the Commonwealth of Massachusetts, the sixth state to join the Union. Did you notice that phrase "Commonwealth of Massachusetts" instead of "state of Massachusetts?" Yes, MA is definitely a state, but because the word commonwealth is used in the original state constitution, it can technically be considered both! But this is only one of the many interesting pieces of information that your homeschoolers will find out in this state study, which is part of Time4Learning's full series of United States unit study supplements.
We'll be exploring many interesting facts about Massachusetts including trivia about the state's history and geography, as well as ideas for educational places to visit in MA. You'll also enjoy our collection of online Massachusetts learning games which will challenge your homeschoolers to test what they've learned via interactive play. This particular unit study supplement can be used as part of your geography and/or history lessons, or just a neat supplement to your regular schedule.  You can also download our list of PreK-12 interactive activities that align with your study of interesting facts about Massachusetts. Are you ready to learn more about this commonwealth/state? Then let's get started!
Massachusetts Fast Facts
Became a Colony
1692
Became a State
February 6, 1788
Order it Joined the Union
6th state
State Capital
Boston
State Abbreviation
MA
Border States

New Hampshire
Rhode Island
Vermont

State Flag
State Song
"All Hail to Massachusetts"
State Nicknames
Notable Massachusettsans

John Quincy Adams, 6th President of the United States
Susan B. Anthony, women's rights activist
John Hancock, president of the 2nd Continental Congress
Theodor Geisel (Dr. Seuss), author
Paul Revere, patriot in the American Revolution
Benjamin Franklin, inventor
Barbara Walters, journalist
W.E.B. duBois, civil rights activist
Emily Dickinson, poet
John Chapman (Johnny Appleseed), nurseryman
Historical Facts About Massachusetts
The history of Massachusetts is one that students often know the most about because its story is usually woven into the history of the national holiday of Thanksgiving. If you are familiar with Thanksgiving's traditional history, you'll remember that the Plymouth Colony was settled in 1620 by a group of European Puritan separatists called Pilgrims. English colonization continued in the area throughout the 1600's and on October 7, 1691 it was chartered as a crown colony. Let's look at some more fascinating facts about colonial Massachusetts:
The state was named after the local indigenous population, a tribe called the Massachusett.

The first shot of the American Revolution happened in MA during an unplanned skirmish between the British army and the Lexington militia. (This clash is recognized on the third Monday of April each year with a state holiday called Patriots' Day.)

The first institution of higher education in America was established in New Towne (Cambridge), Massachusetts in 1636. It was first called New College and later renamed Harvard University.

In 1635, the first public school in America, Boston Latin, was founded in MA.

Between 1617 and 1619, 90% of the indigenous populations of the Massachusetts Bay area were killed by the infectious disease smallpox.

British attempts to tax the colonists led to the Boston Massacre in 1770 and the Boston Tea Party in 1773.

George Washington's first victory with his Continental Army took place in MA.
As you can tell from some of those facts, colonial Massachusetts was the center of rebellion against British rule, so it is no surprise that it voted to ratify the U.S. Constitution to become a state in 1788. Here are some more Massachusetts state facts you can share with your children.
The first telephone call in history took place in Boston, when inventor Alexander Graham Bell spoke to his assistant Thomas Watson on two separate devices in 1876.

Dr. James Naismith, a P.E. teacher in Springfield, MA, invented the game of "Basket Ball" in 1891 as a way to occupy and entertain his students during the winter months.

Although mostly focused on abolition issues prior to the Civil War, Massachusetts native Susan B. Anthony turned her attention to women's rights afterward, founding the National Woman Suffrage Association in 1869.

In 1925, Edith Rogers of MA became the first woman to serve in the House of Representatives.

The first automatic digital computer was developed at Harvard University in 1944.

The largest cash heist of all time was committed in Plymouth in 1962 when thieves robbed a mail truck of over $1.5 million. The crime was never solved and the money was never recovered.
Geographical Facts About Massachusetts
There is certainly much more to learn about the Bay State than just its history, though. Students will enjoy discovering specifics about Massachusetts geography, as well. Exploring a map of the state will enhance your unit study. Once you've studied the map, test your homeschooler's knowledge by asking them to mark up a blank outline of MA. Here are just some of the things you may want to explore and mark on your map.
Cape Cod Bay, where the earliest settlers of the area resided, lent the state its nickname of "Bay State."

The official name of the body of water in the southern MA town of Webster is Lake Chargoggagoggmanchauggagoggchaubunagungamaugg (the longest name of any lake in the world). However, locals simply call it Webster Lake.

The Cape Cod National Seashore is the result of the first ever federal purchase of land for the purpose of creating a park.

Boston is the only state capital in the contiguous U.S. that is located on a coastline.

The part of the state with the highest elevation is the Berkshires in western MA.

Massachusetts is located along the Atlantic Flyway, a bird migration route that runs from Greenland to the Gulf of Mexico.

Bogs in Southeastern Massachusetts grow up to 25% of the nation's cranberries.

The east side of Massachusetts is home to Ivy League University Harvard.

The famous Salem witch trials happened in the city of Salem, just 25 miles northeast of where Harvard is located today.
Massachusetts State Map
Download our FREE Massachusetts state map printable. Use it as a coloring page or use it to plot the state's geographical features.
Download
Activities for Children in Massachusetts
Do you live in Massachusetts? Or perhaps you will be traveling to the state in the near future? Then, enhance your state unit study even more by personally visiting some of Massachusetts educational destinations. Homeschooling families looking for hands-on field trip ideas will discover plenty of opportunities in the Bay State. Here are some great ones to start with.
For additional field trip options in Massachusetts, visit A2Z Homeschooling's Massachusetts Field Trips with Kids page.
Massachusetts Freebies and Deals for Homeschoolers
Massachusetts Learning Games for Children
Want to extend your Massachusetts unit study even further? The following learning resources will introduce you to even more fun facts about Massachusetts and will also give your homeschoolers the opportunity to test their knowledge of what they've learned so far.