Homeschool Trends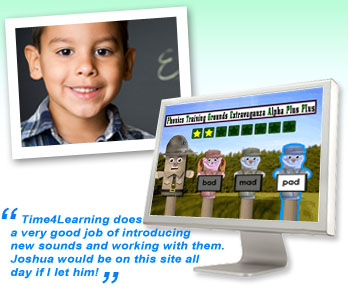 View Our Lesson Demos
Parents dissatisfied with school environments opt to access homeschool curriculums and learning tools online.
With increasing concerns about the school environment and the ever growing array of new homeschool curriculums and products available, more and more families are choosing to home school their children.
Rebecca Kochenderfer, Co-Founder of Homeschool.com, the number one homeschool site on the Internet, says: "Today, homeschool families have so many choices of groups and activities. From online learning software to homeschool curriculum reviews and homeschool sports teams, the choices are increasing everyday. Our site helps parents understand homeschool curricula and their full range of choices."
You can jump to the following sections:
Rapidly Growing Homeschool Trend Stimulated by New Internet Tools
Parents of homeschooled children have struggled for years with different approaches to helping their children keep up in reading and math. The computer and internet have become valuable tools for parents. Online learning can supplement homeschool curriculums and help children excel at these core subjects since today's online educational teaching games and learning software blur the distinction between games and lessons.
Students are considered to be homeschooled if their parents reported them as being schooled at home instead of at a public or private school for at least part of their education and if their part-time enrollment in public or private schools did not exceed 25 hours a week. The most recent NHES study concluded that about 1.1 million students (1,096,000) were being homeschooled in the United States in the spring of 2003. This represents an increase from the estimated 850,000 students who were being homeschooled in the spring of 1999. The study interviewed parents of more than 11,994 students with a grade equivalent of kindergarten through grade 12.
John Edelson, founder of Time4Learning which provides homeschool curricula for PreK-12, explained "The Time4Learning.com homeschool curriculum includes a full language arts and math curriculum. Parents like that the program is self-running and safe. Kids like that its fun and they can progress at their own pace."
Time4Learning.com is one of the many new computer-based learning programs providing home school curricula for PreK-12 and comprehensive lesson plans. Celebrating it's first year of operations this summer,Time4Learning adapts a range of online educational software for home use. It provides educational materials primarily from Edgenuity(tm) Odyssey, a premier developer of educational materials focused primarily on working with schools.
Other Computer-Based Learning Programs
Other computer-based learning games and programs are available to parents looking to supplement their home school curriculum. These include:
Learning Games on CDs – These can be bought in most stores. These games provide an interactive, fun way for children to learn. The downside, however, is that most "learning games" tend to be more "game" than lesson. An upside is that these programs can be utilized even when Internet access is not available.
Free Educational Game Websites – There are several websites offering "learning and games," but these sites are often very commercial and parents risk children downloading games contain spyware and viruses. Most of these sits are similar to CDs in that they tilt towards games with limited educational substance.
Free Learning Sites – Free learning sites range from those that provide worksheets to those with interactive exercises. It is left to the parent to provide continuity, determine progress, and to assemble an over-all program.
Time4Learning.com – This subscription service teaches children math and reading skills systematically. Time4Learning tracks the children's activities and provides them with an effective sequence. Time4Learning also has reports for parents and games for kids included in the $19.95 monthly fee. Learn More or Sign Up Now!
Time4Learning is vibrant, engaging, educational, and funny. It sure beats our previous homeschool curriculum which was textbook/workbook based.
Time4Learning is so effective that very little intervention is required. This works great if you're homeschooling multiple children.
About Time4Learning
Time4Learning.com, used by homeschool parents and as a supplement to traditional education, is a new approach that takes advantage of today's technology through learn to read programs and kids math games. Many of Time4Learning's educational teaching games are an adaptation of the award-winning Edgenuity(R) Odyssey . A recent review in The Old School Magazine said: "My son absolutely loved the site". The teaching games assure coverage of the reading and math skills and concepts that help children succeed." Time4Learning is proven effective, has a low monthly price, and provides a money-back guarantee so you can make sure that it works for your children, Satisfaction Guaranteed! Take a tour of Time4Learning's educational teaching games now.
Time4Learning provides a homeschool curricula for grades PreK-12, homeschool curriculum reviews and online learning tools for homeschool families.
Key Features of Time4Learning's Home Education Program
Time4Learning.com combines 1500+ multimedia lessons, printable worksheets and graded activities in a student-paced environment that brings concepts to life. Math and language arts lessons are correlated to state standards. Science, social studies and art are also provided to most grades.
Parents get access to lesson plans, printable worksheets, teaching tools (located in the Parent Dashboard), detailed reporting and parental support through our online Parent Forum.
Other key features of the program:
Students get individual logins and work on their own schedule and pace
Parents can set the grade level independently for each subject
The grade above and below are available in most grades for review and additional study
Detailed lesson plans available for parents who wish to review lesson contents
Access to an online playground that rewards and motivates
An automated system grades lessons and keeps reports for homeschool portfolio usage (shown below)
Sign up and get started on the same day!
Time4Learning is entirely web based, so there is no software to download, no CDs and nothing additional to purchase. Students will be able to access the program 24/7 from any computer with an internet connection.
Time4Learning offers a 14-day money-back guarantee and the ability to stop, start, or pause anytime. Browse lesson plans, try the interactive lesson demos, read curriculum reviews, or view the curriculum overview to see what's available.