Beginning the Homeschool Journey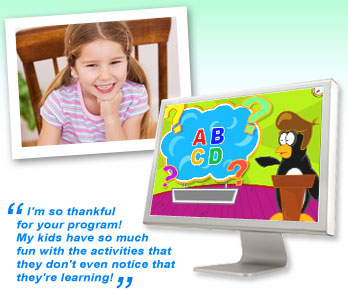 View Our Lesson Demos
When homeschoolers begin the journey of educating their child, they often feel inadequate to the task. Some of the questions most often asked by new homeschoolers are:
What if I get started homeschooling and then discover I can't do it?
What if my child doesn't respond to my teaching?
How will I know if I am teaching the right things?
Obviously, there is a lot of uncertainty and anxiety that goes along with taking on the responsibility of being in charge of a child's education. Homeschoolers probably just wish they had a degree in childhood education, so they wouldn't have all those worries. Having classroom teaching experience would naturally be the perfect precursor to being a successful homeschooler, right?
Not necessarily. Let's let Jackie, a former classroom teacher, share her story of the bumpy road she traveled in her first years of homeschooling her daughter Hannah.
Trying to Make School Work For Us
Early on, my husband and I both knew we wanted to homeschool our daughter, Hannah. I spent time researching homeschool curriculum and actually began putting back materials so I would be ready when the "formal" time for school arrived. Sadly, the time never arrived. We were in a position where I needed to go back to work to help the family make ends meet, so I went back to being a classroom teacher, as I had during the years before Hannah's birth.
At first, I only worked part-time, but eventually I moved back to full-time teaching. When Hannah started kindergarten, I moved to second grade (my favorite grade to teach). This was an important year for our family because it marked the signs of what was to come in regards to Hannah's education. Schoolwork was difficult for Hannah. She struggled with learning reading skills. She became very anxious when called on to read aloud in class, so much so that I asked her teacher not to call on her in class any longer. Her progress at the end of the year was not where her father and I would have liked it. We knew Hannah had some issues, so we had her tested. Wow! The list seemed like a death sentence–ADHD, dysgraphia, sensory integration, language delay, dyslexia, and auditory processing problems. The next year, Hannah was a student in my class. I will say that having your child in your classroom at school is NOT the same as homeschooling. I expected more of my child than I did of the other kids. I was determined not give anyone a chance to say I favored my child.
Our situation changed again when my family and I were transferred from Texas to Georgia due to my husband's job. I had a teaching position lined up. Three days after arriving in Georgia, I ruptured a disc in my back and was not able to teach. In the meantime, my husband and I had decided to retain Hannah in second grade in hopes that she would have an easier time in school. I don't recommend doing that. School was almost unbearable for her. By January, the school still did not have her IEP completed. Hannah was begging us to homeschool her. We finally gave in and embarked on the best journey of our lives!
Trying to Make Homeschool Work For Us
That first half of the year we used Abeka, Bob Jones, and supplemental texts. Hannah made good progress and we were both happy. She smiled more, she completed her assignments with no fussing, she moved very rapidly through lessons and actually understood the concepts… She was so proud of herself when she was able to move into a third grade math book.
In this beginning stage, however, I was not very hands-on at all. I was trying to get my legs under me so to speak. So, I decided to make some changes the next year in hopes of adding more hands-on activities.. I also wanted to quell the beginning of problems I could see rising since the honeymoon phase had ended. For one thing, I was much too rigid in my approach to teaching. For our first fun "hands-on" activity, we both decided to try lapbooking. We mulled over all the titles and Hannah picked several. I excitedly ordered them all and got everything set up for her to begin a lapbook on Mythical Creatures. I had read all the directions and teacher Jackie knew just what to do and how to do it. Boy, was I wrong! The first day, I had my dyslexic child who hates school, copy vocabulary words. Not just a few mind you, all twenty or so of them. That was a prison sentence for her!! How could I have been so blind and so far off course? I can only say it must have been the "classroom teacher" in me. In the classroom I would have had my students do that activity, so I just naturally assigned it for Hannah, even though I knew she couldn't handle it. I hadn't yet learned to separate my "classroom teacher" hat from my "homeschool teacher" hat. Next, I had her cut and paste every single picture and make every single mini-book. She saw all of it as a waste and very boring. She would have been much happier if we had researched online the various mythical creatures and I read about them. She would have enjoyed checking out books about them and looking at the pictures, watching videos, listening to online stories – – none of which seemed educational "enough" to me. I think I wanted something to show for the work. I wanted to be able to say, "This is what we accomplished. See, we really did do some work." I guess I thought more about being questioned about how much and what type of learning Hannah was getting than what was going to work for her.
Since Hannah had been a student in my classroom, I already knew her learning style(s). However, what I found out next was very surprising to me. She didn't want to do much in the way of hands-on activities now that we were homeschooling. I remember purchasing all the supplies we needed to build a volcano and have it erupt since we were learning about them. She just wasn't excited or interested in building one. I couldn't figure it out. That didn't make sense to me since. I guess I just assumed she would want to do all the neat creative stuff just like when I had her as a student in my classroom. I was the one disappointed, not her. Again, I had failed to see there was a difference now that we were learning at home. I was determined to find something that clicked with her. I very much wanted this child of mine to finally have success at school and find that it could be fun and enjoyable. Was I kidding myself?
Next, we tried the state's online virtual school. Virtual school worked decently until about mid-year. Hannah's needs were just not being met and she did not like it at all. The work was getting much harder, yet she was not really getting what she needed to reach the expectations of the virtual school. (Notice I say the expectations of the virtual school, not my expectations). I found that the virtual school and I did not agree on how to homeschool or what to teach. I felt like my rights were usurped. I realized that finding the perfect curriculum or solution was not as easy as I thought it was going to be. While these texts, curriculum's and schools were all helpful in many ways, they each came up short in meeting Hannah's needs.
Letting My Daughter Take the Lead
Hannah was becoming quite independent. I felt like she still needed me to take the lead in her learning due to her challenges, but she was trying to show me that she wanted to take the lead. I am not sure who was the most hardheaded. I didn't want to let go. I knew I needed to find something that would allow her to be more independent and self-directed but still keep me in the loop. I was learning so many things about Hannah too…things like how much of a visual learner she really was; what her interests were, not mine; that she was not as much a kinesthetic learner as I thought she was; that she remembers what she hears very easily–way more auditory than I gave her credit for being; that she is capable of more than I realized… I wanted so much to shield her from failure or frustration, that I believe I was actually holding her back. I was forcing my ideas on her rather than listening to what she was saying. She was telling me very plainly what she wanted to do. My ears were clogged up listening to my own ideas of what should be done each day.
I became more determined than ever to find something that worked for both of us. I joined more Yahoo-type educational groups in order to hear/learn about what others were experiencing. I knew I couldn't be alone. I figured there were other Moms or Dads out there going through the same issues as I was experiencing. I joined lists for homeschooling only children, children with ADHD, children with dyslexia, children who hate school… I found out about online schools for homeschool kids through many of the lists. I knew you could purchase curriculum in a box that included CD's of lessons and such, but I wasn't aware of actual interactive online learning programs. Virtual school was not, in my opinion, an interactive online learning experience. I began reading reviews written by parents about different multimedia homeschool curriculum. We tried Alex for math. Hannah hated it. We tried Click N' Kid. She thought it was very childish, but indulged me. It didn't make a lasting difference either. Finally, we looked at Time4Learning. Time4Learning's flash, audio, and visual style appealed to my special needs learner. She finally found that school can be fun after all. I am thankful Time4Learning meets the unique learning style of my child and thousands of others. There is hope for us all!
The journey has been long and I know we still have a long road ahead, but I think we are finally on the right track. I have come to realize that being a classroom teacher does have some benefits when teaching your own child at home, but it also comes with disadvantages if you are not keenly in tune with your child. I don't regret for an instance that I was a classroom teacher. I am just thankful that I was able to make the transition from a classroom teacher to a first-time homeschool teacher/mom. Bumps are to be expected along the way, and I feel I have hit just about every bump in the road. But, this journey has led me from a classroom teacher to a homeschool teacher and finally to a Mom who realizes she just wants to meet the needs of her daughter.