Switched-on Schoolhouse® vs. Time4Learning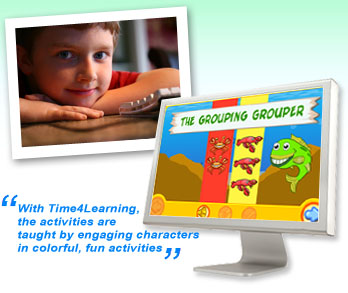 View Our Lesson Demos
Considering using Switched-on Schoolhouse®*? Many parents new to homeschooling find that one of the most difficult choices they make is selecting which homeschool curriculum approach to use. The web is full of homeschool resource lists, learning styles discussions, and homeschool resource reviews. Sifting through the various curriculum options can be confusing as parents try to find the best homeschool materials for their children.
Included on this page:
Computer-Based Learning – The Switched-on Schoolhouse® Approach
If you're considering Switched-on Schoolhouse®, then you probably already know that most children enjoy working on the computer for at least some and possibly all of their school subjects. Switched-on Schoolhouse® offers CD-based learning software for grades 3 through 12, in five different subject areas: Bible, History/Geography, Math, Language Arts and Science. Parents can buy a single subject area (approximately $70) or the full five-subject set (about $300).
A key strength of the Switched-on Schoolhouse® product is that, because it is CD-based, no internet access is required to use it. However, this same feature means that the product can only be used on the computer where it is installed.
Time4Learning is a subscription-based online service that provides interactive, self-paced instruction in math, language arts, social studies, science and foreign language. It can be used as either a core or supplemental curriculum and is available for children in preschool through high school. Time4Learning tracks the children's activities and provides them with an effective sequence. Included in the monthly fee are reports for parents and games for kids.
An Eclectic Approach to Homeschooling
Most families discover that their children's educational needs are best met by blending several homeschool programs and approaches, rather than choosing one all-encompassing curriculum.. This eclectic homeschool approach provides an optimal outcome. Time4Learning's experience shows that there is no single, best homeschool material. Rather than feeling torn between homeschool resources, parents should create diversity through different materials and activities.
Time4Learning's Online Curriculum
All children learn differently and most respond very well to online delivery of homeschool curriculum. In addition, many children benefit from seeing a topic or concept presented in more than one way before what's being taught "clicks" for them. Time4Learning's online, interactive style engages children, leading to learning success.
Time4Learning's educational teaching games for children allows children to work at their own pace, so they feel stimulated and independent. Parents like that it tracks progress and helps children advance by teaching with individualized learning paths. Kids feel like they are playing games and don't realize at first that the program is primarily educational.
My daughter always liked learning, but Time4Learning has turned "like" into love! I've never seen her so excited to do lessons, before!
It's amazing how quickly my kids are learning difficult concepts. The animation really helps them apply the lessons to something tangible!
More Benefits of Time4Learning with Switched-on Schoolhouse®
The Time4Learning language arts and math programs can stand alone or be worked into Switched-on Schoolhouse's® education. The social studies and science lessons are easily used as a springboard for non-computer-related activities. The Reports function of our program keeps track of all lessons started and completed, percentage scores for quizzes and tests, the amount of time spent on each activity, and the dates the activities are completed. This makes portfolio keeping easy.
Time4Learning appeals to a wide range of learning styles. Our online learning materials are especially well-suited to children who are visual or kinesthetic learners. These children can take advantage of Time4Learning's interactive, multi-media materials, and by shifting from computer-based lessons to discussion, or from paper and pencil exercises to art projects, all children stay engaged and benefit from different teaching methods. Variety keeps children motivated and attentive throughout the day.
Children like using the computer to learn. Time4Learning is a convenient, interactive homeschool resource that provides a welcome change from textbook-based lessons, and it helps children learn computer skills that are so important today.
Time4Learning's self-paced, modularized lesson plans allow you to move forward and back through the materials whenever you want. You can skip lessons that teach concepts your child has already mastered and repeat those he or she has not. The choice is yours. With Time4Learning, you are always in control.
Time4Learning has proven effective with homeschoolers, has a low monthly price, is easy-to-use, and provides a money-back 100% satisfaction guarantee so you can make sure that it works for your children. Sign up for Time4Learning as part of your overall homeschool program. If you have been looking for a fun, interactive, web-based curriculum to supplement the other homeschooling programs you have been using, try our demo lessons to see if Time4Learning would be a good fit with your homeschool program.
*Switched-onSchoolhouse® is the registered trademark of Alpha-Omega Productions®. Time4Learning is not in any way affiliated with Switched-on Schoolhouse®. Time4Learning's purpose with this page is to provide information to families who are considering an eclectic approach to homeschooling or who wish to compare the benefits of using both curricula. Time4Learning's products and services are not endorse or sponsored by Switched-on Schoolhouse®.
Are you new to homeschooling? Get an Introduction to Homeschooling ebook.
I want to Learn More about Time4Learning's Homeschool Online Program.
Time4Learning has helped thousands of children. Start Helping My Children Now .
The Time4Learning Program Structure
Time4Learning has been refined through years of feedback from educators, parents, and students. Subjects are organized into chapters composed of interactive lessons, printable worksheets, quizzes and tests. Students are guided through the activities at their own pace by an automated system.
When students log in, they choose a subject, select a chapter, pick a lesson and complete the activities. A bright green arrow tells them where they left off, and completed work is clearly labeled with a check-mark or a gold star. Visual and auditory prompts guide students through the lessons making them easy for young learners to follow, and an online playground (controlled by parents) rewards and motivates them to finish their lessons.
Parents get access to printable lesson plans, teaching tools, detailed reporting and parental support through our online Parent Forum.
Does your child have different achievement levels for math and language arts? No problem. Time4Learning lets you set each individual subject at the appropriate graded level, making this program great for special needs and gifted students.