Starting to Homeschool in High School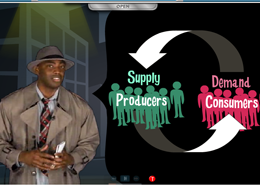 View Our Lesson Demos
At Time4Learning, we hear many "accidental homeschooler" stories. Accidental homeschooler is a term that we coined to refer to the families who are starting to homeschool not out of a philosophical or life style choice but as result of a process of elimination in that they've tried traditional schools and they have not worked out. Mostly, people seem to start homeschooling in elementary school but there are a lot who start later on.
Legal disclaimer: This section is one family's story and how they homeschool for high school in Maryland. It is not intended and should not be used as definitive legal advice. In most states, parents find a variety of legal methods to pursue the educational approach that they prefer for their child.
Maryland Homeschool High School Story
R (son) went to a public high school in Maryland. He was not very academically oriented and was totally focused on his sport (at which he was Olympic caliber) which he did outside of the school.
In the first half of tenth grade, his grades slipped from Bs to Cs, he seemed unhappy, and there were some discussions about switching to a private school. Near the end of the first semester, on a Friday, there was some incidents which confirmed the parents' suspicions that he was involved with drugs, perhaps dealing. There was a confusing set of phone calls and activity on Friday (never fully understood) which also included a visit from the local police.
By Sunday night, the parents had made a decision to not send him back to school. They decided to start homeschooling him on Monday and would try to find a decent alternative school. They told R on Sunday night and he did not complain.
Monday morning, they took him to the office (he is an optician, she is the office manager). The father started to establish a program. They took him to the office daily and his father put together his educational program.
For math, he basically got the school text book and teacher guide (getting the teacher guide was a major problem, he finally got it by a teacher just handing it to him since he couldn't seem to buy it anywhere) and starting work R through it.
In language arts, after having some discussions with R, his Dad decided that the major goal was to get his son to read. It seemed that he had never really read a book. He picked King Rat by James Clavell because it was the type of book that would appeal to his son, was meaty and so would provide a sense of accomplishment, and he remembered it as a gripping story from page one.
The first week did not go well on this score. R was surly and while he spent the requisite one hour a day on it, he seemed to have covered less than half a dozen pages by the end of the week. Week 2, R started reading and over a few weeks, devoured the book. They talked about what to read next and R asked if Clavell had written anything else. This opened the floodgates.
On science and social studies, they discussed what courses to do when and basically followed the public school text books.
There was no socializing or other homeschool activities, there was just a daily focus on academics. In Maryland, there are meetings with public educators mandated to get reviewed and advised. Some meetings were very helpful, some were a waste of time, in one case, the reviewer was hostile. Overall, they had minimal impact or input.
They did look for schools for a few months but did not really pursue it. Over three years, he covered a good high school curriculum and graduated. He continued his very active athletic career during this period (he was a world class paddler).
Time4Learning is vibrant, engaging, educational, and funny. It sure beats our previous homeschool curriculum which was textbook/workbook based.
Time4Learning is so effective that very little intervention is required. This works great if you're homeschooling multiple children.
Review of Homeschool High School Story
I found this a very interesting story. It shows how parents need to be responsive to their child's needs. It shows how parents need to ferret out the problems that their kids are having and help with leading them out of it. In particular, I think it is typical of a "silent portion" of the homeschool community, those that are approaching homeschooling as "problem-solving" , not dogmatically or philosophically.
Choosing Homeschool Curriculum
Time4Learning's experience shows that there is no single, best homeschool material. Rather than feeling torn between homeschool resources, parents should select a diverse blend of materials and activities.
For families with more than one child, choosing a homeschool program can be more problematic. What works for one child may not work for another. What works for one subject may not work on the next. What works one year, may fall flat the very next year.
Some of the features that make Time4Learning so successful include:
Time4Learning appeals to a wide range of learning styles. Our online learning materials are especially well-suited to children who are visual or kinesthetic learners. These children can take advantage of Time4Learning's interactive, multi-media materials.
Children like using the computer to learn. It's a convenient, interactive homeschool resource that provides a welcome change each day to paper-and-pencil workbooks and textbook-based lessons.
Parents like that it tracks progress and helps children advance by clearly presenting and reinforcing each lesson.
Time4Learning's self-paced, modularized lesson plans allow you to move forward and back through the materials whenever you want. You can skip lessons that teach concepts your child has already mastered and repeat those he or she has not. The choice is yours. With Time4Learning, you are always in control.
Time4Learning is proven effective with homeschoolers, has a low monthly price, is easy-to-use, and provides a money-back guarantee so you can make sure that it works for your children!
Sign up for Time4Learning as part of your overall homeschool program.
If you have any more questions or comments about homeschooling, head over to the Parents Forum.
Some Helpful Tools and Resources
Welcome to Homeschooling Guide – Are you new to homeschooling? This guide was written by seasoned homeschoolers to answer some of the difficult questions new families often struggle with.
Curriculum Lesson Plans – An overview of what's available for each grade and subject.
Homeschool Portfolio Information – Answers common questions about homeschool portfolios and evaluations. It includes tips on organization methods, what to include and how Time4Learning can be used as part of your homeschool portfolio.
Online Parent's Forum – Reach out to homeschoolers in your area, join discussions, ask questions and trade ideas on our online community of homeschooling parents. Having the support of seasoned homeschoolers can really help make your homeschooling journey a success.
Hints & Help Section – Whether you're new to Time4Learning, a long term member, or a future member with questions about how the program works, this section answers questions about navigation, lesson planning & previewing, how the teacher guides and worksheets work, and more!