Sonlight®* and Time4Learning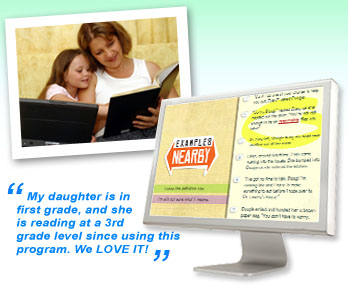 Try Our Lesson Demos
Considering using a homeschool unit study approach like that found in Sonlight®*? Many parents who homeschool their children find that one of the hardest tasks is selecting which homeschool curriculum to use. The web is full of homeschool resource lists, learning styles discussions, and homeschool resource reviews. Sifting through the various homeschool options can be confusing as parents try to find the best curriculum for their child.
Included on this page:
*Time4Learning is not affiliated with Sonlight®. Time4Learning's purpose with this article is to provide information to families who wish to compare the benefits of using Sonlight® and Time4Learning together. Time4Learning's products and services are not endorsed or sponsored by Sonlight®. Sonlight is the registered trademark of Sonlight Curriculum, Ltd.
Thematic Unit Study – The Sonlight®* Approach
A unit study, or thematic unit, integrates all subject areas (often excepting math) around a common theme or idea. For instance, a thematic unit like Sonlight®*'s will generally be organized around a social study unit such as early American history. In this case, all remaining academic subjects — reading, language arts and even science — are tied to the chosen thematic unit. Sonlight®* integrates a literature base into its unit study curriculum, ensuring that children are exposed to a variety of authors and reading many classic books.
When children are interested in the unit subject, this approach is successful. Many children enjoy blending a thematic unit study with another supplementary curriculum of contrasting style, especially one that integrates fun with learning.
An Eclectic Approach to Homeschooling
Most families discover that their children's educational needs are best met by blending several homeschool programs and approaches, rather than choosing one all-encompassing curriculum.. This eclectic homeschool approach provides an optimal outcome. Time4Learning's experience shows that there is no single, best homeschool material. Rather than feeling torn between homeschool resources, parents should create diversity through different materials and activities.
Time4Learning Works With Sonlight®*'s Homeschool Unit Study
All child learn differently and most respond well to online delivery of homeschool materials. In addition, some children need to see a topic or concept presented in more than one way before what's being taught "clicks" for them. Time4Learning's engaging, interactive style complements Sonlight®*'s literature-based program.
Time4Learning offers interactive, self-paced instruction in math, language arts, social studies, science, and foreign language. Many families report that using Time4Learning in conjunction with A Beka has enhanced their child's academic success. Time4Learning's online educational software can be used as either a core or supplemental curriculum.
More Benefits of Time4Learning with Sonlight®*
The Time4Learning language arts and math programs can stand alone or be worked into Sonlight®*'s education. The social studies and science lessons are easily used as a springboard for non-computer-related activities. The Reports function of our program keeps track of all lessons started and completed, percentage scores for quizzes and tests, the amount of time spent on each activity, and the dates the activities are completed. This makes portfolio keeping easy.
Time4Learning appeals to a wide range of learning styles. Our online learning materials are especially well-suited to children who are visual or kinesthetic learners. These children can take advantage of Time4Learning's interactive, multi-media materials, and by shifting from computer-based lessons to discussion, or from paper and pencil exercises to art projects, all children stay engaged and benefit from different teaching methods. Variety keeps children motivated and attentive throughout the day.
Children like using the computer to learn. Time4Learning is a convenient, interactive homeschool resource that provides a welcome change from textbook-based lessons, and it helps children learn computer skills that are so important today.
Time4Learning's self-paced, modularized lesson plans allow you to move forward and back through the materials whenever you want. You can skip lessons that teach concepts your child has already mastered and repeat those he or she has not. The choice is yours. With Time4Learning, you are always in control.
Time4Learning has proven effective with homeschoolers, has a low monthly price, is easy-to-use, and provides a money-back 100% satisfaction guarantee so you can make sure that it works for your children. Sign up for Time4Learning as part of your overall homeschool program. If you have been looking for a fun, interactive, web-based curriculum to supplement the other homeschooling programs you have been using, try our demo lessons to see if Time4Learning would be a good fit with your homeschool program.
My children's favorite part of the day is their time on Time4Learning. This is the easiest and most consistently productive curriculum we've used!
My kids can work independently or with my involvement. Time4Learning has enriched their education and simplified my life!
Some Helpful Tools and Resources
Welcome to Homeschooling Guide – Are you new to homeschooling? This guide was written by seasoned homeschoolers to answer some of the difficult questions new families often struggle with.
Curriculum Lesson Plans – An overview of the number of lessons that are included for each grade and subject. All students have access to at least 2 (and in most cases 3) grade levels of curriculum for each subject, so they can move ahead or review at their own pace.
The Lesson Activity Finder – One of the many helpful tools that Time4Learning offers its members. The activity finder is a shortcut that makes it easy for parents to preview lessons or find extra practice for their child. You can visit our hints and help section for more information about the activity finder.
Lesson Planning Worksheet – Wondering how many lessons to have your child do each day? Estimate the number of activities per day using this easy to use, printable worksheet.
Online Parent's Forum – Reach out to homeschoolers in your area, join discussions, ask questions and trade ideas on our online community of homeschooling parents. Having the support of seasoned homeschoolers can really help make your homeschooling journey a success.
Sign up for Time4Learning and gain access to a variety of educational materials, which will engage and challenge your child to succeed. Make Time4Learning a part of your children's homeschool resources.
I want to Learn More about Time4Learning's homeschool curriculum or how to use the program for afterschool enrichment.