Scholarships for Homeschool Graduates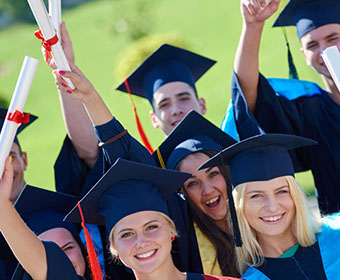 View Our Lesson Demos
Are homeschoolers eligible for college scholarships?
With millions homeschooling every year, and more families starting every day, home education has become mainstream. Homeschoolers have been exceeding academic expectations for years, and often land in the news for winning national spelling bees, starting their own businesses, authoring popular novel series, and getting perfect scores on college entrance exams. Colleges and universities around the world are taking notice of this trend, and every year, more and more schools of higher education are not only accepting homeschoolers, but seeking them out as valuable additions to their student bodies.
With that trend, it's no wonder that scholarships which had traditionally been reserved for public or private school graduates have been opened up to include those receiving their diploma as homeschoolers. There are several types of scholarships that homeschoolers may be eligible for as well as resources where they can research ones that may apply to them.
Types of scholarships open to homeschoolers
One of the key questions homeschooling families want to know when they begin looking into financial aid is whether the same scholarships available to public school children are also available for homeschool students. In most cases, scholarships are readily available to homeschooled students, but the biggest reason some homeschoolers are disqualified from specific merit-based scholarships is that they do not follow the exact instructions when applying. Scholarship applications can be complicated, and without the assistance of a traditional guidance counselor, some homeschoolers can feel at a disadvantage. It's important to double-check all requirements, and not to be afraid to ask questions of the scholarship provider, when unsure.
Following are the types of scholarships that homeschoolers may want to explore.
Athletic Scholarships
Athletic scholarships have traditionally been one of the most difficult types for homeschoolers to qualify. In most cases, the NCAA and other leagues who offer scholarships to athletes canvass public and private school athletic programs to seek eligible candidates. However, in recent years as homeschool athletic leagues have gotten more common and have grown in size, more and more homeschoolers are getting attention by the NCAA and the NAIA. To find out more about NCAA eligibility for homeschoolers, you can visit LetsHomeschoolHighschool.com.
Merit Based Scholarships
Scholarships awarded on basis of merit are a favorite of homeschooled students because the criteria are so varied, and the scholarships are less dependent on where you attend school and more dependent on what you have accomplished. Even the National Merit Scholarship program is friendly to homeschoolers. As long as a student fits the specific criteria of the scholarship such as artistic accomplishment, academic achievement, or volunteer work, it is unlikely to matter where or how a student attended high school. Scholarships specific to public or private school students will usually state that requirement prominently in the description, but it doesn't hurt to contact the scholarship sponsor directly to see if homeschoolers were simply overlooked in the guidelines.
Location-Based Scholarships
States, counties, and cities like to support outstanding students who call their geographic region home. For that reason, there are often local scholarships available to students based on where they live. Since the pool of eligible candidates for these scholarships is limited by population, the odds of winning one of these type scholarships can be better than with some other types. Almost every state has a scholarship program for residents, so it is worthwhile to research the ones available in your state. Many communities also offer scholarships dependent on a student's community service, so if your student is interested in volunteering, keep these in mind when choosing which causes to focus on.
Demographic Scholarships
Some scholarship opportunities are aimed at specific demographic populations including minorities, women, people with specific backgrounds, or people of specific ethnicity or religion. Whether your child is African American, Hispanic, has a disability, or is the child of a military veteran, it's likely there is a scholarship aimed at them.
Need-based Scholarships
Most Americans agree that financial need should not prevent someone from attending college. That's why many scholarship opportunities are aimed at students whose families might not normally be able to afford to help them earn a higher education degree. Although these scholarships can come from private companies and organizations, students will usually begin their search for financial aid via the Free Application for Federal Student Aid (FAFSA). FAFSA is the largest provider of federal student aid in the nation.
Miscellaneous Scholarships
Almost any interest, aptitude, or cause that a person can think of will have some kind of scholarship opportunity attached to it. Did you know there is a scholarship just for vegetarians? For students interested in funeral service work? Or for young people who have a talent in duck-calling? These examples are just the tip of the iceberg of unusual scholarship opportunities. It's definitely worth doing some internet research to see if there is a scholarship that matches your student's individual profile.
Scholarship Application Pointers for Homeschoolers
As a homeschooler, you may feel overwhelmed about where to start with completing a scholarship application. Time4Learning would like to help by offering the following pointers for your application process.
1. Research all your scholarship options
Using the list of scholarship types above, make sure that you research every kind of scholarship that may apply to you. Some wonderful sources for scholarship research include The College Board, Scholarships.com, and StudentScholarshipSearch.com. Don't forget to search for state, regional, and local scholarship opportunities as well.
2. Fill out the FAFSA application
No matter what other types of scholarships you may apply for, your first application should always be to Federal Student Aid. FAFSA provides more than $150 billion in federal grants, loans, and work-study funds each year to more than 13 million students paying for college or career school.
3. Apply to any scholarships you are eligible for
This step can be overwhelming – – especially if there are a hundred different scholarships you want to apply for. The key is to not try to fill them all out at once. Organize them by deadline so that you are applying for the most pressing ones first, and if a scholarship must be mailed, allow enough time for that. Do a few applications at a time, and work carefully through each one to make sure you aren't missing any requested information. With scholarships, there is no such thing as "optional" information. Neatness and presentation also count a great deal, so put your best foot forward on everything from your address to any requested essays.
Homeschool High School Curriculum for High Achievers
For students eager to keep at the top of their game during the high school years of homeschool, Time4Learning is a valuable curriculum option. Time4Learning high school offers an online, interactive curriculum for ninth through twelfth grade that correlates to state standards and is organized into courses that cover the subjects of language arts, math, social studies and science, plus two electives. Courses are parent-supervised, student-paced, and designed to help students achieve college and career readiness.
The courses are presented within an automated, student-paced system that teaches the lessons, reinforces concepts, time-stamps online activities (for attendance), tracks progress, and keeps printable reports that can be turned into student transcripts or included with homeschool portfolios. These reports could be valuable to students who need active record-keeping for scholarship applications.