Lapbooking and Time4Learning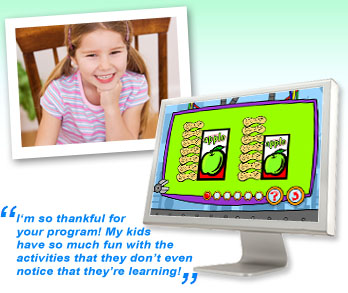 View Our Lesson Demos
Do you complement your homeschoolcurriculum with lapbooking? This page is intended as a resource for people who want to know how Time4Learning can be used in conjunction with lapbooking.
Many parents find lapbooks appealingbecause of the intense parent/child interaction inherent in the majority of lessons. Activities revolve around a theme that a parent is required to be actively involved in as the basis for learning. The teaching parent often finds it easier to maximize the lapbooking experience when it's combined with a self-running comprehensive curriculum, like Time4Learning, that is less demanding of the parent's time. Less time spent on math and phonics means more time to enjoy lapbooking!
Visit our parents forum to read a discussion about parents using lapbooking along with Time4Learning.
What is Lapbooking?
Lapbooking is a homeschooling method in which students make mini-books that include details from lessons they have studied. After children complete a collection of mini-books about a larger topic, they put the mini-books together in a large folder. This folder is called a lapbook because it is typically the size of your lap.
One of the greatest features of lapbooking is that homeschooled children can show their completed project to family and friends. Each time they present their lapbook, they master the material time and time again. In addition, completed lapbooks make an impressive homeschool portfolio to bring with your children for year-end testing or annual evaluation.
How Do Homeschoolers Lapbook?
Lapbooking is popular with homeschoolers because lapbooks help children master and retain what they have learned while having FUN! Homeschooling families often use lapbooking to expand their children's variety of learning experiences. Lapbooking is a fun and creative way for homeschooled students to digest information from otherwise dull assignments and create output in an interesting and appealing way.
Many homeschooling families include lapbooks in their program to help their children master material and build reading and math skills, as well as science and social studies knowledge. As students complete assignments, they create a collection of mini-books about a topic and put them together in a perfect lap-sized folded file folder.
Time4Learning is vibrant, engaging, educational, and funny. It sure beats our previous homeschool curriculum which was textbook/workbook based.
Time4Learning is so effective that very little intervention is required. This works great if you're homeschooling multiple children.
One Homeschool Mom Shares Her Story
This story is shared by Kelly, a Time4Learning mom who uses lapbooks in her homeschool curriculum:
"Since 2001, my kids have created a lapbook almost every week. The completed books are stored in magazine files. By the end of the school year, we have collected around thirty lapbooks per child, each containing a record of the child's study for that week. Besides reinforcing study material and providing a record, lapbooks effortlessly incorporate review into your program. My children are eager to share the contents of their lapbooks with friends and family. Each time they do this, they are reviewing the material contained in the lapbook! I've never seen them grab a textbook or worksheet to show off when Grandma knocks at the door, but it's a regular occurrence with their lapbooks. (Thanks for your patience, Mom!)"
How to Use Time4Learning With Lapbooking
If you're a homeschooler interested in, Time4Learning can provide the structure needed as a basis for lapbooks. Photos, articles and samples are great additions to lessons completed by your children as part of their Time4Learning classes. Lapbooking can be a regular part of your curriculum, an occasional diversion, or a once-in-a-lifetime experience.
Your student's Time4Learning records are easily printable for inclusion in your lapbook. When you access your student's portfolio, you will see that the test scores appear as a link. You can click on those links and print the completed test. The completed lapbook makes a wonderful homeschool portfolio to document and review what your children learn each year and having their Time4Learning scores included is a great way to document the full year's progress. Plus, lapbooking is just plain fun for kids!
Find out how Time4Learning can complement your homeschool approach.
The Benefits of Using Time4Learning and Lapbooking Together
Time4Learning appeals to a wide range of learning styles. Our multi-media learning materials are especially well-suited to children who are visual or kinesthetic learners. These children can take advantage of Time4Learning's fun, interactive assignments.
Time4Learning is a new approach to homeschool. Our online learning materials take advantage of today's technology. Time4Learning is a convenient, online homeschool resource that helps children from preschool through high school.
Children like using the computer to learn. The Time4Learning homeschool curriculum enables children to work at their own pace while engaging and challenging them with interactive lessons.
Parents like that it tracks progress and helps children advance by teaching with individualized learning paths that assure coverage of the skills, and clearly presents the concepts children need to succeed.
Use as much or as little as you need. The Time4Learning self-paced, modularized lesson plans allow you to move forward and back through the materials whenever you want. You can skip lessons that teach concepts your child has already mastered and repeat those he or she has not. The choice is yours. With Time4Learning, you are always in control.
Time4Learning is proven effective with homeschoolers, has a low monthly price, and provides a 100% satisfaction guarantee so you can make sure that it works for your children! Sign up for Time4Learning as your core or as a supplement to your overall homeschool curriculum.
I want to learn more about theTime4Learning Homeschooling Online program.
The Time4Learning Program Structure
Time4Learning has been refined through years of feedback from educators, parents, and students. Subjects are organized into chapters composed of interactive lessons, printable worksheets, quizzes and tests. Students are guided through the activities at their own pace by an automated system.
When students log in, they choose a subject, select a chapter, pick a lesson and complete the activities. A bright green arrow tells them where they left off, and completed work is clearly labeled with a check-mark or a gold star. Visual and auditory prompts guide students through the lessons making them easy for young learners to follow, and an online playground (controlled by parents) rewards and motivates them to finish their lessons.
Parents get access to printable lesson plans, teaching tools, detailed reporting and parental support through our online Parent Forum.
Does your child have different achievement levels for math and language arts? No problem. Time4Learning lets you set each individual subject at the appropriate graded level, making this program great for special needs and gifted students.