Online Homeschooling Made Simple with Time4Learning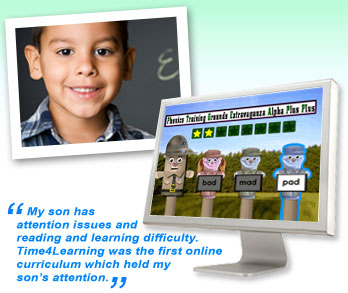 View Our Lesson Demos
Time4Learning is an online homeschooling curriculum designed for prek-twelfth grade students. The interactive, multimedia based homeschooling program teaches your child through fun, animated lessons and activities. Printable worksheets for many lessons help make homeschooling easier by providing students with additional reinforcement when needed.
Homeschooling parents love the automated grading and detailed reportsthat make homeschooling simple and convenient. Parents can view and print the reports any time to help track the student's progress.
Time4Learning has a low monthly price and provides a two week money back guarantee so you can be sure it works.
Sign up today!
Flexible, Convenient Homeschooling for Both Parents and Students
Whether your child is a mainstream learner, gifted or even special needs, our online homeschooling program provides your child the ease and flexibility to help them succeed.
Students complete the program at their own pace and they can even be placed in different grade levels by subject. As most parents know, many students usually work at different levels. For example, if your child works at fifth grade level math and fourth grade level language arts, our homeschooling curriculum grants your child the ease to work within different levels.
Upon placing a child at a certain grade level, Time4Learning's homeschooling program includes a convenient feature that grants students access to one level above and one level below their default grade level. That way, if your student is working at a quick pace, they can navigate to the level above for enrichment, and at the same time, if they are struggling, they can easily access the level below for review.
Voted "Top 100 Educational Websites" by Homeschool.com
Time4Learning is proven effective and has been refined through years of feedback not only from educators, but also parents and students. The automated, web-based system can be accessed from any computer and there is nothing to download.
Lessons are brief enough to hold the child's attention, yet effective enough to help the child learn the material. Interactive activities, practice exercises and printable worksheets help reinforce the lessons.
Time4Learning makes homeschooling easy thanks to the flexibility the online program provides. Students are able to work independently and at their own pace using their own learning path.
Educational, Fun and Effective
Parents want their children to not only learn, but love to learn and to succeed as well. Time4Learning helps you accomplish just that. Our homeschooling curriculum makes learning fun by providing animated lessons and interactive activities that don't feel like schoolwork. Students learn math, language arts, science, social studies, art, and foreign languages on their own schedule and according to each family's needs. Children love learning on the computer and Time4Learning will make your homeschooling days more enjoyable for your entire family.
While many homeschooling parents prepare for an upcoming school year in advance, Time4Learning understands that things don't always go as planned which is why our program allows you to start at any time of the year. There is no deadline to sign up and registration is open every day of the year.
Time4Learning offers a 14-day money-back guarantee and the ability to stop, start, or pause anytime, so why not try a homeschooling program that will help your child succeed? Sign up now!
I LOVE Time4Learning! It holds the attention of my kids, plus I can keep track of their learning without hovering over their shoulders.
I am really pleased with Time4Learning. It has made a world of difference in my son's academic performance in school!