How Homeschoolers Can Use Social Media Hashtags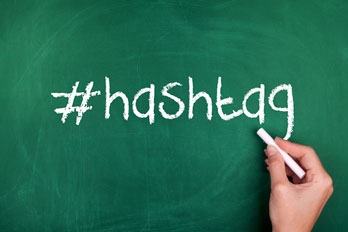 View Our Lesson Demos
If you've spent any time on the homeschool social Web, you've probably noticed that homeschoolers are using social networks, tools, and communities in innovative ways. One particular area of the social Web that has yet to take off with homeschoolers is one that can be of great help when researching, learning and networking: understanding how to take full advantage of social media hashtags.
How Hashtags Work
There are innumerable websites related to homeschooling on the Web, but sometimes parents don't have the time to go searching through them all for the information they want.
What is a Hashtag?
If you're looking for the most up-to-date and personalized information on a particular topic anywhere on the Web, hashtags are your best bet. Social media sites like Twitter, Facebook, Google+, and Pinterest are busy every minute of every day with people having conversations about things that homeschoolers are curious about. Things like #homeschooling, #curriculum, #printables, and #edtech. All you have to do is click through the hashtag of your choice.
Hashtags and Learning
Homeschoolers often spend a great deal of time on their favorite social media sites, but the truth is that the focus is often pretty limited. Unless a homeschooling friend happens to share a new homeschooling Facebook community with you, or tweets about a homeschool science curriculum you should try, you can often be completely unaware of pages, groups, and people that would greatly benefit your homeschooling journey. For instance did you happen to know there is a dedicated Facebook community for Roadschoolers? Or a Google+ community for military homeschoolers? If you didn't, it's likely because you never really thought to search for those communities on social media – – even if they apply to you!
Hashtags can change all that.
Sharing Info That will Benefit Other Homeschoolers
Homeschoolers can quickly build the homeschool superhighway by tagging at least some of their homeschool-related posts with hashtags like #roadschooling, #militaryhomeschoolers, #homeschoolbooks, and #preschool so that you can find communities, experts, and information that helps you on your day to day journey.
The truth is that for hashtags to make a difference in our lives, we have to be willing to use them ourselves — on all our social media profiles — not just Twitter! Most of the time we like keeping our Facebook status updates only accessible to our true Facebook friends. But what if you've discovered a homeschool tip or product that you wish you could share with the world. With Facebook's "Public" feature and the hashtag option, you can do just that! Here's how…
Create a specific status update that shares your important homeschool information.
Don't forget to include the hashtag that you want to be searchable on Facebook.
Click on the Audience option at the bottom of the status window to change your audience from Friends → Public.
Then click "Post".
Now, your info will be completely searchable by all homeschoolers who are looking for up-to-date opinions and conversations about your topic!
Hashtags for Social Media Admins
This is even more important for homeschool pages and communities. If you admin a specific homeschool-related group or information page on social media, then you have an even more powerful opportunity to spread homeschooling know-how by simply tagging important posts with hashtags you think other homeschoolers are seeking information about.
Hashtags for Homeschoolers
Currently there's no single database for hashtags that homeschoolers regularly use, but a quick search of social media shows that if you're curious about it — there's probably already a hashtag for it! So use your favorite hashtag search engine and try some out for yourself. For example, what are…
Still not sure what other hashtags you should use or search for? Try out a few of the ones listed below in your next post or hashtag search.