Google For Homeschoolers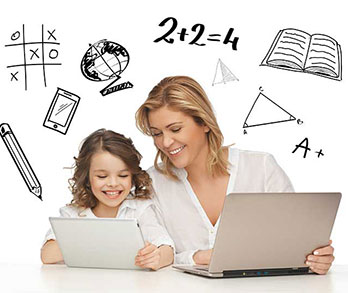 View Our Lesson Demos
Google is one of the best resources available for homeschoolers, hands down. Through Google, there are many options available for organization, access, and educational opportunities.
Once you know how helpful Google is, there's a great possibility it may in fact become more addictive than our beloved Pinterest. Not only are there lots of options through Google, but it's very helpful for homeschoolers on a tight budget!
So, how can you utilize Google in your homeschool?
Homeschooling with YouTube
In this day and age, nearly everyone knows about YouTube, but some homeschoolers still haven't discovered how helpful it can be for visual learners. There are several educational channels available with fantastic learning videos. For example, Homeschool Literature, Crash Course, Bozeman Science, Socratica, and numerous others with tips and tricks on study habits and retention to DIY school supplies.
Google Docs for Homeschoolers
Google Docs is ridiculously handy for assignments, tests, notes, and really any document you need to create for your homeschool. Think Microsoft Word or Word Perfect, but online and accessible from any computer as long as you have your email/password combination. This particular fact is rather helpful for those homeschoolers constantly on the move and with only smartphone/tablet access. Maybe you need a spreadsheet instead of a regular doc? No biggie, just choose Google Spreadsheets. Need to create a table? Go ahead. Insert a picture? Sure thing, done. Edit offline? Yeah, you can do that too.
Homeschool Blogspot
Are you a blogger? There is a whole gamut of homeschool moms sharing their experiences online, and it can be very encouraging to link up! Blogspot makes blogging easy and fun. Also, if you want a place to document your homeschooling journey, blogging is a great option! In case you didn't know, Blogspot is automatically synced with your Google account, which makes for ease of commenting and sharing!
Google Presentations (Slides) for Homeschooling
School projects may occasionally call for a presentation of sorts, or organization may just be easier with topics divided onto slides. Creating these slides with Google is incredibly easy and fun!
Homeschooler Hangouts
Organizing Google Hangouts with other homeschoolers can be a great idea for collaborating on projects in co-ops, or really discussing any specific topic. If your homeschool group finds a number of students with a certain interest, chatting about it via Google Hangouts can be great! Not only that, but if you'd like to talk with other homeschooling parents face to face, Hangouts is a great option. One nice thing about Hangouts is that you can also make them live and record them for YouTube, so you can create events and invite people to attend the video!
Chromebooks
Have you considered using Chromebooks for your homeschool? This is a relatively new approach to homeschool, but many are enjoying it and it sounds like a fantastic idea! There is a great Twitter user, Chromebooks4Homeschoolers, that has some really helpful tips and resources for learning more about using Chromebooks for homeschooling!
Google Books
Let's just be honest here, books are heavy. When you are a homeschooler, there is a strong possibility that you'll end up carting those books in the car, to doctors' offices, and to the grocery store. Google Books makes it easy by having these eBooks available for download, and then you can easily access them from your account on whatever device you'd like! What a much easier way to carry all those books!
Google Calendar
Everyone needs reminders here and there. Google calendar not only makes it incredibly easy to keep track of tasks and appointments, but you can set up notifications to your phone so you won't miss a meeting.
Google Forms
Do you ever need a form for sign-ups of some sort or another? Google forms are very handy for just that kind of thing. Maybe you want to send a sign-up form to your homeschool co-op for a field trip or lab studyGoogle forms would be perfect for it!
Collaboration
Now for one of the most convenient features of Google Drive: Absolutely anything and everything in Google Drive can be shared with any email address! Not only that, but you can specify exactly what permissions that person will have, such as view-only, commenting, or editing privileges. This is extremely helpful if you want to work with other homeschool moms on a co-op project, or for handling an assignment with your teen. Not only that, but instead of emailing large attachments, all you send is a link. Simple, fast, efficient, and easy just what homeschoolers love.