Bob Jones* Homeschool Curriculum with Time4Learning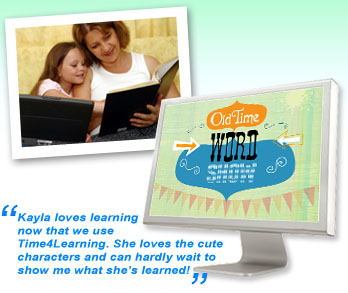 View Our Lesson Demos
Considering the Bob Jones* curriculum? Already using Bob Jones* and thinking about what to use with it? Many parents who homeschool their children find that one of the hardest tasks is selecting which homeschool curriculum to work with. The web is full of homeschool resource lists, homeschool material discussions, and homeschool resource reviews. Sifting through the various homeschool options can be confusing as parents try to find the best or blend of curricula for their child.
Included on this page:
Bob Jones Homeschool Curriculum
Parents like the in-depth Biblical orientation and detailed structure provided by Bob Jones Curriculum. Some use the traditional Bob Jones textbook series, and others choose the BJ Homesat distance education program. The goal of both programs is to provide biblically sound, and academically excellent instruction for students in grades K-12. The textbook curriculum is designed to be more traditional, with standard worksheet-based lessons and instruction from the parents, while the Homesat program integrates visual lessons via live satellite feed from teachers at the Bob Jones School campus.
Bob Jones curriculum is workbook oriented. The curriculum is organized, systematic, and sequential, which assures coverage of the material. Many children benefit from blending the Bob Jones curriculum with another supplementary curriculum of contrasting style, especially one that integrates fun with learning.
Supplementing Bob Jones Homeschool Curriculum with Time4Learning
All children learn differently and most respond very well to online delivery of homeschool materials. In addition, some children need to see a topic or concept presented in more than one way before what's being taught, "clicks" for them. Time4Learning's engaging, interactive style compliments Bob Jones workbook-based program and vice versa.
Time4Learning offers interactive, self-paced instruction in math, language arts, social studies, science, and foreign language. Many families report that using Time4Learning in conjunction with Bob Jones curriculum has enhanced their child's academic success. Time4Learning's online educational software can be used as either a core or supplemental curriculum.
The Benefits of Using Time4Learning and Bob Jones Together
Time4Learning appeals to a wide range of learning styles. Our online learning materials are especially well suited to children who are visual or kinesthetic learners. These children can take advantage of Time4Learning's interactive, multimedia materials.
Time4Learning is a new approach to homeschool. Our online learning materials take advantage of today's technology. It's a convenient, interactive homeschool resource that helps children from preschool through high school.
Children like using the computer to learn. Time4Learning is a convenient, interactive homeschool resource that provides a welcome change from textbook-based lessons, and it helps children learn computer skills that are so important today.
Parents like that it tracks progress and helps children advance by teaching with individualized learning paths that assure coverage of the skills, and that it clearly presents the concepts children need to succeed.
Use as much or as little as you need. Time4Learning's self-paced, modularized lesson plans allow you to move forward and back through the materials whenever you want. You can skip lessons that teach concepts your child has already mastered and repeat those he or she has not.
Time4Learning has proven effective with homeschoolers, has a low monthly price, is easy-to-use, and provides a money-back 100% satisfaction guarantee so you can make sure that it works for your children. Sign up for Time4Learning as part of your overall homeschool program.
The Time4Learning Program Structure
Time4Learning has been refined through years of feedback from educators, parents, and students. Subjects are organized into chapters composed of interactive lessons, printable worksheets, quizzes and tests. Students are guided through the activities at their own pace by an automated system.
When students log in, they choose a subject, select a chapter, pick a lesson and complete the activities. A bright green arrow tells them where they left off, and completed work is clearly labeled with a check-mark or a gold star. Visual and auditory prompts guide students through the lessons making them easy for young learners to follow, and an online playground (controlled by parents) rewards and motivates them to finish their lessons.
Parents get access to printable lesson plans, teaching tools, detailed reporting and parental support through our online Parent Forum.
Sign up for Time4Learning and gain access to a variety of educational materials, which will engage and challenge your child to succeed. Make Time4Learning a part of your children's homeschool resources.
*Note – Time4Learning is not affiliated with Bob Jones University Press or it's trademark owner, Bob Jones University. Time4Learning's purpose with this page is to provide information to families who are considering an eclectic approach to homeschooling or who wish to compare the benefits of using both curricula together.