Time4Learning Curriculum Compared With ABC Mouse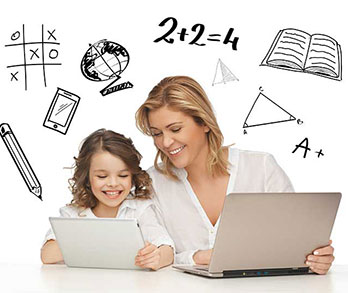 TRY OUR LESSON DEMOS
As you research the many educational options as a homeschooling parent, it can be confusing to find the best fit for your child and budget. On the surface, some online learning solutions, such as ABC Mouse, might seem similar in content and pricing to Time4Learning, but a closer look can reveal that what they offer is quite different, and often far less than what you get from Time4Learning.
What is ABC Mouse? ABC Mouse is an online subscription-based initiative geared toward early learning for children ages 2-7.  It consists mainly of games and activities that expose early learners to the basics of math and reading, preparing them for pre-K, kindergarten and early elementary school. ABC Mouse is more of a preparation for traditional school than a standalone homeschool curriculum.
Included on this page:
Online Curriculum – Time4Learning
How can Time4Learning be used? Starting with pre-K, Time4Learning can be used in conjunction with traditional schools and learning centers. We can be also be used as a comprehensive homeschool solution which provides our award-winning homeschool curriculum, helpful parent tools, and a plethora homeschool resources.
Time4Learning provides an interactive online educational experience for children in the core subjects of math, language arts, science and social studies, from pre-K through 12th grade as well as foreign languages. Time4Learning takes into account the busy schedules of families, offering convenient home-based, student-paced lessons and activities. As such, children can work on their own schedule.
Families also use Time4Learning as a replacement for summer school when they feel that they want to review the previous year's work or get a head start on studies for next year. The multimedia lessons and activities are a great alternative to the traditional approaches you find in most classrooms and learning centers.
Time4Learning is an affordable alternative to many of the other academic support programs out there and offers an award-winning, comprehensive curriculum for math, language arts (reading/writing), science, social studies, foreign languages, and electives. Click to learn more.
Time4Learning vs. ABC Mouse
Which program should I choose? Making tough choices comes with the territory of being a parent. However, deciding on the best educational solution for your child doesn't have to be one of them. Figuring out which type of program to use can be a struggle, considering each child has different needs and abilities. It's important to keep in mind there is not one answer or solution out there, yet several options to explore. Basically, it comes down to scheduling and your child's needs. Whatever works best for your family is the solution. That can mean exploring new options and also removing things that are not working. It's okay to start over and go in a different direction, learning is something that continues to evolve and is made up of many moving parts.
What is the main difference between Time4Learning and ABC Mouse? The most significant difference between Time4Learning and ABC Mouse is the width and breadth of the content that is offered. Time4Learning can be used as a standalone, one-stop-shop for your child's early educational needs, and can take them on their educational journey, from PreK through high school and beyond. We can also be used as an augmentation to traditional schools, as well as an alternative to summer school.
ABC Mouse is a program that provides  early exposure to basic educational concepts with the intent to prepare children for traditional school.. Essentially, Time4Learning is a comprehensive curriculum, not just fun and games. While the Time4Learning curriculum is engaging and fun like ABC Mouse, it is not just for practice or entertainment. Time4Learning will educate your child from PreK-12th grade. Start now.
How will online learning enrich my child? Online learning programs are resources that use interactive activities to teach lessons. Time4Learning is appealing because it offers a comprehensive curriculum delivered through fun and entertaining activities, engaging children in their learning.
Which is more cost-effective? While Time4Learning has a slightly higher per month price point, what you and your children have access to is far more comprehensive that ABC Mouse. As such, Time4Learning is more cost-effective than ABC Mouse.
And if you are the parent who seeks to traditionally-educate your child, you will be able to choose what you need at your own pace and can end your membership at any time, no questions asked. Find out more about Time4Learning's two week, money-back guarantee.
Parental Support
Time4Learning offers extensive support and tracking systems for parents.
Staying involved in your child's educational journey as they progress from early learning to more advanced grades is most important.The Time4Learning program offers extensive support and tracking systems for parents.
Parents are provided with a scope and sequence, lessons plans, and the ability to track their own child's progress, making scores and assessments readily available at all times. With the ability to print these plans and assessments, parents can easily create a homeschool portfolio, saving time and helping in the overall organization. Parental support is also given through our online forum where discussions and questions may be posted.
Time4Learning is exceptionally effective in its goal to captivate and educate students simultaneously. It is increasingly less costly and more comprehensive than other programs. Parents who are looking for a daily, interesting way for their child to learn via the modern technology of a computer would be best accommodated using Time4Learning. Sign up for Time4Learning and begin using the many resources. We look forward to helping foster the growth and journey of your child.
*Note – Time4Learning is not affiliated with ABC Mouse®. Time4Learning's purpose with this page is to provide information to families who are considering the benefits of different approaches to providing supplementary or core educational services to their children.
The Time4Learning Program Structure
Time4Learning has been refined through years of feedback from educators, parents, and students. Subjects are organized into chapters composed of interactive lessons, printable worksheets, quizzes and tests. Students are guided through the activities at their own pace by an automated system.
When students log in, they choose a subject, select a chapter, pick a lesson and complete the activities. A check mark tells them where they left off, and completed work is clearly labeled with a check mark. Visual and auditory prompts guide students through the lessons making them easy for young learners to follow, and an online playground (controlled by parents) rewards and motivates them to finish their lessons.
Parents get access to printable lesson plans, teaching tools, detailed reporting, and parental support through our online Parent Forum.
Does your child have different achievement levels for math and language arts? No problem. Time4Learning lets you set each individual subject at the appropriate grade level, making this program great for special needs and gifted students.