1st Grade Science Lesson Plans
View Our Lesson Demos
The Time4Learning science curriculum is available for students in the first through sixth grades. Parents can expect to see subjects covered on the scientific method, physical science, earth science, energy and more.
Members often use this pages as a resource for more detailed planning, as a guide to help select specific activities using the activity finder or to compare our curriculum with state standards and homeschooling laws.
What Is Included In The Time4Learning Lesson Plan?
Comprehensive curriculum for first grade science with 8 chapters, 130+ activities, worksheets and quizzes
Chapter lessons with detail descriptions of the content covered
Multiple activity types to instill skill mastery including non-scored activities, quizzes and printable quiz answer keys
Lessons worksheets and answer keys covering the materials presented
Easy access to additional chapters within each subject
Lesson Plans – First Grade Science Curriculum Lessons
Total Activities: 119
In the Changes in Matter module, students will enjoy creating their own puppets.
This hands-on activity helps demonstrate the sequence of physical and chemical changes.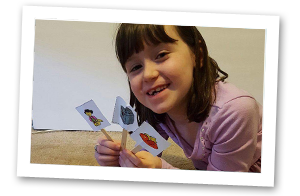 Scope & Sequence Copyright. © 2021 Edgenuity, Inc. All rights reserved.
Lesson Activity Finder Tool
The lesson activity finder is one of the many helpful tools that Time4Learning offers its members. The activity finder is a shortcut that makes it easy for parents to preview lessons or find extra practice for their child.
Every lesson in the curriculum has a unique activity number, referred to in the lesson plans as an "LA Number." These numbers can be found on either the scope and sequence pages or the lesson plans in the Parent Dashboard.
Additional First-Grade Subjects and Topics:
If you're interested in the first grade science lesson plans, you might also be interested in:
Online Curriculum for Homeschool, Afterschool and Summer Use
If you are just learning about Time4Learning, we'd suggest first looking at our interactive lesson demos.
Sign up for Time4Learning and gain access to a variety of educational materials, which will engage and challenge your child to succeed. Make Time4Learning a part of your children's homeschool resources success.