Fourth Grade Learning Software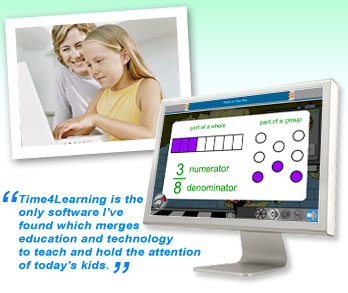 Try Our Lesson Demos
Time4Learning is a web-based educational software covering preschool through high school. It is popular as an online fourth grade homeschool curriculum, for afterschool enrichment, remediation or summer study. Time4Learning's online fourth grade software program includes language arts, math, science and social studies as part of the membership. Foreign language learning is also available as an optional add-on for an additional fee.
Time4Learning's software program is entirely web-based so there is nothing to download, no CDs, and no hard drive space consumed. Members can access our fourth grade software program from any location with a computer and Internet connection.
This page provides:
Fourth Grade Language Arts Software
The fourth grade language arts software curriculum begins with language-based thematic chapters of various genres, including multi-media lessons in reading literature, reading comprehension skills, writing, vocabulary and spelling. These areas, as well as listening and speaking skills, are further developed through extension activities, printable resources and teaching guides found within the lesson plans on the Parent Dashboard.
Fourth grade students expand their language usage through 121 activities covering vocabulary, reading comprehension, writing and grammar-based lessons.
If you're interested in the fourth grade language arts software, you might also be interested in:
Fourth Grade Reading List
Literature activities focusing on genre specifics such as biographies, fiction, nonfiction, folktales, poetry, reading techniques and story elements help fourth graders develop and define the characteristics of various types of reading and writing.
Written communication by use of the Odyssey Writer prompts fourth grade students to use graphic organizers to produce different types of writing (reports, responses, poetry, expository, narrative and figurative writing) while using the writing process of plan-draft-write-revise-edit-print-and share.
The fourth grade language arts software reading materials are provided online and include excerpts of authentic literature.Some parents have expressed interest in purchasing the full versions since some children might prefer to read from a book or simply to have permanent copies for their home library. These can be purchased at the links below, but they are not necessary in order to use the Time4Learning software.
Fourth Grade Vocabulary Software
Vocabulary building strategies are emphasized throughout Time4Learning's fourth grade language arts software program. Vocabulary exercises encourage students to identify prefixes and suffixes, and then use the information to determine the correct meaning of a word. Animated vocabulary lessons cover synonyms, antonyms and homonyms. Literature-based study of topics such as pioneers, natural disasters, African American poetry and inventors present themed vocabulary words. Ten concentrated units offer traditional vocabulary lists. Math vocabulary is introduced with vocabulary words relating to quantity and size. Units culminate with a vocabulary test to assess understanding.
Fourth Grade Math Software
The fourth grade math software curriculum consists of 259 activities that include: patterns, algebra, geometry, time and probability. Chapters focus on individual concepts through guided online math lessons, exploratory and practice activities, math tools (computer manipulatives), quizzes, and assessments. Printable worksheets are available to parents through Time4Learning's Parent Dashboard.
Fourth grade math begins with number theory and systems. Students review and expand upon place value through rounding, ordering numbers and estimation. Multi-digit addition, subtraction, multiplication and division lead into the complexities of identifying and understanding fractions and decimals. Interactive lessons on patterns, relations and algebraic functions help students recognize and analyze mathematical situations.
Fourth grade math students will focus on spatial relations, coordinate geometry, measurement (customary and metric units or length, weight, and capacity), and the attributes of perimeter and area. The fourth grade math curriculum concludes with basic concepts of probability (likelihood, variables, combinations) and the interpretation of data through various displays (frequency tables, line graphs, bar graphs, double bars graphs and stem-and-leaf plots.)
If you're interested in the fourth grade math software, you might also be interested in:
Fourth Grade Science Software
The fourth grade science software curriculum teaches within five main units, with a primary focus on the solar system and the universe. Guided lessons walk students through new concepts, highlighting scientific vocabulary, investigations and basic principles. Fourth graders will study various aspects of changes in matter and energy, sound, the solar system and universe, and living things. Fourth grade science offers further learning experiences through printable resources found within the Parent Dashboard.
Fourth grade students will learn to identify sources of energy, observe force and motion, and distinguish changes in matter through multimedia activities. Online science lessons will concentrate on the composition, seasons, orbit, rotation, and tilt of the Earth. The arrangement, classification and characteristics of planets (spotlighting each planet's attributes), along with other objects in space (asteroids, comets, satellites, the sun and the moon) will culminate the study of the universe. In the living things chapter, students will study life cycles, body systems, ecosystems, food webs, natural systems and recycling, adding to their awareness for their natural surroundings.
If you're interested in the fourth grade science software, you might also be interested in:
Fourth Grade Social Studies Software
The fourth grade social studies software curriculum teaches concepts in ancient civilizations, civics, geography, economics and current events through interactive, online lessons. Students will discover the concepts of freedom, slavery, separation of powers and the three branches of government. They will also examine the Articles of Confederation, the U.S. Constitution and the Bill of Rights through multimedia activities.
Beginning with studies on Mesopotamian, Egyptian, Aztec, Mayan and Incan cultures and societies, fourth graders will investigate ancient art, architecture, government and development, learning to compare and contrast civilizations. This leads into the colonization of America, related wars, and the American Revolution, which is a main feature in the fourth grade social studies software program.
Map skills and United States geography expand to include locating major mountain ranges and rivers, understanding geographical terminology and using a variety of maps (physical, political, relief, population and climate.) Fourth grade social studies culminates with lessons on current issues and prehistoric cave art.
If you're interested in the fourth grade social studies software, you might also be interested in:
Structure of the Fourth Grade Software Program – The Time4Learning Structure
Time4Learning has been refined through years of feedback from educators, parents and students. Fourth grade subjects are presented with web-based software organized into multimedia chapters composed of interactive lessons, printable worksheets and graded activities. Fourth graders are guided through the online activities at their own pace by an automated software system.
When students log into the software program, they choose a subject, select a chapter, pick a lesson and complete the activities. A bright green arrow tells them where they left off, and completed work is clearly labeled with a checkmark or a gold star. Visual and auditory prompts guide fourth graders through the lessons making them easy for young learners to follow, and an online playground (controlled by parents) rewards and motivates them to finish their lessons.
Parents get access to printable lesson plans, teaching tools, detailed reporting and parental support through our online Parent Forum.
Does your child have different achievement levels for math and language arts? No problem. Time4Learning lets you set each individual subject at the appropriate grade level, making this program ideal for special needs and gifted students.
Fourth Grade Educational Software for Homeschool, Afterschool and Summer Use
Time4Learning is a web-based educational software that can be used for homeschool, afterschool or summer learning. It is a great way to start fourth graders off on the right foot. Time4Learning presents fourth grade curriculum using Internet software that is both engaging and effective. Kids love the funny sound effects and quirky cartoon characters the software presents lessons with. Animated, interactive lessons feel more like video games than learning exercises. Plus, the student-paced nature of the program teaches them how to work independently, giving them a sense of ownership over their progress, which is a great motivator.
Time4Learning is entirely web-based, so there is nothing to download, no CDs and nothing additional to purchase. Your kids will be able to access the program 24/7 from any computer with an Internet connection. It has a low monthly price, offers a 14-day money-back guarantee and you can stop, start, or pause anytime.
Time4Learning has helped thousands of families. Why not yours? – Sign up now.