Elementary Educational Activities & Elementary Games Online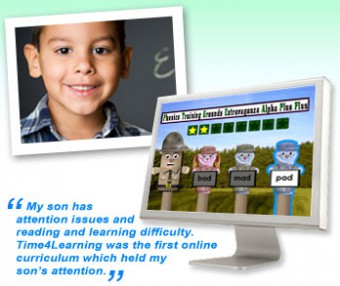 TRY OUR LESSON DEMOS
Children develop their educational foundation, confidence, and study habits during the elementary years.
Whether or not their 'habit' is for success or just getting along, it depends on building a solid reading and math foundation. Just like a building, an education foundation is only as solid as the foundation of understandings, basic skills, and study skills.
Time4Learning helps children develop a solid education foundation by using a variety of learning activities and elementary games online. Our online educational system presents students with basic elementary concepts. Then, through reinforcement, it helps children master the reading and math fundamentals.
Time4Learning can be used for homeschool, afterschool and summer skill building.
Time4Learning helps your child succeed at school by:
Providing highly motivating daily lessons
Teaching a full elementary reading and math curriculum, not just spots of information
Establishing good study habits by teaching a pattern of first lessons, then playtime
Providing elementary games online to reinforce educational activities
Closing the information loop by providing reports on student progress
Deploying multiple teaching styles to address the different learning styles of different students and providing multimodal learning for the best understanding and retention.
A balance of progress and reinforcement, making sure children master elementary fundamentals before moving them on to more advanced reading and math concepts
Time4Learning gives your children the help they need to succeed at school. Our elementary teaching tools can be used as a supplement to school work, as core curriculum for homeschool elementary, or as an enhancement to elementary homeschool programs.
Wondering how extensive our curriculum is?
Take a look at our Curriculum Overview and see!
Online Elementary Teaching Tools
Time4Learning provides online elementary teaching tools that teach basic reading and math concepts in a variety of methods designed to support learning through different modalities. The repetition and focus on the basic reading and math concepts are done through structured learning and playground areas.
Structured Learning Area – Just as a teacher organizes a class day, Time4Learning structures our elementary teaching tools so that children are led through a daily sequence of lessons.
Playground Area – Our playground offers elementary games online so that children can receive reinforcement of the educational activities done in the structured learning area.
Parents are encouraged to establish fixed times for the children's educational activities and elementary games. Online elementary teaching tools allow parents to set daily limits so they can control how much time their children spend in the structured learning and playground areas. Children are taught to first do their school work, and then they get play. This valuable study habit, once learned, can help them for a lifetime.
What makes Time4Learning different from other elementary teaching tools?
Unlike other elementary teachings tools that just teach math facts or reading skills, Time4Learning is a complete online educational system. It places children at an appropriate subject skill level rather than just grade level and provides students a personalized learning pathway. Whether your child needs elementary fundamentals or is ready for a more advanced track, Time4Learning gears our elementary games, online educational activities and printable worksheets to your child's current level.
Time4Learning supports a variety of instructional strategies, learning styles and integrates ongoing assessment to make sure that your child is on the right learning pathway. As your child improves his/her school performance, our elementary teaching tools will continue to support and challenge your child to succeed.
With Time4Learning, there are never contracts.
Take a look at our Curriculum Overview or try our free demos.
When you Sign Up, you get 14 days to cancel for a full refund!