CompassLearning Odyssey® from CompassLearning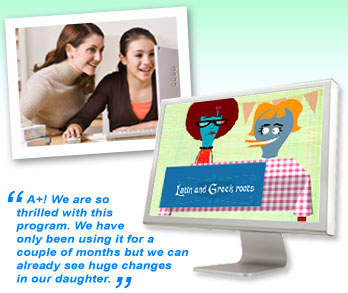 View Our Lesson Demos
CompassLearning Odyssey® is the online interactive program that revolutionizes the integration of learning and technology.
CompassLearning Odyssey® is the heart of Time4Learning's educational program. CompassOdyssey® is an online interactive program that revolutionizes the integration of learning and technology.
Were you using CompassLearning or ChildU before? We have answers for your Compass Odyssey questions.
Click here to learn more about Time4Learning.
Sign Up Now with a money-back guarantee for Time4Learning.
What Does CompassLearning Odyssey Provide?
Compass Learning Odyssey allows your child to:
Learn new information and build basic skills
Reinforce reading, writing, and math skills
Improve performance in school and on tests
Become an active learner through exploration and discovery
Experience hundreds of engaging educational games and activities that introduce new learning opportunities
CompassLearning provides engaging activities for students. Compass Learning's curricula is grade-appropriate lesson plans, kindergarten to twelfth grade including lessons, activities, quizzes, animations, audio, and video instruction. CompassLearning and Time4Learning's focus is to provide students with highly engaging, interactive content that fosters their interest in learning! While working through the activities, students enhance critical-thinking skills. These skills are similar to those found on state and national tests. Our curriculum, developed over more than a decade by CompassLearning, offers language arts, math, science, and social studies focusing on the foundation skills that are so important in the school years.
Click to see demos of Compass Learning Lessons or the complete Lesson Plans.
Click to learn more about the CompassLearning Odyssey Results.
Click to learn more about CompassLearning Odyssey & Time4Learning.
Click here to learn more about Time4Learning.
Sign Up Now with a money-back guarantee.
Time4Learning is vibrant, engaging, educational, and funny. It sure beats our previous homeschool curriculum which was textbook/workbook based.
Time4Learning is so effective that very little intervention is required. This works great if you're homeschooling multiple children.
Key Features of Time4Learning's Home Education Program
Time4Learning.com combines 1500+ multimedia lessons, printable worksheets and graded activities in a student-paced environment that brings concepts to life. Math and language arts lessons are correlated to state standards. Science, social studies and art are also provided to most grades.
Parents get access to lesson plans, printable worksheets, teaching tools (located in the Parent Dashboard), detailed reporting and parental support through our online Parent Forum.
Other key features of the program:
Students get individual logins and work on their own schedule and pace
Parents can set the grade level independently for each subject
The grade above and below are available in most grades for review and additional study
Detailed lesson plans available for parents who wish to review lesson contents
Access to an online playground that rewards and motivates
An automated system grades lessons and keeps reports for homeschool portfolio usage (shown below)
Sign up and get started on the same day!
Time4Learning is entirely web based, so there is no software to download, no CDs and nothing additional to purchase. Students will be able to access the program 24/7 from any computer with an internet connection.
Time4Learning offers a 14-day money-back guarantee and the ability to stop, start, or pause anytime. Browse lesson plans, try the interactive lesson demos, read curriculum reviews, or view the curriculum overview to see what's available.