CompassLearning® Odyssey & Time4Learning – Program Details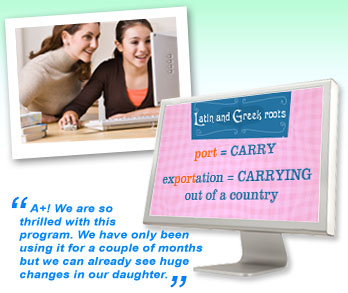 View Our Lesson Demos
Time4Learning provides the CompassLearning® Odyssey program, known to some as ChildU, to tens of thousands of homeschooling families for private use in the home. The PreK to 12th grade interactive curriculum includes the primary subjects of language arts, math, science, and social studies.
Time4Learning does not provide its curriculum to schools. If you are looking for an online curriculum for classroom use, please contact CompassLearning® directly for information.
How much does Time4Learning cost?
Pricing depends the on grade level of your students: For preK-8th grade, the cost is $19.95 per month. For high school, the monthly membership cost is $30 per student. (Additional high school courses may be purchased for an extra $5 per month, per course.) Time4Learning offers a 14-day money-back guarantee and the ability to start, stop, or pause anytime. Sign Up Now.
Are Discounts Available?
Regular monthly membership for PreK – 8th grade is $19.95 for the first student. Additional PreK – 8th grade students can be added for a discounted rate of $14.95 per month. Members can also reduce their rate by paying semi-annually or annually. (Semi annual and annual discounts only apply for prek-8th grades.)
At this time, there is no discounted rate for students at the high school level. However, having one student in the high school enables you to receive the discounted rate of $14.95 for additional students that are in the lower grades.
Contact us for details about payment options for large families.
Does Time4Learning provide all of the CompassLearning materials?
Yes, Time4Learning provides the same great suite of award-winning materials developed by CompassLearning. The biggest difference is that you will log in on the Time4Learning site through our member login pages. (We have a login page for Parents, PreK-3rd grade students, 4th-8th grade students, and high school students. Also, you will pay Time4Learning and your support will be from Time4Learning. We have email and phone support. The same progress reports are available from Time4Learning.
Does Time4Learning add anything for the children?
Time4Learning adds an online playground. So after the younger children have finished their time on the lessons (we provide an integrated timer), the child can visit our safe online playground of games for a limited amount of time. The time in the Playground is controlled by a parent-controlled online timer. Initially only available to the children up to third grade, we have had numerous requests for playground access by older children so it will be available soon. By the way, if parents do not wish to choose the online playground, they can turn the time limit in the playground to zero.
Does Time4Learning add anything for the parents?
We have two significant enhancements. First, we provide the lesson plans to parents for each grade and subject (language arts, math, science, and social studies). Secondly, Time4Learning has found that parents are very interested in discussing some of the issues about using Time4Learning, about home education, about online learning, and about some special issues with their children. Time4Learning has created an online discussion forum for parents focused on these issues. If you are interested in helping to moderate this forum, we would like to hear from you.
I have used CompassLearning for years. Will I lose my records or can you transfer them over?
Unfortunately, Time4Learning cannot transfer your records. We have investigated this possibility and have not found a way. We are sorry for the inconvenience. The forum would be a good place for parents to discuss how best to manage the transition in records. When you sign up for Time4Learning, you get to place your child. If you would like to have a special configuration for your child which is not provided for in the registration process, please follow up your registration with an email to (support @ time4learning.com). For instance, if you would like your child to have the fifth grade math program, the fourth grade language arts and social studies programs, and no science, we will be pleased to accommodate you. We try to answer all emails within half a business day (or 24 hours on the weekends).
Who is Time4Learning?
John Edelson created Time4Learning in 2003 to provide online learning to families who wanted education and safe internet in one integrated package. He grew frustrated with "educational sites" that were "advertising-supported" and were using "educational games" to sell to children and to fill computers with spyware and worse. Time4Learning's focus is on providing quality online learning systems for home use.
John Edelson is the father of three. He has written extensively on how technology has changed education (the type of education needed, the type of children that we are educating, and the methods for educating them) and is outspoken both about the risks and benefits of technology for educating our children. His primary theme is appropriate use of technology for education. Time4Learning is looking to slowly broaden its product offering over time with some advanced math programs, art education, music education, foreign languages, and increased choices in the writing areas.
Time4Learning likes to hear your ideas. We can be emailed as support @ time4learning.com
Sign up for Time4Learning and gain access to an educational system which will engage and challenge your child to succeed. Make Time4Learning a part of your children's education.