Educating a Child with CAPD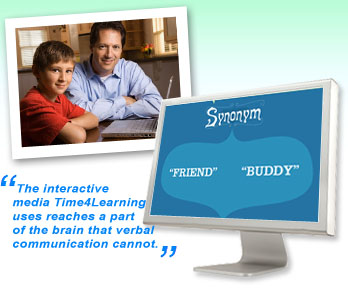 Try Our Lesson Demos
Does your child struggle with Central Auditory Processing Disorder? Do you find your child struggling to follow verbal instructions? Do you ask them to do one task and they come back having done something totally different? Do you spend a good chunk of time teaching them a concept only to find that they cannot remember it, the very next day? If you answered yes to most of these questions, there is a chance your child may have Central Auditory Processing Disorder (CAPD).
Children with CAPD are often mistakenly thought to have hearing loss, ADHD, chronic disorganization, other speech-language difficulties or even depression. Because auditory processing disorder is not a hearing loss, it cannot be detected through a routine hearing test.
CAPD affects the way the brain processed sound. As a result, many students with CAPD are not easily diagnosed and end up struggling with learning in a traditional school setting. A computer based curriculum may be part of the educational answer for children with auditory processing problems.
FAQs About CAPD and Education
How do you get an official diagnosis? It starts with a trip to your pediatrician. Make an appointment and come prepared with examples of what you've observed. Your pediatrician will oftentimes refer you to an audiologist. However, it's important to note that auditory processing has nothing to do with the actual ear and how it hears, but the brain and how it processes. A routine hearing test will not pick up C.A.P.D.
Can you explain C.A.P.D. in layman terms? A child that struggles with C.A.P.D. is unable to properly process information. Their ears can hear, but the brain does not organize and store the information in a way that lets the child remember it easily. So although they are exposed to a concept, a child with CAPD might not be able to find it when asked to.
How do you teach a C.A.P.D. child most effectively? Though a child with C.A.P.D struggles with auditory processing, they often thrive when information is presented visually (barring a secondary issue). Strong graphics help them retain basic concepts so that when information goes into the brain it sticks and stays in place. Your child is then able to build on basic concepts.
Why does computer based education work so well for C.A.P.D. students? Strong interactive graphics do two things:
Adds the 'glue' so that information sticks and stays put in the appropriate part of the brain.
Allows children with C.A.P.D. to work independently so they begin to build self confidence.
How does home education benefit children with Central Auditory Processing Disorder?
C.A.P.D children thrive in quieter learning environments. The less distraction the more information they are able to assimilate properly.
It allows your child to work at their own pace. Children who are constantly striving to work at a higher level become discouraged and often give up. Home education allows you to meet your child where they are at.
Home education is more tutorial than group focused. Your C.A.P.D. child will thrive as you work one on one with them. You will also find that you can completely homeschool in one-fourth of the time you would spend in a classroom because it is one on one.
Do you recommend any teaching tools to help C.A.P.D. children thrive?
Noise reducing headphones help block out background noise that interfere with the brain's processing abilities.
Because you are working at a computer, lap size white boards give children a tool to work out problems easily without the hassle of pencils, paper and erasers.
Time4Learning is an interactive online curriculum used at home for afterschool skill-building, homeschooling, or summer study. It is one-on-one, with uncomplicated sounds and clear graphics. Your child can progress at their own rate using a multi-sensory blend of audio and visual that works with a variety of learning styles. Language arts and math programs are individually set for each child, which makes both remediation and advanced learning a simple process. For children with learning disabilities, this individual approach is helpful.
Try one of our interactive lesson demos.
CAPD and Educational Needs
Auditory processing disorder (APD), also known as central auditory processing disorder(CAPD), is a complex problem affecting about 5% of school-aged children. These children cannot process the information they hear in the same way that others can because their ears and brain don't fully coordinate. The brain recognizes and interprets sounds differently, most notably the sounds composing speech.
Kids with auditory processing problems often do not recognize subtle differences between sounds in words, even when the sounds are loud and clear enough to be heard. These kinds of problems typically occur in background noise, which is a natural listening environment. Kids with CAPD have trouble understanding any speech signal presented under less than optimal conditions.
The ability to detect the presence of sounds is only one part of the processing that occurs in the auditory system. Therefore most kids with CAPD do not have a loss of hearing sensitivity, but rather a hearing problem in the sense that they do not process auditory information.
Symptoms of CAPD can range from mild to severe and can take many different forms, and can include: being bothered by noisy environments, reading, spelling or speech-language difficulty, trouble with verbal or word problems in math, disorganization, forgetfulness, and more.
CAPD: One Homeschool Family's Experience
Time4Learning has been such a MIRACLE for my sons who struggle with "CAPD" (Central Auditory Processing Delay) and "VPD" (Visual Processing Delay). Let me back up and share our story with you.
My name is Mary and I am the proud Mama to four amazing sons, three of whom struggle with CAPD/VPD. I have homeschooled since 1998 and can still remember those early days of feeling like I was doing something wrong because my boys were not grasping material like their friends. My pediatrician suggested that we go to our local Children's Hospital for testing. It was there that we found out they struggle with both CAPD and VAPD. It was a relief to finally know what was going on, and yet scary at the same time, because I knew that I wouldn't be able to follow the original curriculum plans I had intended. I spent years using and trying different programs (many were supposedly made just for CAPD/VPD kids) We did a year of Speech Therapy, then switched to Neurodevelopmental Therapy and though the boys made some progress, it was a slow, uphill battle.
In 2007, I came upon a friend's blog who happened to be posting about this company called Time4Learning. I remember at first thinking this was just a fluffy side dish put together to "supplement" what I was already using, but something had me stop and go to the link she had shared.
OH MY GOODNESS! It forever changed our lives! As I type this out to you, I have my boys year-end test results sitting next to me. They went up 1 1/2 to 2 years in math alone. In all the previous years we would struggle to make several months progress and THAT was a good year! Just for the record, we have used the same tester who uses the same testing system, so you can count on these results being accurate and not a fluke. The first words out of her mouth, as she led my 8 year old to me on his test day were, "Mary, after I grade these tests we need to talk about this Time4Learning!"
I have referred at LEAST 20 or 30 friends to this program who are LOVING it. Many of their kids don't even have learning issues. I have one child without any learning disability and it works beautifully with him as well. We have found the interactive media Time4Learning uses reaches a part of the brain that verbal communication cannot.
I used to work so much harder and I've spent so much money on things that did NOT give me the results Time4learning has. It is the single best investment I've made for my boys, for our family. I believe in it so much that I share it with all homeschoolers I come into contact with, and that's a lot as I am our counties support group leader!
If you have thought about Time4Learning and are hesitating, worrying whether it's right or not for YOU…, give it a try! It has a 2 week money back guarantee and I think you will be surprisingly blown away!