Prevent Summer Learning Loss with These Ideas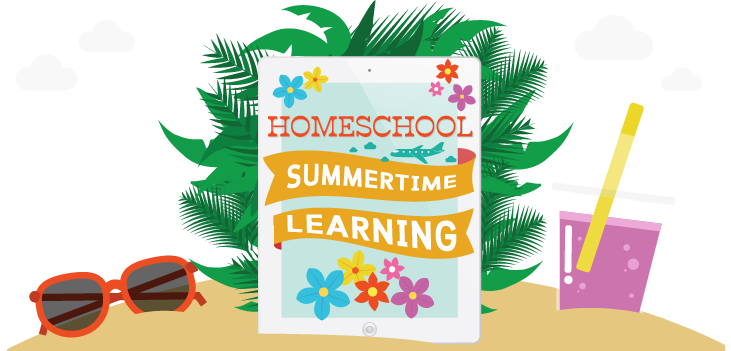 It's summer time! School is out, the sun is shining, and children are ready for fun. Parents, however, may be worried about preventing summer learning loss, also known as "summer slide." Just because school is out does not mean that your child stops learning! Read on for summer learning tips for parents.
What is summer learning loss?
Homeschoolers and traditional schoolers follow a similar structure, where students have two or three months of summer vacation. This allows plenty of time for children to go on vacation, relax, and have fun. However, studies have shown that just a couple of months without learning can set a child back. The effects of summer vacation on student learning means most students will spend six weeks of their next school year learning old material. About one month of overall learning is lost after summer vacation, and summer slide can be seen in students starting in the first grade!
Luckily, there are plenty of things to learn during summer vacation to stop summer learning loss, while still having lots of fun! Studies show it only takes two to three hours per week to prevent summer learning loss, so the possibilities are endless. We have come up with some ideas, broken down by school level, to show parents how to prevent summer learning loss.
Summer learning activities for elementary students
Begin to collect change in a jar in the beginning of the summer. Try to put change in at least once a day! At the end of each week for the summer, sort the change by pennies, nickels, dimes, and quarters. Count up how much you have and start making a graph for each week. At the end of the summer, figure out how much you've earned since you started.
Write messages outside on the sidewalk! There's a couple of different options for this. You can invest in sidewalk paint or chalk and write out positive messages to practice penmanship and reading skills. This can also be by using a bucket of water and a brush to write on the sidewalk. Additionally, if you live near the beach, you can write messages in the sand.
To really reflect on last year's learning, build a timeline together. Ask your child what were some of his or her favorite moments, and find out what they enjoyed the most throughout the year. As you go through milestones of the year, ask your child to demonstrate what he or she learned. If you are homeschooling, this may be a great start to a homeschool portfolio.
Learn science and build slime! There are lots of different slimes to build, some of which require more "ingredients" than others. Have your child help create the slimes and see what sorts of shapes he or she can create. This website offers four different slime recipes, and explanations as to how they work.
Play a game of float or sink. Using a bathtub, sink, or pool, have your child collect household items that can get wet. Go through each item and hypothesize if the item will sink or float – you can use items like a coin, a bottle of shampoo, a flip-flop, and so on. This is a great way to teach your child about the scientific method.
Schedule weekly trips to the library, and even look at what activities they have. Most libraries offer a summer reading program and activities throughout the summer. Even if they do not, have your child pick out a book each week that you can read together. Pick out a scene from each book and pretend to act it out! Your child can even change the story up a little, or design costumes. Encourage them to use their imagination
Grow a garden! You and your child can go to the store and pick out seeds to grow. Most seed packets have a map on the back to describe where they can be grown. Have your child figure out what seeds they can grow and bring them home. Tend to your garden with your child, and even track the growth of your plants with a ruler.
Have your children make their own sock puppets to tell a story of their choosing! If they need some inspiration, have them first think about one of their favorite stories and go from there. Have them work on their creativity and public speaking skills by presenting a small story or skit to you.
6-Week Summer Learning Guides
Don't miss out on the 6-week summer learning guides for K-8 when you become a member! Each guide includes a weekly list of all the lessons your child needs to complete to keep their skills sharp this summer.
Summer learning activities for middle school
Design a solar oven with your child! The science behind it is pretty interesting, and allows your child to be creative. You can cook pretty much anything you like in the solar oven; experiment with different foods, from toast to eggs to even cookie dough! See instructions and explanations here.
Take a hike and visit a national park. All national parks, monuments, or forests have some sort of educational center with lots of activities. Learn about the great outdoors by participating in a Junior Rangers program, found at almost all national parks.
Learn how to play a board game of choosing. Chess is an excellent choice as it can be done online or in person for free! It works your child's brain, improves memory, and can even raise IQ. There are plenty of online tutorials and videos for children to use.
Teach the importance of budgeting and cooking by having your child think of their favorite meal. Figure out the components of the meal, write them down, and go to the store. Give your child a budget and tell them to find the ingredients while meeting his or her budget.
Develop your own museum by collecting rocks, pinecones, shells, or any other natural objects. Check out nature guides from the library and try to identify the objects you find. Create labels for them and even build a display case to hold your museum collection
Set up a scavenger hunt around the house, leaving all sorts of clues. There can be riddles, math problems, assembling a puzzle to reveal a picture, a secret code, or clues with missing letters! There are many different ways to set up clues to help your child learn, and you can entice them with a prize at the end. This idea works for all ages, elementary through high school – just change up the difficulty of the clues.
Build a birdhouse! There are plenty of different blueprints online, and home improvement stores offer all the equipment you need.  There are also milk-carton bird feeders that can just be made at home for a low budget option. Have your child decorate their feeders or houses, and calculate the area and perimeter of them.
Summer learning activities for high school
If you're travelling this summer, there are still plenty of activities that can be done in the car. Print out a map of the United States while you play the license plate game. When you see a license plate from a different state, locate it on the map and identify its capital. This helps students retain geography knowledge. This activity can be done for practically all ages.
Spend your summer night under the stars! Lay on a blanket and take a look upwards. Loan a book from your library on constellations and see how many you can find. If you're living in a town without much visibility, plan a visit to your local planetarium to learn about the stars.
Learn a new language! Time4Languages offers award winning language classes, with lots of different options from Spanish to Mandarin. Learning a new language improves learning, thinking, and memory skills.
If your child is thinking about going to college, spend some time together researching colleges and universities he or she might want to attend. Most universities offer campus tours during the summer, but if one doesn't or is too far away, you can take a virtual tour.
Earn volunteer hours doing what you enjoy. For homeschoolers and traditional students, having volunteer hours looks great on a transcript. Research places that accept high school volunteers (most do), and spend at least one day a week there. This could be at a humane society, summer camp, library, soup kitchen, charity, or nursing home.
Organize a neighborhood book club with friends. You can meet weekly, potluck style, and choose a book to read. Discuss it; what would you have changed? What did you like?
Research your family history and begin to build a family tree. Not only will this be an educational experience about genealogy, but it will also bring families closer together.
Plan out a family vacation on a budget. Build financial and organizational skills by planning out a family trip based on a given budget. This can be anything from a day out, to an entire week or weekend.
Learn how to play a new instrument. You can even write your own songs and record them. There are plenty of online tutorials to help you learn this new skill.
Summer learning with Time4Learning
For students of all ages, Time4Learning offers a fun, interactive online curriculum for summer learning. Students can start, stop, or pause at any time. With an online program, there are plenty of things to learn in summer vacation. Sign up today!