How to Use Time4Learning to Teach Your Child to Read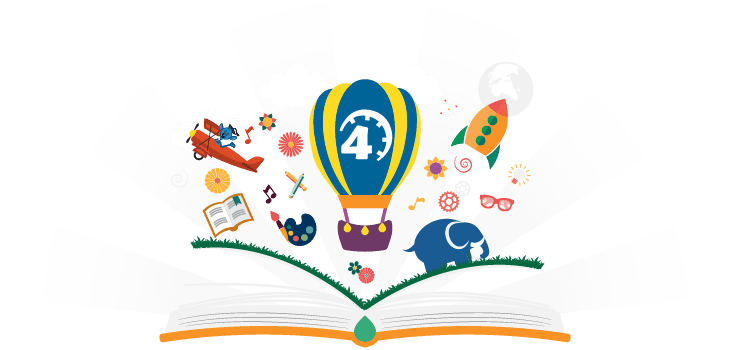 Learning to read is one of those memorable milestones that no parent forgets. The excitement of seeing our children sing the ABCs and read words for the first time fills us with joy, and watching them beaming with pride makes it even more heartwarming.
If you're the parent of a preschooler who is getting ready to read, you've already been helping him or her develop the skills needed to do so. Since they were babies, every time you've spoken to them, read a book, sang a song, and played with them, you've been helping them develop their language skills.
Now, as your child is getting ready for another important step in their development, it's crucial that you continue that involvement because of the huge effect it has on their success. Reading out loud every day with your child helps them make important connections, build their vocabulary, develop listening skills, and so much more.
Through this interaction, children slowly start to understand that letters make sounds, that when they are put together they make words, and that words make sentences. All of these are vastly important pre-reading skills that will help your child be successful readers.
How Does Time4Learning Help You Teach Your Child to Read
Time4learning teaches reading as part of our comprehensive language arts curriculum beginning in PreK. The Time4Learning reading curriculum makes learning fun with interactive activities and lessons, colorful graphics, and catchy songs that engage the youngest of learners. And since each student learns differently, the self-paced program allows children to learn and progress at their own pace, making it ideal for students of all skill levels.
Pre-reading skills are taught progressively and begin by helping students build phonemic awareness. This important step helps students hear and identify the individual sounds that make up a word. This ability allows students to identify the beginning sound of a word, identify similar words, change, create a new word by changing one letter for another, and more.
From there, the curriculum turns to teaching phonics. Students will learn how to put together all the sounds in a word, thus helping them to read and properly pronounce and spell words. Through constant reinforcement and review, and plenty of opportunities to practice, students will begin to work on their fluency. They'll learn sight (high frequency) words, build their vocabulary, and discover reading strategies in order to build their comprehension skills.
Below is a breakdown of how Time4Learning helps you teach your child to read from PreK-2nd grade.
PreK Curriculum
Divided into two sections: PreK 1 and PreK 2, each one includes an alphabet section at the top of the dashboard so that students can start to become familiar with each letter by playing different interactive games. As with all Time4Learning lessons and activities, students can repeat each one as many times as they like, and even retake tests and quizzes.
PreK 1 – My ABCs – Students will begin to develop their pre-reading skills as they learn about uppercase and lowercase letters, practice letter recognition, and build their phonemic awareness.
PreK 2 – More ABCs – Students continue to build letter-sound recognition, practice beginning sounds, and sorting letters into uppercase and lowercase.
Kindergarten – 2nd Grade Curriculum
The early elementary language arts curriculum is a mix of instructional lessons, assessment activities, supported and independent practice, and scored and non-scored activities. Although students work on phonics and fluency with each lesson, the kindergarten and first grade curriculum also feature chapters solely dedicated to phonological awareness, phonics, and fluency. Each grade includes a year's worth of material that correlates to all state standards.
Kindergarten Curriculum
Students begin the kindergarten language arts curriculum by learning about the concepts of rhyme, rhythm, pattern, and syllables. From there, the majority of the chapters target specific letters. Each includes a background and story lesson that features fables, nursery rhymes, or a classic children's story. Students will be introduced to sight (high frequency) words, develop fluency, and learn various reading strategies.
Exploratory activities within these chapters focus on vocabulary, fluency, reading comprehension, phonological awareness, and phonics. Students will also explore long and short vowel sounds, letter combinations, and various letter sounds such as hard c and hard g. Lessons within each chapter are dedicated to sounds, letters, and words, and include activities aimed at further building phonological awareness, phonics, reading, and prewriting skills.
First Grade Curriculum
The first grade language arts curriculum continues to build reading skills and, at this point, get students to begin to read on their own. Initial lessons allow students to demonstrate their knowledge of the letters of the alphabet and their corresponding sounds. Lessons focus on the "Sights and Sounds" of individual letters such as 'f', 'b', 'c', and 'u' and combinations such as 'sh', 'ng', 'ch', and 'ir', just to name a few.
Subsequent chapters will teach students both consonant and vowel digraphs, they'll explore words with beginning and ends sounds of those digraphs (and continue to build their sight word knowledge), as well as read stories that incorporate these letter blends. Students will work on lessons and activities that teach them short and long vowel sounds, variant vowels, diphthongs, contractions, and compound words.
Second Grade Curriculum
In second grade, students will demonstrate their knowledge and mastery of the skills they have learned the last few years by engaging in activities that focus on both reading and comprehension.
The majority of chapters within second grade language arts focus on phonics, fluency and composition — skills that will help them as they transition from learning to read to reading to learn. Students will learn to identify specific elements of a story, such as main characters, settings, conflict, plot, and more. Students will further build their phonics skills by learning about prefixes and root words, inflectional endings, as well as suffixes and prefixes, just to name a few.
Parent Tools and Resources
Time4Learning members have access to tons of tools and resources through their parent dashboard. To start with, lesson plans are available for each grade and subject. These give you detailed information on every lesson and activity, and also the ability to preview each one. Parents also have access to printable worksheets, spelling word lists, and reading lists to enhance the online material. To help with planning, you can also create schedules with helpful activity planners and even determine how many activities your child needs to complete each day with our curriculum calculators.
Although the Time4Learning curriculum is presented in a suggested sequence, families have the option to skip around and only work on specific lessons and activities. However, since you are teaching your child to read, it is suggested that they complete all the activities within the language arts curriculum. Time4Learning recommends that students in the lower elementary grades spend around 30 minutes working on each subject per day. This can be adjusted based on your child's unique skills, needs, and abilities.