How to Homeschool Through the Holiday Season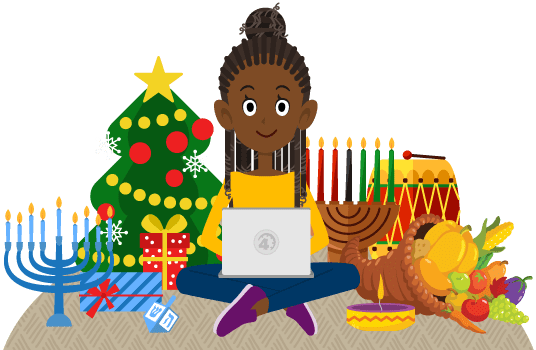 Is your "to-do" list packed? Will company be arriving to your house in a few short days? Decorations are only beginning to mesh and your shopping list reaches the ground. Although the holiday season is filled with joy, demands seem to be endless and stress, tangible. In the midst of chaos, it is difficult for homeschoolers to maintain their typical homeschool routine. However, fun and easy ideas are available to assist you to homeschool through the holidays. It is alright to step away from textbooks or online lessons and supplement with holiday themed lessons, games, cooking, and more! You can still enjoy the holiday season with educational benefits by incorporating a holiday curriculum, history, generosity and games into your homeschool routine.
Life skills and academic intelligence can be taught anywhere. For example, most games teach social skills, perseverance, patience, and turn-taking. Plus, math is applied in scorekeeping. Below are some ideas that you can implement in your busy schedule to keep the learning going throughout the holidays.
Board Games
Monopoly and The Game of Life teach:
adult responsibilities
budgeting
negotiation
Investing
Scattergories and Taboo develop:
creative brainstorming
vocabulary extension
Puzzles, Jenga and Connect Four use:
Scrabble teaches:
spelling
counting word score
Additionally, holiday trivia can be played with prizes from cookies to cash to motivate students. When your schedule overflows, allow these games to be played with confidence, knowing academic value is being impressed on your students.
Many subjects can be adjusted to include holiday activities that produce identical learning outcomes. Below are some examples:
Art
Homemade cards (try making a pop-up card!)
Christmas tree ornaments
Snow Globes
Kwanzaa map
Pine Cones
Handprint Menorahs
English/Writing
Analyze classic holiday poems/songs
Write a holiday tale (original or a spin-off from a classic)
Write about holiday traditions or history
Math and Science: Teach in the Kitchen!
Practice measuring ingredients
Try doubling recipes
Practice fractions
Notice physical and chemical changes as temperature affects food.
Discover how popcorn pops (A tiny drop of water in the starch filled coating that expands when heated)
The holidays are a memorable time for families around the globe. Studying some of the most unique holiday traditions from the winter season creates a great holiday curriculum in history that expands and deepens your child's understanding of winter holidays and foreign cultures.
Study origins, history and the impacts of holidays.
Discover why Christmas is celebrated in December or why Winter Solstice began.
Did you know that Hanukkah was originally celebrated with oils before candles?
Or that Kwanzaa comes from the Swahili phrase "matunda ya kwanza" meaning "first fruits"?
Indeed, limitless fun facts and history engulf the winter holidays. These holidays and more can be studied including Yule, New Years Eve, Chinese New Year, Diwali, or Las Posadas. Unending history and cultural lessons are found in the backgrounds of holidays guaranteed to enrich your homeschooling experience during the holiday season.
While homeschooling during the holidays, the most valuable lessons of the holiday season are brought to life. Once they start learning about how other cultures celebrate the winter season and what the holidays mean to them, they will understand that many share the true spirit of the holidays. Which lies in kindness, sharing and spending time with loved ones. Some states require good citizenship to be taught in their homeschool; this season provides a perfect opportunity to display faithful citizenship and help students recognize their prosperity. Encourage students to sort through old clothes, backpacks, shoes, toys and stuffed animals to donate to orphans, foster children, or homeless shelters. Make crafts or cards and bring them to a retirement home or homeless shelter. This season is a wonderful time to teach generosity, sacrifice and good citizenship by gifting others.
It is possible to continue homeschooling during the holiday season. With adjustments, these celebrations generate fun opportunities to create a new holiday homeschool schedule. Subjects can be conformed to include holiday themes, or adjusted to fulfill education around your festivities. Moreover, studying holiday's historical backgrounds develops understanding while donating improves character and benefits others. Games, educational adjustments, and generosity can all be leveraged to strengthen academics and character growth in your students throughout the holidays.
Free Holiday Printable Worksheet
Looking for more ways to incorporate all winter holidays into your child's education? Download this holiday printable and learn about holidays such as Christmas, Yom Kippur, Kwanzaa, and more!