Holiday Fun For Children in Florida This Winter
Even if Jack Frost isn't nipping at your nose just yet, Floridians know that winter break is just around the corner. That means it's time to start searching for things to do with the children during the holidays and beyond. Even if the activities in your part of the state are similar to what was available in years past, you can bring some freshness to any event by looking at it as an opportunity to learn something new.
Not only have we pulled together some fun winter happenings from different regions of Florida, but we've also added in some suggestions for turning each of the listed outings into a learning adventure that can start even before you leave home and can continue once you've returned. Know of other parents in different parts of the state who might benefit from this holiday info? Be sure to share this post with them!
2017 Holiday Activities for Children in Northern Florida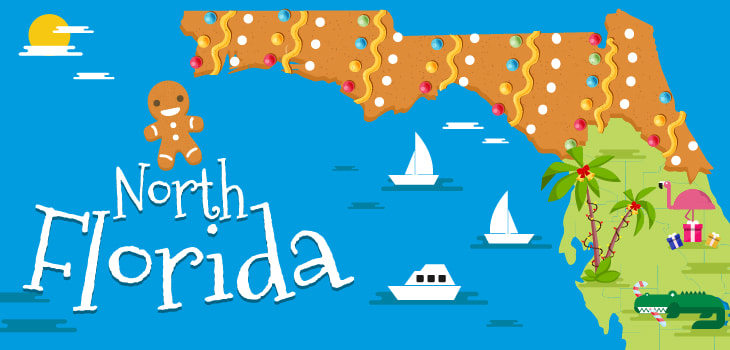 Gingerbread Extravaganza – Jacksonville, FL (Nov. 30 – Dec. 23, 2017) Something very special happens each year at Old St. Andrews in Jacksonville. Chefs, bakers, artists, and even families and children create magnificent gingerbread houses that are displayed throughout this event. Each display represents dozens and even hundreds of hours of preparation by the submitter. Learning activities you may want to tie in with your visit:
Turn gingerbread into science by having your child predict whether a gingerbread man will sink or float when dropped into liquid. Then test your theory!
The small gingerbread figures you can buy in bags at the store are perfect manipulatives for math activities such as testing addition and subtraction facts.
Check out a few different versions of The Gingerbread Man story from the library and compare the illustrations. Which ones do your student prefer and why?
Dickens on Centre – Fernandina Beach, FL (Dec. 8 – Dec. 10, 2017) Travel back in time to the Victorian Era at this unique holiday festival on Amelia Island. Much of the downtown area is transformed into an English village including period-dressed carolers and actors who keep the atmosphere authentic. You'll even have an opportunity to dress up for yourself! Learning activities you may want to tie in with your visit:
Although the city of Fernandina Beach will be bright with holiday lights, find out what kind of lighting London's streets would have had in the time that Dickens lived there.
Play vocabulary and spelling games with this Charles Dickens interactive word list from VocabularySpellingCity.com.
Dickens filled his novels with unusual character names such as Pumblechook and Mr. Pardiggle. Why might an author choose such strange names for his characters?
2017 Holiday Activities for Children in Central Florida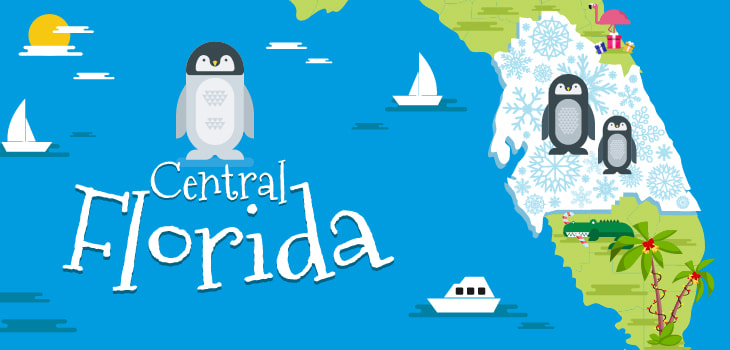 Gaylord Palms ICE! – Orlando, FL (Nov. 21, 2017 – Jan. 7, 2018) Even if you've never dreamed about wandering through two million pounds of ice sculptures, this is an event to definitely put on your calendar. Artisans from China will even be doing live sculpture carving throughout the event. There will be scenes featuring holiday celebrations from around the world. Learning activities you may want to tie in with your visit:
Brainstorm creative ways you can keep ice from melting.
Compare and contrast what happens when you place regular ice and dry ice in a cup of water.
Have older students research the Ice Age era and share their findings on the way to the event.
Now Snowing – Celebration, FL (Nov. 25, 2017 – Dec. 31, 2017) If you have kids who dream of nothing but snowball fights and snow angels, then you'll definitely want to stop in at the month-long Now Snowing event in the town of Celebration. This old-fashioned holiday extravaganza includes horse-drawn sleigh rides, an ice rink, Celebration Express train rides, and "snowfalls" that happen four times nightly. Learning activities you may want to tie in with your visit:
Get color-smart and find out why snow appears white.
Discover the history behind putting bells on a sleigh.
Bring along a few items to the ice rink to test which ones slide the best. Be sure and make predictions before hand by thinking through which items have the most/least friction.
Holiday Activities for Children in Southern Florida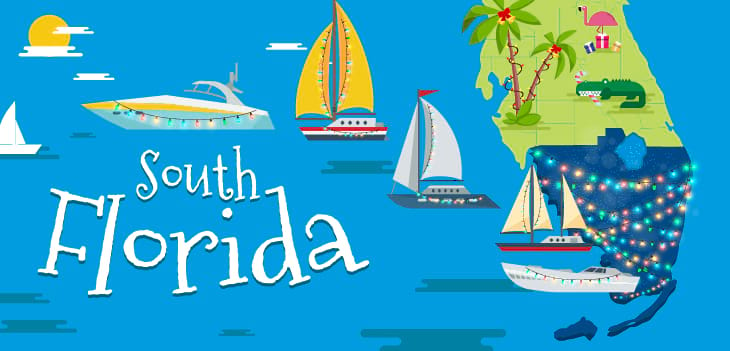 Edison & Ford Winter Estates Holiday Nights – Ft. Myers, FL (Nov. 24-Dec. 23 2017 and Dec. 26-Dec. 31, 2017) The winter homes, gardens, and historic buildings of Thomas Edison and Henry Ford are open to the public and during the holiday season they are decorated with thousands of lights and traditional holiday decorations. Daytime tours are still available on these dates as well. Learning activities you may want to tie in with your visit:
Watch videos and play learning games about inventors at LearningGamesforKids.com.
Look up images of early inventions of both Edison and Ford and see if your student can recreate some of them with Legos™ or other building toys.
Because both Edison and Ford's inventions often involved energy, find out what energy transfer is and how it affects most every object in the universe. Time4Learning's science curriculum content includes an Energy Transformations module that can help bring understanding to this concept.
Winterfest Boat Parade – Ft. Lauderdale, FL (Dec. 9, 2017) From the New River to the Intracoastal Waterway to Lake Santa Barbara, this annual parade of decorated boats has been going on since 1971. Over a million people line the waterways to view the spectacle and even more catch the event streaming online. Learning activities you may want to tie in with your experience:
The theme for this year's festival is "Broadway on Parade." You'll definitely want to explore some of the history of New York City's theatres and the most popular shows that have come from that district.
If your family could enter its own decorated vessel into the parade, what would it be like, and why?
Create a boat-building challenge and test it out in your own bathtub. What materials are best for floating?
In addition to the ideas listed above, you can often enhance and extend the learning experience for any field trip by letting your children take part in the planning for it. Having them find the venue on a map and chart out the route you'll take to get there can be part of the fun. Before you arrive, give kids as much information as possible about what to expect, any rules they will need to follow, and what to do if they accidentally get separated from you. Be sure to bring along notebooks and pencils or crayons in the car, so that your child can recreate as much of the experience as they want on the way home. Car rides to and from an event are also great times to discuss vocabulary associated with the places you'll be visiting.
Are you a homeschooling family living in Ft. Lauderdale, or soon will be? Discover even more ideas for homeschooling in Ft. Lauderdale.