Homeschooling? Check Out These Best Practices, Tips & Tricks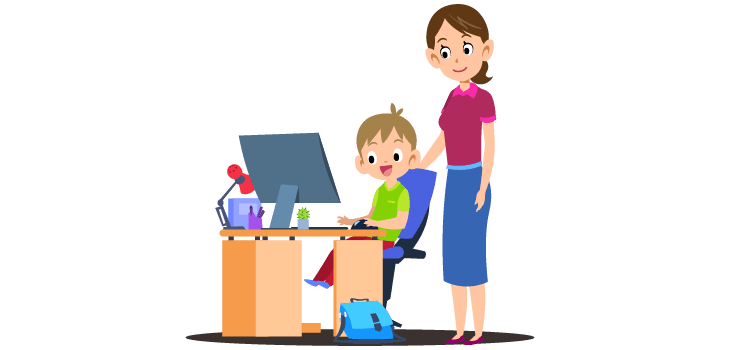 Whether you are just beginning or are a veteran, you will always feel that there are ways to do homeschooling more successfully. As a perfectionist, I needed to accept that first. I began homeschooling my daughter the September before the COVID-19 pandemic started. That means that I not only have one year under my belt, but I am also new enough to realize what I wish I had known and to remember what I did "wrong" in those early stages. I am here to share with you some homeschooling tips based on what I learned on my own and by talking with other—more experienced—homeschoolers.
How to Prepare for Homeschooling
Preparing for homeschooling was something that I thought I had done well. I had researched my state's homeschooling laws, created a "cheat sheet" for myself regarding my responsibilities and their due dates, and looked online for resources and how to build the best homeschool curriculum. I got all my required documentation to the school district early (necessary in some states), and I planned out curriculum sources for each subject and every special. I even attended the closest homeschool convention!
My feelings of preparedness ended on the first day of homeschool. I immediately realized that deschooling was a real thing and that I needed to help my daughter (and myself) transition from traditional school to get the most out of homeschooling. That meant undoing anxiety due to testing and peer comparison, teaching concepts I had assumed were already learned in prior schooling, and breaking through barriers to flexible scheduling ("School is only M-F from 8 am to 3 pm!") and involvement in planning ("I never had input before!"). I also quickly realized what will be my first piece of homeschooling advice to you: Be kind to yourself; becoming a successful homeschooler will be a process!
Here are some homeschooling tips and tricks for getting started with homeschooling:
Welcome to Homeschooling Guide
Download this FREE resource where experienced homeschoolers share their stories for how to begin homeschooling, understanding your child academically, planning your days, and much more.
Tip #1: Research State Homeschooling Laws: Make sure you begin the process by really understanding your responsibilities as a homeschooler. Each state is different. Some require filing certain documentation to begin homeschooling. Some mandate reporting of progress. Some dictate which courses must be taught and even for how many hours per week. States also differ on whether they require standardized testing.
Tip #2: Prepare Documentation Ahead of Time: This applies to both state-mandated documentation and documentation of progress or course completion. If you have certain documents due throughout the year (i.e., to your school district), create the templates and fill in what you can beforehand. Know what information you will need ahead of time. Also make sure you have a method for evaluating and recording your child's progress (e.g., tests, essays, projects), attendance, and some type of record of completed work (e.g., report cards, portfolios). Make sure you will have what you need to send your child back to traditional schooling (if that is your intent) or enroll him or her in college or other post-secondary paths.
Tip #3: Make the Major Decisions: One of the primary benefits of homeschooling is that you have control over much of how your child is educated. Although lots of changes can be made throughout your time homeschooling, you will want to decide a few things upfront. For example, will you have a faith-based or secular homeschool? Will you homeschool year-round? Will you follow traditional school schedules (at least in the beginning), or will alternate vacation periods and weekly schedules suit your family better? Will you use an online or boxed curriculum or a mixture of various curriculums? Who will be providing instruction? What are the goals of homeschooling or of life after high school? While the answers to questions like these can be modified later, they do help to shape the foundation of your homeschool from the start.
Tip #4: Know Your Resources: Search online to see what free educational activities and resources are available to you. Check out sites like A2ZHomeschooling, Homeschool.com, and other homeschooling websites. Look for lesson and activity ideas for various subjects. Check out online schools or courses and umbrella schools that support homeschoolers. Find local or online tutors. Attend a homeschool convention and find out how to get the most out of a homeschool convention. Some veteran homeschoolers may say that a convention is too overwhelming for new homeschoolers, and I can see why attending one as a newbie could be expensive (i.e., you want to buy everything you see); however, if you give yourself a budget, or even go with the intent of not purchasing anything, you will learn a lot from the workshops and just browsing the materials that are available.
Tip #5: Talk to Homeschoolers: If you know anyone who is already homeschooling, especially in the state where you live, reach out for homeschooling advice. Ask all your questions about homeschooling. If you don't already know homeschoolers, join a local homeschool support group or co-op or attend a homeschool activity or event. You can find involvement that ranges from weekly meetings with members of a support group to a one-time homeschool event at a museum or other organization. You will be amazed at how much current homeschoolers are willing to help!
Homeschooling Best Practices, Tips, and Tricks
Now that I have completed an entire year and have begun my second year of homeschooling, I can reflect on how the prior year went. The good news is that my daughter actually wanted to do homeschooling again! Here are some homeschooling tips for parents either learned from doing (or not doing) myself or by talking with veteran homeschoolers:
Tip #1: Schedule Kindly: When you are scheduling, pay attention to events that may add stress to your homeschool. For example, you may want to take it easy on the first day or week of school. When it comes to reports and homeschool portfolios, make sure you give yourself plenty of time to put them together (if required by your state) before the end of each quarter/year. Finally, remember that you are moving away from traditional schooling. Most new homeschoolers will try to recreate typical school schedules at home. I know I did. Create the schedule that works best for your family, whether it's later in the morning or in the afternoon. As long as you dedicate a specific amount of time for each subject, don't worry about the time of day. So much less stressful!
Tip #2: Include Your Child (and What You Know about Your Child) in the Planning: Especially if your child is older, include your child in the planning of schedules, instruction, projects/assignments, etc. Ask your child for feedback on how things are going and encourage suggestions. You are partners in this educational adventure! Also, include what you know about your child in your planning. For example, think about what interests your child when choosing writing prompts or developing projects. If your child enjoys art, use learning strategies that involve drawing (i.e., the one pager). If your child is interested in building, include design/build projects for STEM or ask your child to summarize learning by building something to represent a lesson or unit. There are many resources on how to create a personalized education for your student.
Tip #3: Be Flexible: Even a master teacher finds that the best planned lessons do not always go well. Come up with backup plans for if your child needs more time on a lesson and relevant practice or extension activities for if a lesson ends early. Adjust your schedule willingly, knowing that this is an important benefit of homeschooling. You can give your child additional time or practice or additional challenge, depending on what is needed. Use evenings or weekends, if you must, and accept these changes as a positive way to help your child meet his or her potential.
Tip #4: Involve Others: Remember that you do not have to be the only one who provides instruction for your child. Check your state homeschool regulations, but most states allow other parents or tutors to provide part of the instruction. Find out about learning pods. Consider involving older siblings in activities with younger children or ask grandparents or other relatives if they have something to contribute. Even if you are simply joining a homeschool gym program, you have found something you don't have to plan, and it provides you with some time to yourself. This is especially important if you are a single parent or working parent who homeschools or just want to prevent homeschool burnout. You may even meet some other homeschool parents with whom you can share excitement, ideas, frustrations, and simple socialization!
Tip #5: Prepare for Next Year at the End of This Year: You may be to the point of celebration (or exhaustion) at the end of the school year, but I received this good advice from a veteran homeschooler: Prepare for the following year right away. If you do, you will ensure that any required documentation is submitted on time. You will have a better chance of avoiding delays in shipping or items going out of stock. Also, your planning will be easier because you will have just summarized learning and determined met/unmet goals for the year. This means you will be able to better plan for academic skills that need improvement and strategies that need to be taught. You can also choose to take advantage of the summer months to get your child up to speed for the next school year.
Most importantly, a crucial best practice is to have fun! If you are enjoying homeschooling, so will your child. Homeschooling is a gift of quality time with your child (regardless of your reasons for starting). Make the most of it!
Do you have advice for new homeschoolers? What have you learned along the way? Share your suggestions in the comments below….