4 Ways to Manage a Midyear Homeschool Transition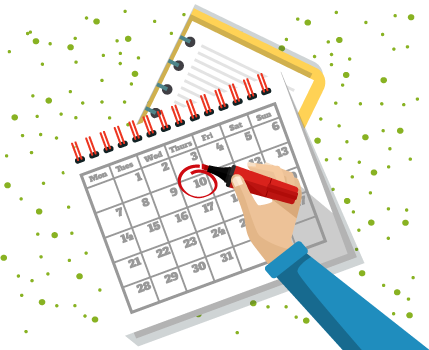 While every homeschooling story is unique, in time, you come to see the patterns. For example, there are the families who know from before their children are school-aged that they want to homeschool them. Then there are families that seem to fall into homeschooling, what we affectionately call "accidental homeschoolers." In fact, December and January seem to give rise to this group of homeschoolers who decide to kick off the new year with this alternative educational choice after trying to make it work in public or private school. Making the decision to homeschool is tough enough, but doing so mid-school year seems to tack on an additional set of challenges. Whether you have made the leap or you're still on the fence here are four ways to to make a midyear homeschool transition a success.
1. Check your State Homeschooling Laws
Homeschooling is legal in all 50 states, but the laws are different from state to state, not to mention that they can and do change. Therefore, we always recommend checking your homeschool laws and to start by reaching out to your Department of Education. "We made the decision to pull our child out of private school after a bullying incident left my daughter afraid and not learning anything. We contacted our local Department of Ed to find out how to make the switch. I always tell new homeschool families to start here, but not to stop here. Not everyone in the school system is up to speed on the homeschool laws and requirements," said Jamie, a homeschool mother of six. As such, Jamie recommends homeschool parents to reach out to local homeschool groups for additional information and insights from experienced homeschoolers in your area. The "been there, done that" families are eager to help new homeschooling families start their journey and often have plenty of lessons learned to share. This state homeschool info page provides additional links to resources and parent forum discussions by state.
2. Have a Plan, But be Flexible — Because You Can
When making the transition, don't feel pressured to prepare a year's worth of lesson plans on what you are going to teach for the rest of the year, because who actually knows that? Start with a basic plan and take the time to recognize your child's learning habits. Then, jot down some goals that you and your student would like to achieve within a certain period of time. Homeschooling is very flexible, your plans can be made-up or changed along the way, nothing has to be set in stone. For example, begin with a couple of lessons a day for math and reading. Or, start out with going back and reviewing concepts that your student didn't fully grasp while in school. You also have the ability to integrate physical activity, creative lessons, and real-life experiences into their education whenever YOU want.
3. Choose a Homeschool Curriculum That Fits Your Student's Needs
Taking the time to understand your student's learning styles will help you in understanding what materials to buy. The biggest mistake accidental homeschoolers make is to spend a lot of money on a curriculum before they even get to know their child from an academics perspective.
There are many curricula options. So how do you know which one to choose, or which one will work best? Trial and error. There are many different curricula options available to homeschoolers, including online, textbook and workbook based, or even hybrid curricula which is a mix of both textbooks and online materials. Time4Learning, for example, is an award-winning, online curriculum for PreK-12th students. One of the many benefits for accidental homeschoolers is that it covers the core subjects – math, language arts, science, and social studies – and extra educational options such as electives like economics and health, foreign languages, writing, and vocabulary and spelling for a monthly fee. So while parents and children get to know each other in a new light, and parents get to understand their role as teacher/principal, education can continue. If you decide that Time4Learning is not a good fit, and we don't think you will, the membership can be canceled at any time. Be sure to check out Time4Learning's homeschool parent forum for insights and advice from parents all around the country on choosing a homeschool curriculum and everything in between on your homeschool journey.
4. Be Patient, Homeschooling Takes Time
Transitioning to homeschool midyear isn't all rainbows and unicorns. You are going to hit bumps along the way, but so does everyone else. While you are starting to recognize your students' interests, strengths, and weaknesses, your student is also starting to observe your teaching styles. As homeschooling gets moving along, you will be able to find a rhythm that works for your family.
While things are coming along, focus on the positives of homeschooling, besides the obvious ones, like school in your PJs or the beauty of not setting an alarm (a common homeschool favorite). Take advantage of getting out of the house, taking field trips, or teaming up with other homeschooling families through a co-op to outsource teaching time for your student. Your student will now have individualized attention when it comes to their education with the ability to learn at their own pace. Work with your child to find their love of learning again, but this time, at home!
As you are making the midyear transition just remember you are not alone. Let us help guide you through your new and exciting journey by providing supportive insights straight to your mailbox. Sign up for our emails to receive more great advice. Good luck!