4 Ways to Manage a Midyear Homeschool Transition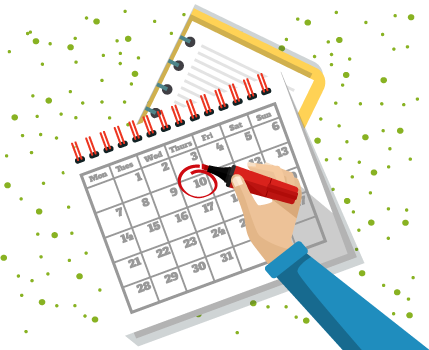 Ready to Make the Midyear Transition to Homeschooling? Here's What You Need to Do
If you're making the homeschool leap, there are tons of benefits headed your way. One of the most appreciated by homeschoolers is the freedom and flexibility that they are afforded. But as you already know, making the decision to homeschool isn't an easy one, especially if you happen to be an accidental homeschooler, and making the transition midway through the school year seems to tack on an additional set of challenges.
But before you get started, there are several things you should take care of. Just as your children are getting accustomed to this new lifestyle, you too are learning as you go. Choosing an educational path that suits your children's needs, becoming a teacher, following your state's requirements, and keeping your children's educational records can become overwhelming – especially for new homeschoolers. But don't worry, parents everywhere have been in your shoes and made the transition successfully. Here are our top 4 tips to help simplify your midyear transition.
Know Your State Requirements
Homeschooling is legal in all 50 states, but every state has different requirements that you must follow as a homeschooling parent. The amount of foot work you'll have to do depends on which state you live in. Some requirements that may or may not impact you include:
Notifying educational officials of your intent to homeschool, as well as withdrawing your child from public school
Having the required parent qualifications. Some states require that the parent have a high school diploma or GED.
Teaching the required subjects.
Keeping homeschool records of your child's work.
Taking any state tests to make certain your student is making academic progress.
Explore Your Curriculum Options
Homeschooling gives you the flexibility to pick and choose the lessons, assignments, materials, tools, and activities you'll use when teaching certain subjects. For example, you can use web-based tools for math and science, and text books for reading skills if that fits your child's learning styles and needs. You are free to fashion the curriculum around your educational goals and your child's strengths and weaknesses. But before you start delving into the numerous curriculum options, it's important to first decide on a budget. This will help save you tons of time by narrowing down your choices. It also helps to get your child's input by asking a few questions. For example, does your child prefer independent learning or a teacher-led method? Do they prefer traditional textbooks or a more dynamic approach with an online learning tool?
Have a Plan, Set Goals, But Leave Wiggle Room
It's always a good idea to have a plan when you start homeschooling. In your mind, you can probably envision what you would like things to be like, so putting those thoughts down on paper can help you define your plan and add specific details. Some homeschoolers might set family goals, while others will have individual goals. Do what works for you and don't compare your goals with those of other families. It will only frustrate you and take the focus off of what is most important to your family.
First off, evaluate your child's education. Write down their strengths and weaknesses. Note the subjects they thrive in and the subjects that give them trouble. Have a meeting with your children and discuss what they enjoy about learning and what styles of learning they prefer. Some children like a more visual learning style, others prefer verbal learning.
Once you know what curriculum you'll be using, start preparing your lesson plans. Don't feel pressured to prepare a year's worth of lesson plans on what you are going to teach for the rest of the year, because who actually knows that?
Next, start setting some goals. Just make sure your goals are reasonable, attainable, and specific. If you must modify your goals throughout the school year, don't sweat it. You have the flexibility to customize your homeschooling education. The only limitations you face are the ones you create. Also, make certain you review your goals each week. If you don't feel that you are making progress on certain goals, adjust them accordingly, or alter your teaching methods or curriculum. You have the freedom to do what you think is best for your children.
Be Patient & Have Fun
Starting homeschooling midyear may feel overwhelming for both you and your child, and that's expected. It's normal to come across a few obstacles and bumps along the way. But as you prepare yourself for this huge change, it's important to not only exercise patience, but also incorporate fun activities to liven things up. There are so many fun, learning opportunities for homeschoolers. Field trips will take on whole new meaning and you'll be surprised at all the different things to do and places to visit. These include:
Visiting a local bakery or other business
Spending the day at a working farm
Volunteering to help at a local animal shelter
Touring a radio or TV station
Exploring your city/town on a walking tour
When you begin to doubt yourself and start to worry, it helps to focus on the positives of homeschooling and the reason you took on this new lifestyle. Parents find a powerful focus and resolve when they decide that homeschooling is the best option for their children. Be patient and you will soon find a rhythm that works for your family.
Mid-Year Homeschool Transition Guide
Download this FREE resource to help new homeschoolers transition into homeschooling mid-year. This guide also helps experienced homeschoolers transition to a new curriculum in the middle of the year.