2020 Homeschool Convention Itinerary
EXPERIENCED HOMESCHOOLER, NEW HOMESCHOOLER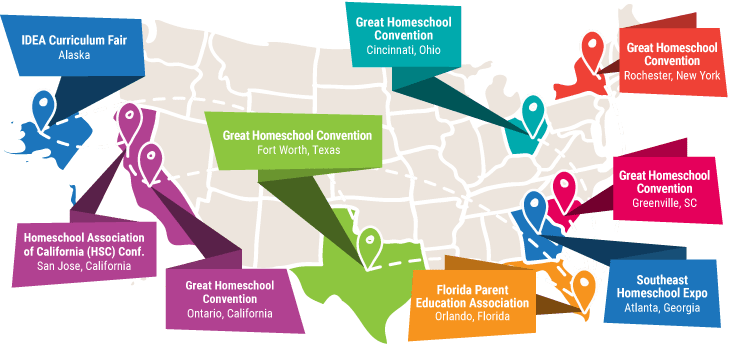 *UPDATE 4/23/2020 – More changes to the homeschool conventions have occurred due to the ongoing COVID-19 pandemic, please see below.*
*UPDATE 3/6/2020 – Time4Learning, along with the rest of the world, has been paying very close attention to the concerns surrounding the COVID-19 outbreak. Amid these concerns, we prudently have decided to withdraw from both the Texas and South Carolina conventions for 2020. It goes without saying that we were very much looking forward to connecting with all the attendees in both states, but we now look forward to seeing you next year!*
Convention season is here! We're busy getting everything together as we prepare to hit the road. Every year, members of our team travel to different states to spread the word about Time4Learning, meet homeschooling families just like yours, and help new homeschoolers find their way. We love hearing your stories, learning why you decided to homeschool and getting to know your families.
In addition to our usual stops in Texas, Ohio, and California, this year's itinerary will include a stop in South Carolina.
Below is our homeschool convention itinerary as well as a link to each convention with more details:
So Much to See and Do!
For both new and experienced homeschoolers, homeschool conventions are such incredible opportunities to learn. There are educational workshops to attend, informative speaking sessions with some of the biggest names in homeschooling, and of course, the exhibit hall. There is so much to see and do that it can be easy to get overwhelmed.
Planning ahead, even before you step foot in the convention center, allows you to save money, schedule your days and make the most of your time so you can get to everything on your agenda. Check out this homeschool convention prep list to help you plan.
If you'll be bringing your kiddos with you — like many families do — check out these activities to keep children busy. Not only will they be happy and entertained, but you'll be able to focus and take advantage of everything the convention has to offer.
Safe travels and we hope to see many of you on the road this year!
If you plan on sitting out this homeschool convention season, no worries! Whether you need to stay put due to finances, conflicts in schedule, or any other reason, there are still lots of ways to reap the benefits of a homeschool convention without even leaving home.
Is there a homeschool convention you would love to see the Time4Learning team attend? Let us know in the comments.