Connecting a Nature Walk with Art and Science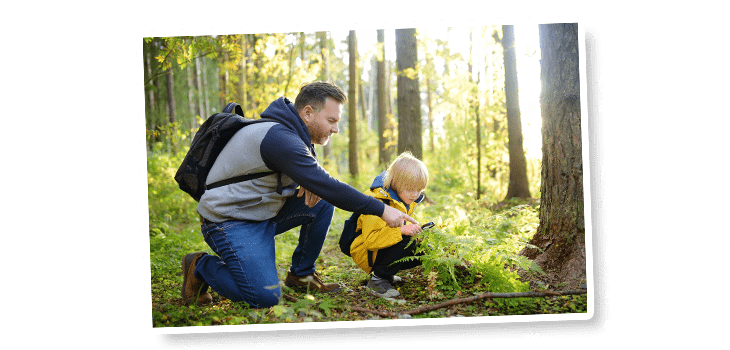 Many parents love the idea of education being a way of life. They love the idea of the world being their classroom. They love the idea of having a curriculum that allows students to improve their retention by practicing skills they previously learned. And they love the idea of breaking down the barriers between subjects and combining them, such as art and science.
Organizing fun activities with other families will help you and your family create community and discover the joys of homeschooling.
With just a little help, you can get started quickly.
Here's an example. I'll focus on a long-time favorite homeschooling enrichment activity – the nature walk. I'll suggest a few ideas on how to add some structure to it so that it connects to the curriculum. The basic ideas are taken from the Time4Learning science curriculum.
Oh, and one more thing. While I'm showing how a nature walk can be an extension to a science curriculum with an art connection, I fully recognize that a nature walk can also be a simple walk with no agenda at all. Both have great value! In fact, as soon as I finish writing this, I might go on a nature walk myself.
The Time4Learning kindergarten science curriculum has a unit on Observing Matter. This might seem like an unlikely starting point for preparing for a nature walk but that is why this is an interesting example.
Learning Scientific Observation Skills Through a Nature Walk
One way of structuring a nature walk is to focus on observations.
In advance, students can be asked to review the different big categories of observations: quantitative and qualitative. Ask them to make three observations of each type that they'll share, while walking with siblings, friends, or you; or perhaps afterward over a pizza. They can be asked to observe something about the plants or the wildlife or maybe, for older students, something about the relationship between the two. This can also be tied in with a writing exercise.
To help students understand the difference between qualitative and quantitative observations, here is a set of animated cheerleaders who sing a cheer. While this explanation is simplified for kindergarteners, the chant is relevant to other grade levels. And it is an educational distinction that gets revisited all the way through high school.
Just as a reference, the science unit starts by pointing out the difference between quantitative and qualitative observations with some animated stories appropriate for kindergarten. There is a clever game where students practice using different types of observations to describe an object.
Studying Art Through a Nature Walk
This activity about observing matter in the Time4Learning science curriculum also focuses on art connections. The idea is to go on a nature walk, collect leaves, and then categorize them across a number of criteria. To help you visualize it, check out this video that demonstrates the lesson in action: nature activity demonstration video.
Field Trips and Community Connections
I hope this example serves as a starting point for you to see how using the world around you can enrich your child's learning experience. There are many more lessons in Time4Learning that can be used as a launchpad for a field trip to further research or to apply knowledge learned.
Also, field trips can be combined with other families and with kids of different ages to make it a community experience. Where can you visit? Parks in your neighborhood, hiking trails, nature reserves, and national parks! I've even seen homeschool families go "bird watching" in a museum. They look for birds in the artwork and try to identify and interpret them. Other surprisingly educational places to go on a field trip might include trips to historical landmarks, trains stations, and even the hardware store.
Do you know who might be really good at making lists of places to go and educational reasons to visit them? Your kids! Involving your child in the decision-making process will get them engaged in the exercise from the very beginning. I hope you enjoy this activity as a family.
Happy trails!
By John Edelson, Founder of Time4Learning