When Your Children Don't Learn the Same Way
STORIES, NEWS & INFORMATION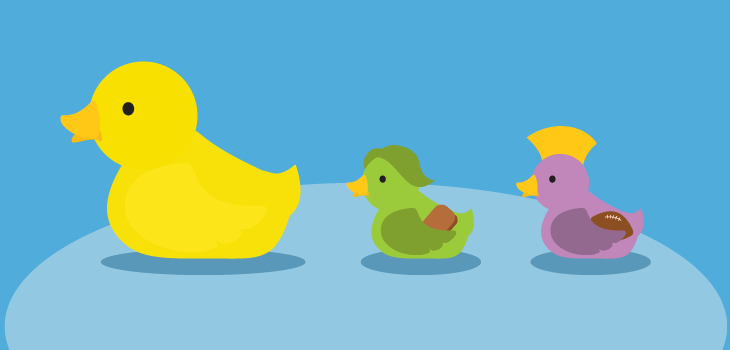 My two children don't do anything alike. One enjoys playing football and watching scary movies, the other prefers building model cars and reading a biography. When I decided that homeschooling would best fit their educational needs a few years back, I didn't foresee how their differences would impact my teaching — and their learning! I figured I could make whatever curriculum I chose work for both of my children.
With that mindset, I spent a hefty amount of money on a traditional curriculum. It consisted of workbooks, textbooks, guides and materials that fit the mold of my oldest boy's learning style. He sat and quietly studied as if he was building his model cars. Then it was time for my youngest to use it, and he did not like it at all.
I spent so much time getting my youngest to do his assignments that my oldest eventually stopped doing his schoolwork. I was upset and, honestly, ready to give up. However, after doing some research and trial and error, I found ways to overcome the learning-style dilemma.
Homeschool Curriculum is not One-Size-Fits-All
When I made the initial investment in our homeschool curriculum I assumed it would work for all of my children. It didn't, and I was experienced enough at homeschooling to know that it wouldn't. I had already put in the time and made the investment. It's important to exhaust every possible way to make your curriculum work for you and child, but if it doesn't, it's better to cut your losses sooner and find one or many curricula solutions that fit with your child's learning style.
Split Your School Day or School Week
It's easy to get into a routine. My eldest was easy. He followed my lessons, we did assignments together and we both fell into step with the way our days and weeks ran. When my youngest son struggled with our homeschool routine, I had to think of a new way to accommodate their needs.
Even we experienced homeschoolers can forget that we have the choice about what, when, where, and how we learn. My youngest son was up early, while my older boy enjoyed sleeping in. I took advantage of their split schedule and tackled lessons with my youngest son in the morning. When my older boy got up, it was his turn. The school day itself got a little longer for me, but it was so much more productive.
Consider Online Homeschooling
I knew children loved using computers, but I didn't think they could actually receive a quality education using an online homeschool curriculum. Some experienced homeschoolers who are used to traditional curriculum may wonder if it holds up, but we have found that online learning is a great solution to the "many children, many different learning styles" dilemma.
Because the lessons and activities are automated, my children have become more independent in their studies. This leaves me more time to give each boy the attention he needs. Plus, they become more self sufficient.
The online curriculum addresses all the different ways my children learn best, which can vary by subject — visual, auditory, physical, and more.
My children can learn at their own pace — faster or slower depending on their comfort level and grasp of the subject.
I knew right away that my youngest son would love it, and my oldest could use traditional methods at times and switch over to an online approach when he needed a change.
Explore Free Homeschool Resources
A homeschool family's budget is no joke. When you finally get over the sting that the money you spent on traditional curriculum is only going to go so far, it's important to find affordable and free homeschool resources. There is the obvious – the library and the internet. But, if you haven't had a need to explore them before, check out YouTube, iTunes, podcasts and more. If you already have a Netflix or Amazon Prime subscription, you may find documentaries and other videos to support your learning plan.
Lastly, there is an exhaustive list of homeschool blogs that feature free resources and giveaways. Some of my favorites are HomeschoolGiveaways.com, A2ZHomeschooling, Homeschool.com, and TheMultitaskinMom.com.
Keep Learning Simple
So often we forget that learning doesn't have to be complicated. I would love to spend hours preparing the perfect lesson plans, and pulling together cute and fun materials to do during said lessons, but it's not necessary. Sometimes I find that if I can get my head out of the curriculum books or turn away from the computer, I can find simple ways to teach my boys their lessons. And it can be fun! There is always going to be a time and a place where formal curriculum can and should be used, but it's not every lesson or activity that requires its own project plan.
Put in the Time
While it's important to remember you can keep learning simple, do realize that homeschooling requires you to put in the time. That was probably the hardest part of accommodating my youngest child. I had to get over the fact that the time and effort I had put into finding the curriculum for my eldest child would need to be repeated to find what would work best. Once I got past that bitter pill, it became enjoyable. Suddenly I was exposed to other ways of teaching and learning even more myself.
Listen, it doesn't matter if you're an experienced homeschooler or not — all homeschoolers face challenges. I still face them, but I can honestly tell you that online learning makes our homeschooling routine so much more exciting and engaging.
My issues with juggling different learning styles have disappeared. I have accepted that what works for one child won't always work for the other, and that's a good thing.