The Growth of Homeschooling Beyond the Pandemic
STORIES, NEWS & INFORMATION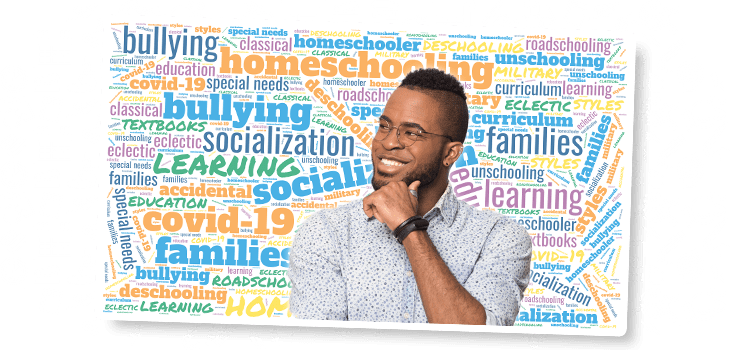 Prior to the COVID-19 pandemic, if you mentioned that you were going to start homeschooling, the response was generally a skeptical one such as, "Why would you want to do that?" This was also typically followed by, "But children need to socialize." The naysayers were abundant. I know because I started homeschooling before the pandemic. Now, those same people are saying, "Wow, you started homeschooling at the right time!"
The pandemic, which introduced millions of families to the notion of online learning at home, also helped change the general public's perspective regarding homeschooling. No longer is it being pigeon-holed as an approach that works for certain types of families or seen as a mysterious educational pathway on the margins of society. Homeschooling is now viewed as a viable educational option that has transformative life-long benefits well beyond the pandemic.
The COVID-19 Factor – Homeschooling has Become Mainstream
The sheer numbers verify that homeschooling has become more mainstream. According to the most recent Homeschool Marketer Demographic Report, the pandemic has been a driving factor behind a huge influx of new homeschoolers. There are now over 5.5 million homeschooled students in the United States alone, accounting for 11.1% of the K-12 students in the country.
Why did parents across the country (and the world) turn to homeschooling during the pandemic? Some parents tried remote learning but were disappointed by the way their schools handled the process. Their children were not getting the support they needed or they fell behind because of reduced standards or minimized hours of instruction. They were frustrated and may have had to deal with challenges balancing childcare and returning to work, so these families used homeschooling to "get through" remote learning.
Meet a Mom Who Made the Leap From Remote Learning to Homeschooling
Meet a mom who chose homeschool over remote learning, and how she uses Time4Learning to keep her son engaged, fill in learning gaps, pursue hobbies, and more.
Other families made it through one year of remote learning only to find out that their schools no longer offered virtual options during the second year of the pandemic. Some of these families had immune-compromised family members or children too young to be vaccinated, or they just weren't ready to take the risk of sending their children back to school in person. For those without state-run virtual school options, homeschooling became the only choice.
Tired of Uncertainty, Homeschool Mom Takes Control
Read Amanda's story and find out what motivated her family to start homeschooling and how they are already enjoying the benefits.
Regardless of the reason, many families began homeschooling as a temporary option, thinking that they would send their children back to school in person when COVID numbers improved and/or vaccinations became available for young children. However, once many of these families began homeschooling, they started to enjoy the benefits, and they have since decided to stay with this increasingly popular school-choice option.
Homeschooling Among Minority Groups
The homeschool explosion hasn't been limited to one demographic either. According to Homeschool Marketer, "Homeschooling enrollment numbers have increased across all races and ethnicities in the U.S." In fact, minority families—particularly those who are Black, Asian, and Latino—have switched to homeschooling in record numbers.
The pandemic, along with social and political climates, highlighted reasons for minority families to turn to homeschooling. While remote learning began seamlessly for some schools, many minority families were reminded of resource inequities, as their children did not have access to the technology required to connect. Remember, too, that the murder of George Floyd occurred during the height of pandemic uncertainty. Some minority families worried whether their children would be safe at school or whether the school would be equipped to talk about racism with young students. Homeschooling allowed them to better control discussions around race and culture.
Other Reasons why Families Homeschool
While the pandemic has underscored homeschooling as a temporary or permanent solution to certain problems, families have been turning to homeschooling to solve other issues or to provide opportunities to their children for generations. Here are just some of the more common reasons that families homeschool:
Dissatisfaction with the public school system: Some families do not feel that the school their child attends is maximizing their child's potential, whether because of a lack of support or resources, quality instruction, relevant courses, or some other deficit. Homeschooling allows the parents to choose curriculum and electives and individualize instruction to boost their child's strengths.
Bullying: Families sometimes choose to withdraw their child from school when their child is being bullied. Homeschooling allows for emotional and social support, as well as more effective instruction while keeping the child safe.
Support of special needs: Families of a child with special needs may feel that the school system is not supporting their child's learning, behavioral, and social needs, or they may feel that the school treats their child unfairly (e.g., using detention, suspensions, or other disciplinary measures more frequently with students with disabilities). They feel that homeschooling will enable them to be more in control of the support their child receives while removing stressful school interactions.
Military service: Military families may choose to homeschool to provide a stable environment while locations and other situations frequently change. Homeschooling also builds supportive family bonds that can continue regardless of where schooling is occurring.
Opportunities to travel: Families who want to travel may choose homeschooling because of the flexibility it provides. Roadschoolers, boatschoolers, and worldschoolers take advantage of being able to learn anywhere and make the world their classroom.
The Many Benefits of Homeschooling
Regardless of whether you are homeschooling because of the pandemic or for other reasons, homeschooling comes with lots of benefits.
Flexibility: Homeschoolers quickly learn to enjoy the flexibility that comes with being able to determine school days, daily schedules, vacations, and breaks. They know that they can adjust when life happens as well as modify their schedule based on what works best for their family.
Freedom: New homeschoolers also realize early that homeschooling brings freedom. In addition to the flexibility of time, homeschoolers have the freedom to go and learn anywhere. They are mobile and can take advantage of where they live and travel to provide meaningful place-based education.
Individuality: Homeschooling provides families with the curriculum and instructional choices that can support a child who is having difficulties or challenge a child who is easily bored with more traditional instruction and content. Homeschool parents can adjust pacing and modify lessons to best meet the strengths and challenges of their child and maximize learning.
Family Bonding: Some families first experienced "what could be" during remote learning when they spent more time with their children at home. Homeschoolers know that they can build stronger family bonds because they are together more often. Learning becomes meshed with family experiences, and families become the basis for socialization as well as education.
Read more about the pros and cons of homeschooling!