Simplifying The Mid-Year Homeschool Transition
STORIES, NEWS & INFORMATION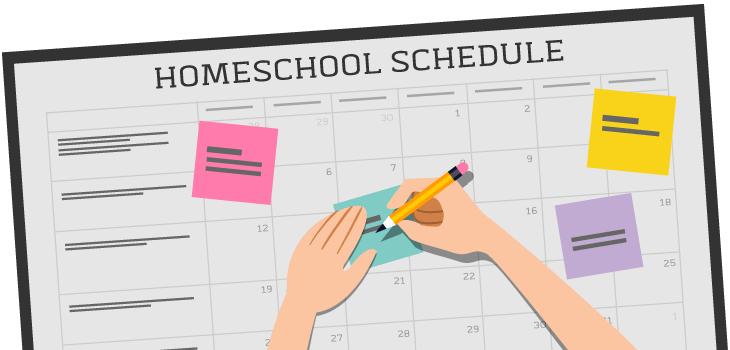 If you're making the homeschool leap mid-year, there are many benefits that homeschooling offers. Most importantly, homeschooling provides you with the freedom and flexibility that traditional schooling doesn't offer. You set the rules, generate the schedule, and choose the curriculum.
Can You Start Homeschooling Anytime?
Yes! Once you've made the decision to homeschool, you can start doing so any time, even if it's in the middle of a semester or school year. However, before you begin your homeschooling adventure, make sure you become familiar with your state's homeschooling laws so that you don't encounter any issues. Below are several important steps that will help make your transition into homeschooling a smooth one.
Let's get started.
Know Your State Requirements
Every state has different requirements that you must follow as a homeschooling parent. For example, there are some states like New York with stricter laws and others, like Georgia, with more lenient ones. The amount of foot work you'll have to do depends on which state you live in. You can easily find your state's requirements by doing a quick online search or by visiting our homeschooling by state resources.
Some requirements that may or may not impact you include:
Notifying educational officials of your intent to homeschool
Parent qualifications — some states require the parent have a high school diploma or GED.
Required subjects that you must cover
Record keeping — some states require a portfolio of your student's work.
Assessments requirements to make certain your student is making academic progress.
Withdraw Your Student
Depending on your state laws, you may be required to notify your school district that you are withdrawing your child from public school. It's also a good idea to notify your school district. Truancy laws vary in each state, but each one has some law on the books. With that in mind, you should make certain that every entity is properly notified in a timely manner.
File an Intent to Homeschool
Many states require that you submit a notice of intent form when you begin homeschooling. Many states require an annual form. The information on the form varies for each state. In some states, the intent form only requires the name of the homeschool and the administrator (the parent). Other states require a basic curriculum plan and maybe even your child's name, grade level, and a copy of their birth certificate.
Many states offer the option of homeschooling under an umbrella (aka cover) school, which avoids the NOI altogether, so you may wish to find out if this is an option in your state.
Explore Homeschool Curriculum Options
Homeschooling gives you the flexibility to pick and choose the lessons, assignments, materials, tools, and activities you'll use when teaching certain subjects. For example, you can use online resources for math and science, and text books for reading if that fits your child's learning styles and needs. You fashion the curriculum around your educational goals and your child's strengths and weaknesses. You have the flexibility – take advantage.
Set Up Your Classroom & Create A Schedule
Homeschool learning spaces can be set up in many ways. Some homeschoolers utilize one room for their students using traditional chalkboards or whiteboards, desks, and a dedicated area where they keep their supplies. Other parents utilize different rooms in their home, like the kitchen table or couch, and some have learning stations for different subjects. And for a just about all homeschoolers, the world is their classroom. The experiences gained from travelling can be just as invaluable as any learned in a classroom environment.
As far as scheduling out your day, a stringent school schedule, such as one public schools use, does not work for every child. A flexible schedule, on the other hand, lets you teach your children at the optimum time. For example, some children learn better in the morning while others prefer the afternoon. You not only maximize their learning, but your children can also learn at their own pace — not the pace designated for a whole classroom. It's OK to do things outside the box if that makes you and your student happy.
Plan and Set Goals
The first important thing to do before you start planning and setting goals is something called deschooling. This is the process of shedding the traditional schooling methods that your children have experienced in public school. In other words, you are not bringing the classroom home with you. It is a time when children decompress, break away from the traditional learning process, and start adjusting to their new educational experience. Many parents don't do any schooling during this time. They often read aloud to their children, practice real life skills such as cooking or baking, play games, and discuss the future with their children.
Next comes the goal setting and planning step. Antoine de Saint-Exupéry, the poet and the author of The Little Prince, said, "A goal without a plan is just a wish." And since your new homeschooling endeavor is seriously important to you and your child, creating a plan should not be just a "wish." It's a reality.
First off, evaluate your child's learning progress. Write down their strengths and weaknesses. Note the subjects they thrive in and the subjects that give them trouble. Have a meeting with your children and discuss what they enjoy about learning and what styles of learning they prefer. Some children like a more visual learning style, others prefer verbal learning. Once you know what curriculum you'll be using, start preparing your lesson plans. Some homeschoolers like to plan out the whole year, others like to take things on a week by week basis.
Starting homeschooling mid-year may feel overwhelming for both you and your child, but it helps to allow everyone to decompress and take things slowly at first. Remember, homeschooling is an adventure. And all adventures have their challenges, their highs and lows, and their most inspiring moments. You will experience all these things as you and your children begin the process. Enjoy the adventure and don't forget to have fun!
Mid-Year Homeschool Transition Guide
Download this FREE resource to help new homeschoolers transition into homeschooling mid-year. This guide also helps experienced homeschoolers transition to a new curriculum in the middle of the year.