Q&A with Our Product Director on Time4Learning Updates
STORIES, NEWS & INFORMATION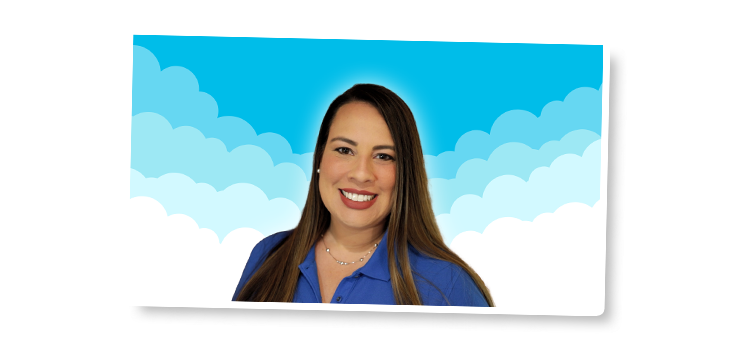 We had a chance to sit down with Jenny Eickhoff, Time4Learning's Director of Product Management, to learn more about her role with Time4Learning, the company's approach to technology and innovation, and some recent updates to the online PreK – 12 curriculum.
Q: How long have you been with Time4Learning? What is your role with the company?
A: My journey at Time4Learning began about nine years ago when I joined the Customer Support team. I moved up into a role as the Customer Support Supervisor, followed by a few years as a Project Manager, and then Product Manager. My experience in Customer Support and Project Management has led me to my current role as Director of Product Management, where I have the pleasure of improving Time4Learning features and tools, and the customer experience.
Q: What do you enjoy most about your role and working at Time4Learning?
A: Working at Time4Learning is an absolute dream! I'm surrounded by team members who are all passionate about education and technology and motivated by the same mission: to help families educate their children at home. Since 2004, Time4Learning has been doing just that! Being a part of the homeschool community for this long, and growing with it, makes every day exciting. I constantly remind myself that I'm working for our members. Every product decision impacts our homeschool families one way or another, so I always keep this in mind.
Q: Tell us more about Time4Learning's 3rd-grade social studies updates. What is different? How will these changes benefit students and parents?
A: In a nutshell, the new 3rd-grade social studies course is fun and engaging! It helps us achieve two important goals: to educate children in an interactive way and make homeschooling easier for parents. It features video lessons and animated characters that capture the attention of students with real-life scenarios they can relate to. Interactive elements engage prior knowledge; build, deepen, and reinforce student understanding of the topics presented; and provide practice with automatic feedback.
Chapters are based on themes and organized by the four disciplines of social studies: geography, history, economics, and civics. Students join characters Vearl and Jay in exploring concepts such as the landforms of the United States, American colonies, the three branches of the United States government, and producers and consumers.
Students will learn to use tools such as maps, historical images, and primary sources, such as letters, books, and paintings that provide first-hand accounts of life in North America in the 1500s and 1600s. Skills are taught through instruction and modeling, allowing students to begin to learn skills they will use throughout their lives.
Please know that 3rd grade is just the beginning. We have also started developing new 4th and 5th-grade social studies courses. As soon as we have release dates available, we will be sure to let families know.
Q: How can I learn more about the new 3rd grade-social studies course?
A: We are all excited about the new course and eager to hear feedback from families! Click here for more information on our new 3rd-grade social studies course.
Q: Does Time4Learning have any other product innovations or improvements in the works?
A: Aside from 4th and 5th-grade social studies, we have many more improvements in the pipeline. The one I'm most excited about is our Activity Planner. Members should expect to see a new and powerful Activity Planner that will transform their planning needs towards the end of 2022.
Q: How does customer feedback factor into the equation of product development?
A: Customer feedback is everything! We have always been and will continue to be member-driven. We hear the feedback coming in via Customer Support and our Time4Learning Families Facebook group and appreciate every ounce of it. While we can't make updates overnight, we do our best to fulfill the needs of our families. Our new elementary social studies curriculum is a perfect example of harnessing the power of customer feedback to drive product innovations.
Q: How has Time4Learning evolved through the years from a product standpoint?
A: It has been exciting to see how the product has grown over the years to meet the evolving needs of our customers. The company started with just a PreK-3 curriculum and a handful of staff members. Over the past nearly 20 years, we have grown to serve over a million students, spanning pre-K through high school. We have also kept up with the technological advancements in education and continue to strive to offer our families the most robust course offerings.
I'd like to personally thank Time4Learning members who have taken the time to complete surveys and share their feedback, which is invaluable. Expect to see more opportunities to share your feedback via surveys and invitations to chat with members of the Time4Learning team.
Q: Parents seem to love the Activity Planner. Can you explain what this feature is and why it's so important for families who seek a homeschool solution?
A: While Time4Learning makes homeschooling easier, the Activity Planner simplifies it even more. A common question we hear is, "How do I know how much work to assign my child?" The Activity Planner takes the guesswork out of it by dividing a student's course work evenly over their homeschool year.
A parent can simply select the start and end date of their homeschool year, provide a name for the Activity Planner, and we take care of the rest. This simplicity frees up time, and we can all use a little more free time in our day!
Q: What is your favorite Time4Learning product feature and why?
A: It's hard to pick just one, so I'll share my top 3; Time4Languages, Time4MathFacts, and the (previously mentioned) Activity Planner. Time4Languages and Time4MathFacts both enhance a student's standard course offering. Time4Languages offers 10 different language courses, teaching children to think and speak in a new language – in a similar way to how we all learned our first language.
Time4MathFacts comes free with a Time4Learning membership. This program uses the power of technology and engaging gameplay to motivate students to move from learning math facts to math fact mastery. What students experience as they play games to practice math facts is an immersive world of fun characters, rewards for improving their recall, and confidence-building feedback showing them their progress.
Q: Which Time4Learning product feature is often overlooked by our customers?
A: The features in the Parent login. I often hear of families looking for worksheets or answer keys, and they are all readily available in the parent login. Also, the ability to update your student's grade level (by course) is controlled in the parent login. Once our Customer Support team shows members the ins and out, they walk away thrilled. I encourage parents to spend more time exploring their parent login, particularly the Lesson Plans found under Lesson Planning & Reports as well as our Help & Tips section.
Q: Is there anything else you would like to share with our readers?
A: We understand that homeschooling can be overwhelming and want to make this journey a fun and stress-free experience. Several of our employees are homeschoolers themselves, giving them a first-hand perspective on the challenges and joys of homeschooling.
We carefully deploy product updates to ensure a seamless transition for our customers. Engineering, Quality Assurance, Marketing, Customer Support, and Product Management teams all work together to bring you the best experience. When updates are well-received, we're all celebrating behind the scenes!
In the spirit of Women's History Month, I also want to encourage all young women (and men) who dream of working in technology to pursue that dream with all of their hearts. It's a wonderful world to work in.