Is There an Easier Way to Homeschool?
STORIES, NEWS & INFORMATION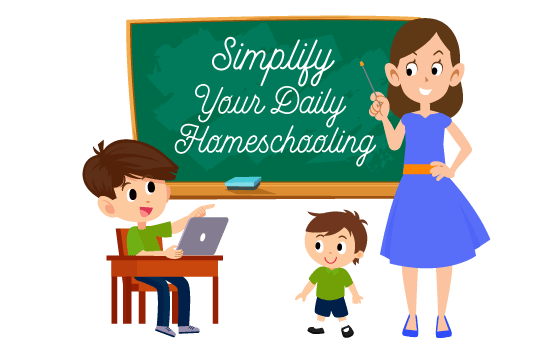 We were registered for kindergarten! We were so excited because our son had even gotten into the one year-round elementary school in our county via lottery, and after all the great things we'd heard about the principal and the teachers there, we were feeling really positive about the whole experience. Three months before the first day festivities, though, our son was in serious condition in a children's hospital in our state. Out of the blue, a rheumatic fever infection of the brain had suddenly created extreme difficulties in walking, talking, eating, and most every other normal function.
The road to recovery was a long one — years, not months — and suddenly, our kindergarten adventure was completely off the table. It would be replaced by visits to multiple therapists as he regained his speech and motor skills. Homeschooling, something we'd never even considered before, was going to be our method of education for at least the near term, so we scrambled to learn as much about teaching at home as possible in a short amount of time.
Is Homeschooling Easy?
Of course, the first question that pops into a potential homeschooling parent's head is: "Can I do this?" With no formal training in education up to that point, I had my doubts, but I certainly had positive school experiences of my own, so I figured that if I could simply recreate much of my own classroom practices, we would be good to go.
We bought the classroom-size desk, there were classroom-style posters plastered across the room we dedicated to homeschooling, and even creatively placed "learning centers" throughout the room — just like I had seen in the kindergarten classrooms we had visited prior to registration. Our homeschool daily schedule was all planned out and posted on our homeschool whiteboard. This was going to be a breeze!
Are you ready for a new homeschool approach? Do you crave simplification and flexibility as I did? Find out how to get your copy of 28 Days to Homeschool Simplification to bring some much needed peace and sanity back to your home education routine.
Start Simplifying Today
Is Homeschooling Fun?
Then came the learning curve. Of course, I can't say that I've personally spoken with every homeschooling family past and present, but I still believe that we may have had one of the bumpiest forays into homeschooling ever! Not only were we trying to fit our education in between multiple trips to therapists and also trying to juggle it with my other son's (a preschooler) needs, but the attempt to replicate a classroom environment quickly became disastrous.
Neither my son or I were enjoying learning for learning's sake. I quickly learned that what works for mass education almost never works when teaching a child one to one. I wanted to find a better way. I wanted homeschool made simple and homeschool made fun. I wanted to know, "Is there an easier way to homeschool?"
Is Homeschooling Customizable?
I may have been an accidental homeschooler, but I was a quick study. I saw from pretty early on that homeschool schedules that work are the ones that are flexible enough to incorporate your child's specific needs. That meant that the 8-to-3 tradition went out the window and we found our rhythm by working in the afternoons and evenings after most of our therapy visits were complete and the preschooler had both dad and mom available to take turns keeping him occupied. That meant that the cute little school desk ended up mostly being a shelf for projects we were working on, and we discovered that learning happens anywhere and everywhere you happen to be at the moment.
Fun began to creep back into our schedule, too, when I understood that homeschooling is less about teaching and more about learning alongside your child. If I became enthusiastic about the details of what we were learning, my enthusiasm would almost always be contagious. Gradually, our rigid homeschool checklist evolved into a personalized, enjoyable approach that changed day to day depending on our appointments, our temperament, and our curiosity. Once we "saw the light," our accidental homeschooler status was behind us. We recognized that this was education at its best, and we were ready to stick with it for the long haul!