How to Plan Homeschooling Through High School
STORIES, NEWS & INFORMATION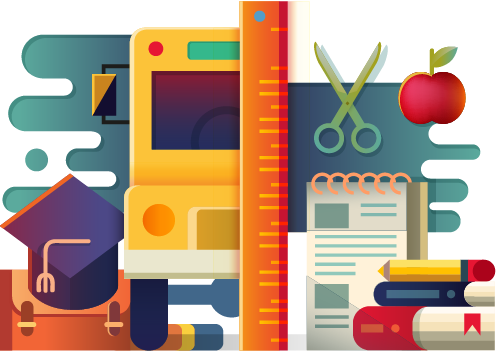 Beginning the homeschool journey during high school can seem challenging or overwhelming, but it is certainly doable! In fact, studies have shown that students who are homeschooled make better college applicants. Discover tips and information to help transition your traditional high school student into a college-ready homeschooler.
Switching from Public School to Homeschooling
Step 1: Spend some time understanding your student's areas of strengths and weaknesses. Identify their interests, passions, and career goals; this will foster an excellent beginning to your homeschool adventure.
Step 2: Once you understand your child's interests and how they learn best, you should choose the appropriate curriculum to build on this. Make sure to include your student when picking out his or her curriculum! Doing so will ensure that your child will enjoy learning and retain knowledge.
Step 3: Withdraw your child from public school. This is generally completed through sending a letter to the principal of the school and the superintendent of the district. However, rules for getting started on homeschooling your child vary state-by-state. At the same time you withdraw your student from high school, you should consult your state's laws on how to notify the school district of your decision to homeschool. Some require a simple notice of intent, while others require more information.
For more details on how to get started and what the homeschool requirements are, check your specific state's requirements.
Step 4: Once you have notified the state of your decision to homeschool, you can begin homeschooling your child. Define goals for your student; there are plenty goal setting worksheets available.
Step 5: Begin the planning process. There are plenty of yearly, monthly, and weekly planners available for use. Generally, it's advised to start big and work small, but you may find other approaches work better for your student.
Homeschooling through High School
Once you begin homeschooling your high school student, you and your child have complete freedom over what to learn, and how you will learn. While some states require certain subjects to be taught, there is no right or wrong way to teach them. Your high schooler can spend time exploring their interests, perhaps through field trips or choosing his or her own curriculum. If your student has a particular college they are interested in, you should check out the school's admissions criteria. You can also review high school requirements for educational goals to begin your research.
Even switching to homeschooling in senior year of high school is possible! Parents can ask for copies of their child's transcript for the years he or she spent in traditional school to determine what subjects to teach for senior year. For this situation, parents should consult state laws to determine if there are any specific subjects that still need to be taught in senior year. You can also have your student take a standardized test to see where his or her progress is, and what subject areas need to be strengthened. The beauty of homeschooling is that many of these decisions are up to you!
To keep your high school student engaged, it is important to talk to your child about his or her interests. Supplementing curriculum at home with interactive activities, such as volunteering, sports, and real-world experiences, can create a well-rounded student. This is called hybrid homeschooling, and it provides readiness for college.
It is also important to talk to your high schooler about their goals after high school. You may want to take some time with your child to research career options. This could include talking to someone working in that field, securing an internship, or just discussing what a day in that field would be like. Having post-college plans or ideas can make your student a better applicant, and provides motivation.
One of the toughest but most critical parts for high school students is building independence and responsibility. It is important to allow them to find their passion and discover what they are good at, and fail at what they are not. Responsibility can be taught through assigning chores, setting an allowance, volunteering, and setting goals.
Finally, if you would like your homeschooler to get ahead on their college degree, dual enrollment may be a good option. Dual enrollment allows students the opportunity to earn college and high school credit at the same time. Each state is different, so make sure to check your specific state's rules for dual enrollment.
If you are curious to see what parents are doing for their high school homeschoolers, check out our Time4Learning-Families Facebook Group! This is a great resource to get connected and discuss ideas.
Welcome to Homeschooling Guide
Download this FREE resource where experienced homeschoolers share their stories for how to begin homeschooling, understanding your child academically, planning your days, and much more.
Homeschool to College Transition
You may be wondering – can my homeschooled high school student get into college? The answer is yes! In fact, many colleges actively recruit homeschooled students because of how successful they are. The most important thing to do if your child is college-bound is to keep a detailed transcript. Your transcript, composed of course information and grades of your homeschooler, is the golden ticket for your homeschooler's college admissions.
Additionally, most universities require SAT or ACT testing. Some schools may also require letters of recommendation and supplemental essays. Making sure that your homeschooler is ready for standardized testing can be a large help when applying and transitioning to college. Consider implementing a writing supplement to perfectly polish admissions essays.
Diplomas can be created and awarded by the parents of homeschoolers, but they are not usually accredited. The two exceptions to this rule are in the states of Pennsylvania and North Dakota. However, colleges do not need to see an accredited diploma; admissions criteria for homeschoolers mostly rely on the transcript. If your child began homeschooling senior year, you can combine his or her traditional school's transcript with your own current transcript.
There is often a misconception that homeschoolers are not socially or academically equipped for college, but this is certainly untrue. The amount of freedom that homeschoolers have allows them to grow into strong and intelligent students. Homeschoolers who go to college have no problems with the transition. In fact, the flexible schedule that homeschoolers have is often carried over into the college environment, making the transition seamless.
As you can see, transitioning your student from traditional schooling to homeschooling can be done, and pretty easily, too! Homeschooling provides a wealth of opportunities that traditional high school students would never get to experience.