Homeschooling Over the Years
STORIES, NEWS & INFORMATION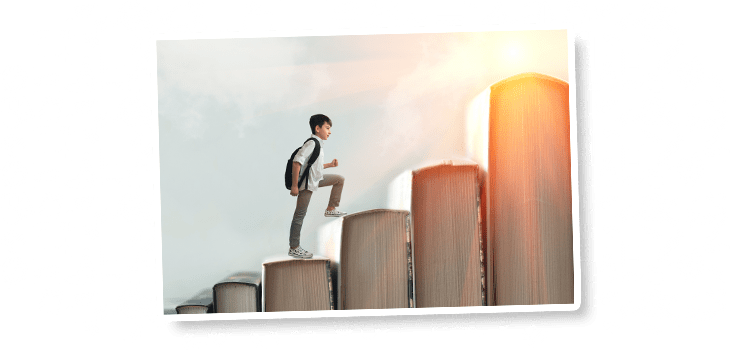 Did you know that before the first truancy laws were put into place in the early 1850s, most parents in America educated their children at home? The education involved fundamental reading, writing, and arithmetic. Yet, children also learned practical life skills while also completing their daily household chores. This was the norm, and the term "homeschooling" probably wasn't used often, or even at all. In fact, it wasn't until the 1980s that the term "homeschooled" was used to describe a home-based education.
Things have changed drastically in the world of homeschooling since then, mainly due to technological advancements, such as the Internet, personal computers, and handheld devices. In fact, parents from the '80s probably wouldn't recognize some of the modern homeschooling methods and techniques used today. It's an entirely new landscape for the homeschooling community, full of creativity and innovation! Before we examine the innovative resources that help today's parents meet their homeschool goals, let's review some epic moments in the history of homeschooling.
A Brief History of Homeschooling
We know that before 1850 most people homeschooled their children in America, but changes were being made even prior to that date. In the early 1830s, education reformer Horace Mann led the Common School Movement, which sought to secularize and standardize public education. In 1852, Massachusetts became the first state to require school attendance. Then, in 1867 the original Department of Education was created. By approximately 1918, every state required students to complete elementary school.
"Recent data from the United States Census Bureau (USCB) Household Pulse Survey revealed this impressive statistic: at least 5 million American parents have decided to educate their children entirely at home."
Although homeschooling became the exception instead of the rule following those developments, things finally started changing after many years. It wasn't until the early 1960's that parents and teachers started to consider taking their kids out of public schools to educate them at home, on their own terms. Here's a brief historical timeline:
Homeschooling Through the Years
1960s
John Holt, a teacher, and Dr. Raymond Moore, an expert in early childhood development, began reexamining the existing methods of education rooted within the public school system.
1967
The Superior Court's verdict in
State v. Massa
stated that parents in New Jersey could homeschool their children.
1977
John Holt founded Growing Without Schooling, the first magazine dedicated to homeschooling, unschooling, and learning outside of school.
1982
States start passing laws permitting parents to homeschool without violating truancy laws. Between 1982 and 1993, 34 states passed laws that legalized homeschooling.
1983
The publication of Home Education Magazine gives homeschoolers an outlet to network and support one another.
1999
The Department of Education's National Council for Education Statistics (
NCES
) issues its initial report on the number of homeschoolers in the United States, which stood at approximately 850,000 students.
2012
Homeschooling shows meteoric growth. The NCES reports the number of homeschoolers in the U.S. at 1.77 million students.
2021
Homeschool reaches its tipping point. Largely due to the COVID-19 pandemic, a record number of families choose to homeschool their children. Nearly 2.6 million kids have switched from traditional school to homeschooling since the pandemic began, according to
a new report from the Bellwether Education Partners
.
Homeschooling has grown and changed dramatically over the years. It is no longer a fringe educational preference. It has become a respectable and acceptable learning alternative that millions of families fervently embrace.
How Homeschooling has Changed
Recent data from the United States Census Bureau (USCB) Household Pulse Survey revealed this impressive statistic: at least 5 million American parents have decided to educate their children entirely at home. Additional information also uncovered this good news: "homeschooling is not just popular among a few segments of the US population but is now commonly practiced by families from different racial, cultural, and income backgrounds."
This is, no doubt, in response to the pandemic and the disarray that followed when children either returned to the classroom or started remote learning classes. Recent studies have found that the virus convinced millions of parents to personally fund their children's education to a greater extent than before, which helped students improve their studies.
Game-Changer: Online Learning with Time4Learning
Parents no longer rely mostly on textbooks and their own teaching methods, as they might have done in the past. As John Edelson, founder of Time4Learning says, "Parents quickly realize that their role as a home-school parent is not so much to teach as to orchestrate resources, understand their children's strengths and challenges, and to find ways to address them."
One proven and effective homeschool curriculum is Time4Learning. This online PreK – 12 curriculum empowers students through a dynamic educational experience consisting of thousands of interactive activities and lessons. Time4Learning also supports the parents' role by providing an automated system that grades lessons, tracks a student's progress, and keeps reports for homeschool portfolio usage. These benefits are invaluable; Just ask Jamie, a retired school teacher and principal, who called the automated grading system "an absolute life-saver for me."
Some additional benefits that Time4Learning offers include:
A student-paced format with 24/7 access that allows kids to repeat lessons and retake tests and quizzes, ensuring that they are learning and mastering essential skills.
Virtual labs, offline activities, and other thought-provoking projects that allow students to apply what they've learned in a real-world setting.
A customer support team and a parent community where new and veteran homeschoolers strategize and help one another with their homeschool challenges.
Easy access to resources such as printable lesson plans, homeschool teaching tools, detailed reporting, and activity scheduling.
An affordable membership backed by a 14-day money-back guarantee that allows you to start, stop, or pause your membership at any time without penalty.
The difference-maker with a curriculum like Time4Learning is that it fosters a love for learning. The multimedia lessons are engaging, and are a perfect learning tool for teaching new concepts. It is a winning combination for students of all ages.
To commemorate just how far homeschooling, especially online learning has come, Time4Learning celebrated its first online graduation celebration for high school seniors. With nearly 1,800 viewers,  it was a success and an emotional event for students and families alike. John Edelson put it this way: "In this case, it was particularly emotional for two reasons. One, because of the triumph of finishing their K12 education despite the pandemic. Secondly, the graduation was a moment to think about their decision to homeschool and all the challenges, creativity, opportunity, relationships, and growth that this decision has engendered."
Homeschooling certainly has made considerable progress since its humble beginnings. It's gone from sitting around the hearth or at the kitchen table to a thriving multi-dimensional educational experience that millions of families (and growing) have adopted. It's no longer for the few. Here's to the future!