5 Ways to Keep Homeschool Enthusiasm Going
STORIES, NEWS & INFORMATION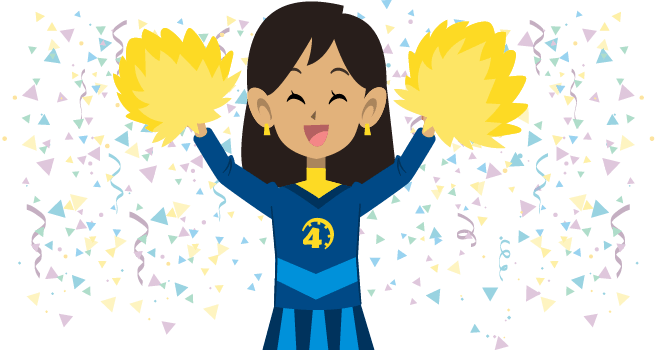 The Cambridge Dictionary defines enthusiasm as: "A feeling of energetic interest in a particular subject or activity and a desire to be involved in it, or a subject that produces such a feeling." As a homeschooler, you have an "energetic interest" in your child's education.
You've decided to homeschool for a reason, and now that you made that decision, you want to give 100 percent…always. But sometimes, that's easier said than done.
The Power of Enthusiasm
You've witnessed enthusiasm before: Parents rooting for their children during a sporting event, fans screaming for their favorite team, and teachers passionately conveying their message on a subject. And those who feel that enthusiasm and witness its genuine power, feed off it.
You can harness the same power that enthusiasm possesses in your everyday homeschool classroom. It's just a matter of believing in what you're doing and how important your time with your children really is during the school year. Once you convey your passion and show your children how enthusiastic you are about teaching them, they will also become enthusiastic. It's a natural occurrence.
Once you get the enthusiasm ball rolling though, it's not always easy to keep it going. Even the most veteran homeschoolers experience burnout some time during the homeschool year.
Fire it Up
The constant pressure that many homeschooling parents put on themselves makes the days feel like a daily grind. This is natural, but there are ways you can avoid it. Use these tips and keep the atmosphere in your house exciting and inspiring.
Don't Compare – People have a bad habit of comparing themselves with others. Ellen, a homeschool mom for two years, started comparing her daughter and her own homeschooling techniques with other families. It impacted their homeschooling experience in a negative way.

"When I first joined a homeschool group, I couldn't help but notice how much better the other homeschooling moms were doing with their children. I even became disappointed in my own daughter's performance. It really got me down, and my daughter noticed my bad moods. After confiding with a friend who was an experienced homeschooler, she told me that you can't compare yourself with others. Every family has different reasons for homeschooling and has different teaching techniques. The ones that work best for you, are the right ones – not the ones that seem to work for others. I started believing in myself again and praised my daughter for what she did best. I looked at the good things and focused on improving what I could do better."
Keep Realistic Goals – Including your children once you begin the goal setting process will help them better understand what goals are and what's expected of them throughout the school year. Many homeschoolers keep each child's goals posted in a place that is convenient to access, such as on a whiteboard or taped to the refrigerator.

Once you decide on your goals, figure out what steps you and your children will take to make these goals attainable. But remember, as the school year progresses, the steps may change, and that's okay. As your children make steps toward attaining their goals, praise their successes and if some failures or challenges occur, speak with them about how they can best meet and defeat these challenges in the future. They will feed off your positive energy and your encouragement.
Make a Checklist of What Works for Your Family – Each child is different. What inspires and makes your children enthusiastic may not be the same as other children.

Once you notice and record what works for your children, you can effectively keep the burnout blues to a minimum. For example, if you noticed in the past that your child became tired or lazy after reading basic textbooks for a while and then watched them rebound after using online, interactive lessons, make a note of it.
Talk With Other Families – Sharing ideas and thoughts with other homeschoolers almost always creates new teaching methods and fun activities. Emily homeschools three children and she noticed when one child was down in the dumps, the others sometimes experienced the same mood swing. She spoke with a friend who also had three children and received some great advice.

"My friend told me that she let one of her children suggest a fun activity. She took turns and each child got a chance once a week. They loved having the power to choose and looked forward to it each week. Some suggestions included making a homemade pizza, playing hide and go seek outside, and painting a chair that she let her children doodle on and paint different colors."
Remember Why You Chose Homeschooling – Every parent chose to homeschool for their own reasons. Regardless, the choice was made because it was the best option for their child's education.

Homeschooling really does allow you to bond with your children in a way that traditional schooling just can't. When you find yourself in a funk, just think back at all the wonderful times you've shared with your children. It will help perk you up and may even put a smile on your face.
Every Day Won't Be Perfect
Let's face it, some days just won't go your way. You're not superhuman with the powers to make everyday a perfect success.
When things aren't going well or don't feel right, the best strategy is identifying the problem (or problems) and then making a game plan. If you or your children are sick, take a break. Maybe you changed the curriculum or are starting a new schedule. If so, give it some time or make a few adjustments. Some homeschoolers stop the regular lessons and do a unit study on a fun, educational topic.
Every new and veteran homeschooler go through bad days. So, don't beat yourself up or get depressed about it. It's how you bounce back that counts.
If despite all your best efforts, nothing is working, consider Time4Learning. Our online, award-winning curriculum can be the solution that brings life back to your homeschool. We offer a fun and interactive approach to learning that allows students to work at their own pace, on their own time. Check out our demos to see our lessons in action.