Why Choose a Customized Summer Learning Program?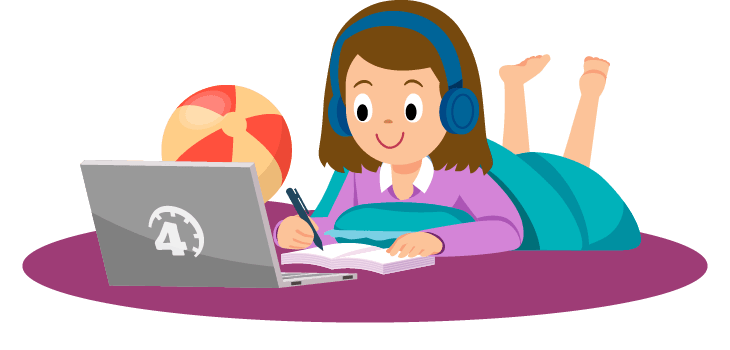 Various studies have found that students lose some of their school-year gains in reading and math during the summer months. For instance, one recent study has third graders losing 20% of their gains in reading and seventh graders losing nearly 50% in math!
If you want to avoid these "summer slide" losses, check out Time4Learning's proven summer learning program. It provides interactive lessons, videos, multimedia reinforcement activities, printable worksheets, and learning games for PreK-12 in an entertaining environment.
Find out why choosing a customized summer learning program like Time4Learning will help your students continue on a successful educational path, even during the summer months.
Time4Learning's Personalized Summer Learning Benefits:
Fill in knowledge gaps and increase achievement: Students can lose on average up to 36% of their school year gains in reading! Time4Learning will help close those knowledge gaps and strengthen your students overall skills in a variety of subjects.
Choose multiple grade levels: Families can personalize their child's Time4Learning account by setting each subject at different grade levels, and changing levels as needed. Plus, most K-8 subjects provide access to one level above and one below your child's default grade. High school students can change and/or add new courses at any time.
Lesson planning made easy: Members have access to our 6-week summer learning guides for K-8 that make is simple to get started. Each printable guide includes a weekly checklist of the Time4learning lessons your child needs to complete for math and language arts.
6-Week Summer Learning Guides
Don't miss out on the 6-week summer learning guides for K-8 when you become a member! Each guide includes a weekly list of all the lessons your child needs to complete to keep their skills sharp this summer.
Includes more than 3,500 interactive lessons: Students and parents can pick and choose what subjects they'd like to study.
Increase college readiness: High school students can get a head start with tons of courses in math, language arts, science, and social studies. Plus, Time4Learning offers more than a dozen elective courses including psychology, sociology, and intro to communications and speech.
Skill-building and enrichment: Time4Learning's flexible curriculum can help both homeschoolers and non-homeschoolers alike build their skills over the summer. Detailed lesson plans help families locate specific topics and concepts. Plus students have the option of skipping lessons and working only on the material they need help with.
Increase next grade readiness: When students prepare for their next academic year, they gain additional confidence and empowerment.
Prevents summer slide: When children keep learning, they won't suffer from summer learning loss. They actually keep and expand upon their school-year gains.
Explore new interests: Summer learning lets students increase their knowledge beyond the core subjects into foreign languages, contemporary health, communications and speech and more.
Ideal for children with special needs and learning difficulties: The flexible, fun and student-paced lessons make it ideal for students of all learning capacities.
Automated system: The program grades lessons and tracks progress making record keeping simple.
Boost learning enthusiasm: Children enjoy learning new things over the summer and many spend as much as 4-6 hours a week increasing their knowledge.
Reporting and support: Detailed reporting for portfolio usage and parental support through our Time4Learning Families community on Facebook.
Time4Learning's summer program uses a dynamic formula that combines interactive lessons, visual tools, videos, worksheets and more. It allows you to personalize your child's summer school education to fit their needs. It also keeps students motivated throughout the summer, which means they'll learn even more as they sharpen their educational skill set.
How Does Time4Learning Summer Program Work?
Joining Time4Learning's award winning program is easy, just follow these steps:
Sign up at our online sign up page.
Once you are signed up, students log in and follow the following procedures.
Choose a grade level
Each student picks a subject
Select the chapter you're focusing on
Pick a lesson and complete the activities
If a student stops before a lesson is complete, a bright green arrow will tell them where they left off.
Once work is completed, it is clearly labeled with a check-mark or a gold star.
Visual and auditory prompts guide students through the lessons
An online playground (controlled by parents) rewards and motivates students to finish their lessons.
The affordable costs for a Time4Learning membership are as follows:
For PreK to 8th grade, the monthly membership cost is $19.95 for the first student and $14.95 for each additional student.
For high school, the monthly membership cost is $30 per student, and includes 4 courses. Additional courses may be purchased for an extra $5 per month, per course.
Time4Learning is backed by a 14-Day Money Back Guarantee – if it's not right for your family, cancel within 14 days and get your money back. But there's more, with Time4Learning you'll benefit from:
Start, stop, or pause membership anytime – change your status at anytime
No shipping, CDs, or Downloads
Customer support – through the phone or via email or chat
24/7 Access — your child can learn at any time day or evening
Additional Summer Learning Resources: