How to Use Time4Learning to Reverse Summer Learning Loss
AFTERSCHOOL RESOURCES & SKILL-BUILDING IDEAS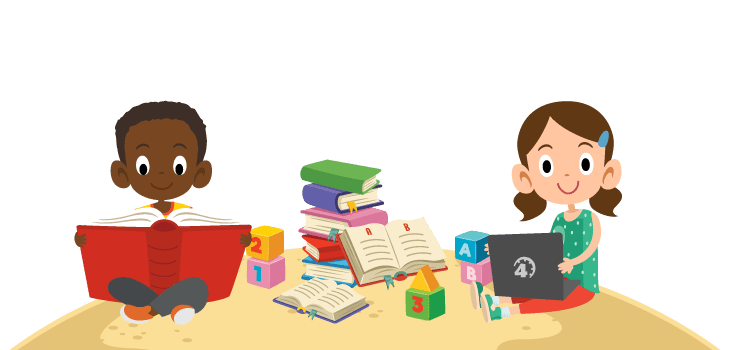 Following a year where we faced a global pandemic, and absolutely every school norm was broken, this summer will likely look very different as well. For parents who have noticed their child(ren) falling behind academically, the next few months are a crucial opportunity to get things back on track. This is especially true for vulnerable students: those in early elementary grades, those with special needs, and English language learners.
COVID-19's Compound Effect on Learning Loss
Researchers have estimated that students will have lost the equivalent of one-third of a school year's learning due to shutdowns and difficulties adapting to remote instruction. Stories in the media abound with examples of students, particularly those who are already underserved, being woefully behind in reading and math. COVID-19 learning loss will compound this year's summer slide, the normal and annual loss of learning progress due to the lengthy break between school grades.
How much learning is lost over the summer?
Students in elementary school can lose 20% of their school year gains in reading over the summer and up to 30% of their gains in math.
Specific learning areas take an especially big hit during the summer, such as math facts, spelling, and writing.
Summer learning loss is cumulative. By the time a student reaches high school, it can mean up to two full years of educational lag.
"Following the educational upheaval of the pandemic, this summer carries more weight than your average season. Instead of thinking of it as vacation, it might be better to frame it in terms of a summer semester."
A Window of Opportunity to Prevent Summer Learning Loss
So how can you help your child bridge those learning gaps while still allowing a much-needed break? You need an educational resource that is fun to use and flexible to adapt to your family's schedule. Time4Learning's online curriculum takes an entire year's worth of interactive learning materials and makes it available throughout the summer so that your children can review what they've learned, catch up on what they haven't, and get prepared for the next school year.
Following the educational upheaval of the pandemic, this summer carries more weight than your average season. Instead of thinking of it as vacation, it might be better to frame it in terms of a summer semester. This doesn't mean that the next couple of months should be all about textbooks, term papers, and quizzes. On the contrary, this summer is an opportunity to fall back in love with learning!
While this year created a disconnect between teachers and students, and was shadowed by stress and upheaval, the summer ahead offers a venue for fun, creative, hands-on learning. Picture days of outdoor science projects, reading books by the pool or stream, playing educational board games as a family, going on field trips, and mixing in targeted online lessons and activities that address specific learning gaps.
Creative Summer Skill Builders
If that vision sounds ideal, then this is the summer to make it happen. With a little strategic planning, you can proactively address the learning loss your child has experienced this past school year while still enjoying a full and fulfilling summer break.
Ready to put on your "camp counselor" hat for a few minutes? A camp counselor's job is to plan out fun activities that will make the most of the time that their campers have with them. As the summer stretches out before you, there are so many options for educational fun. Here is just a sampling of ideas.
Take advantage of the summer reading program at your local library. Almost every library across the country organizes one of these, and they are designed to combine fun, enrichment activities with plenty of motivation to read such as prizes for top readers. Studies have shown that regular reading over the summer can boost grade-level proficiency by more than a month.
Turn play into progress. We all love games and friendly competition, and summer offers the time to truly come together as a family and challenge each other for the title of "Top Summer Game Master." Do a bit of research to find board games, puzzles, or even video games that target the specific skills your children need to address. You'll likely be surprised to discover that there are established games dedicated to everything from fractions to U.S. geography!
Summer is for roaming. Even if you don't have a specific vacation planned for this school break, family field trips can inject a dose of variety and excitement into your summer. When kids are engaged in an activity, learning happens! Whether you are visiting a historical site or exploring the newest exhibit at the local art museum, your child has a chance to engage their senses and build new knowledge.
Virtual learning for downtime.  Between the days spent by the pool or exploring nature at the local park, there will still be rainy afternoons and cozy mornings where you'll feel more like hanging out in your pajamas than hiking or biking. For these times, it's great to have an easily accessible online learning platform that you can log into to build educational skills. That's where Time4Learning's Prek-12th curriculum comes in!
Summer Reading Printable Packet
Motivate your child to read this summer with our fun Summer Reading Printable Packet. It's perfect for elementary, middle, or high school students.
How Time4Learning Fits into Your Learning Loss Toolbox
No matter what areas your kids need to brush up on this summer, you can find lessons, practice activities, and reinforcement materials in our flexible and affordable program! Time4Learning combines more than 3,500 interactive lessons, multimedia reinforcement activities, learning games, and assessments with reports into one convenient online curriculum for summer learning.
Many families use Time4Learning in the summer for:
Test readiness – our online program prepares students for important tests such as the SAT, ACT, end of course exams and much more!
Filling in gaps – use the interactive lessons as a visual remediation tool for the subjects your student fell behind in this school year.
Reinforcement – ensure your student is well ahead before the school year even begins. Because the program moves at each student's pace, it can be used as a way to strengthen the skills of those with special learning needs or even challenge those gifted students who need extra motivation.
Enrichment – empower your student with electives not offered at your school such as world languages, or explore a writing course that opens up new expressive avenues!
Time4Learning is ready to partner with you to help reverse the learning loss that your student has experienced in this challenging school year. You can relax knowing that we've prepared a standards-based, award-winning program that lets you address your child's specific problem areas with fun and motivational exercises. Ready to see how it works?