How to Create the Perfect Learning Space for Your Afterschool Learner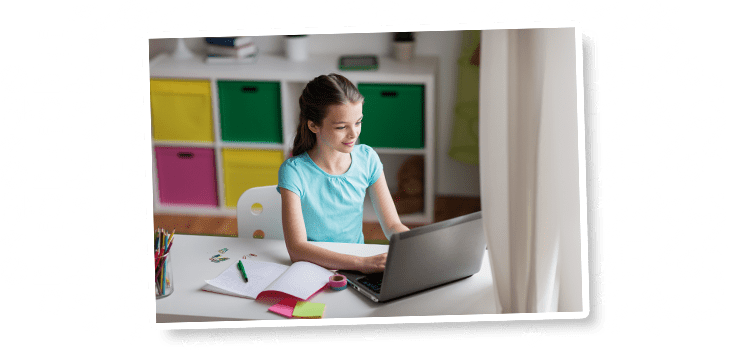 Adding afterschool skill-building to your child's education is important—especially given the significant learning losses expected from the pandemic—but it can also be challenging. What child wants to come home from a long day of learning at school and do more work? Regardless of your child's level of motivation, a special learning space for afterschool enrichment can definitely help! Creating a dedicated area for learning that is motivating and effective can also be fun. Follow these simple steps for maximum results:
Choosing and Designing Your Child's Learning Space
Ask your child: What child wouldn't want to be involved in designing a part of the house—even if it is to be used for studying? Talk to your child about locations and the arrangement of the furniture, supplies, and decorations. Pull in ideas suggested by your child whenever possible.
Include what is needed: Walking around the house to look for supplies will not get the work done in an efficient way. Make sure you are placing what your child needs within reach, and that the learning space is organized. Think about writing paper, writing utensils, technology, and reference materials your child may need. Add some books or educational toys that can be used if your child needs a break from a certain task but still needs to be productive.
Eliminate what is not needed: Also remember to eliminate what is not needed (and may cause distractions) in the learning space—like mobile phones, televisions, non-educational video games and toys, and other items that can affect concentration or make your child want to rush through the work.
"Make sure you are placing what your child needs within reach, and that the learning space is organized."
Consider distractions: If family members are likely to pass by the learning area, post a schedule when your child will be working. If visual distractions can bother your child, consider using partitions. Better yet, if possible, purchase noise-canceling headphones or earplugs if auditory distractions are an issue. You can't prevent every distraction, like the cat prancing across the keyboard, but you can try!
"Un-school" Your Learning Space
It's important to make a clear distinction between your child's regular classroom at school, and their afterschool learning space. This way, it won't seem like their school day is continuing when they get home and help them appreciate their special space that they helped create in order to enhance their learning and give them more confidence.
Here are some suggestions:
Flexible seating: If you can, provide your child with options for how to sit, or even recline, while working. Can you provide an exercise ball at a table, a plush chair or couch, a soft rug, or a beanbag chair? Maybe your child can stand while working at a convertible stand-up computer desk or high counter. See if you can provide at least a couple of choices.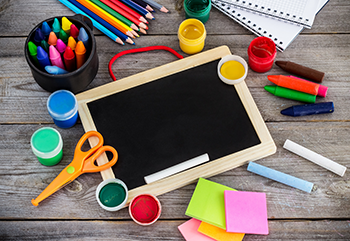 Alternative materials and supplies: For younger children, provide writing utensils that may not often be used at school for academics and alternate writing surfaces like chalk boards, white boards, or magnetic boards. Find funky pens or pencils featuring favorite characters. For older children, providing technology may be motivating. Let your child use the computer or tablet for learning (as long as fingers and eyes don't wander around the Internet!).
"Specialize" the environment: Experiment with different sounds (e.g., music without lyrics, a sound machine), scents (e.g., scented flameless candles or potpourri), lighting (dim or bright light, depending on your child's preferences, or even colored lighting), or whatever else will make the space uniquely suited to your child. If possible, let your child decorate the space with favorite knick knacks, photos, stickers, or posters.
Don't worry if you don't have a lot of square footage or need to arrange a learning space that can be used by multiple children. An effective learning space could be a small table and chair in the corner of a room. Just make sure each child using the space has input into its creation so that it becomes a comfortable, effective place to continue learning after school. Remember that you are helping your child design a personalized space that is homey—not schooley—where "extra" learning can happen in a relaxed environment!